At the forefront of developing our nation's future principled leaders, Goizueta strengthens the inherent qualities within each incoming student and challenges them to reimagine business and its role in society. For native Virginian and ROTC scholar David Wattenmaker 13MBA, serving as an infantry officer in the U.S. Marines gave him a core set of leadership skills to excel in the Goizueta classroom and beyond.
Today, Wattenmaker is corporate strategy director at The Coca-Cola Company, previously serving as a global planning senior manager. He draws heavily on the lessons he learned at both Goizueta and in the Marine Corps. His personal goal to "make the world a better place" perfectly aligns with Coca-Cola's corporate purpose: Refresh the world. Make a difference.
Faculty expertise, open academic expression, mentorship, and student connection originally encouraged Wattenmaker to attend Goizueta. He appreciated the professors and colleagues who shared support and ideas freely. As a business leader who values the lifelong connections and long-lasting bonds forged at Goizueta, Wattenmaker appreciates the rewards of keeping in touch with professors and classmates.
While pursuing a path of financial analysis at Goizueta, an internship with The Coca-Cola Company further focused Wattenmaker's interest in global financial management. He rotated through finance roles within the corporation in North America, each accelerating his leadership responsibility.
"The Coca-Cola system is a valuable platform for global action," he says, where his positions advanced him one step closer to his personal aim of making the world better through the actions of private enterprise. Though he is careful not to inflate his role, Wattenmaker is a specialist in international treasury issues and strategic planning. This skillset led him to join Coca-Cola's corporate strategy team, where he gained the opportunity to help shape policy and goals in a positive way that leaves a lasting impact on society.
Wattenmaker was also honored to help launch a cutting-edge network organization built from cross-functional global teams that pool the talents of many different specialists to foster operational cooperation. He shares that the primary goal is for teams to help each other perform better across national and geographic boundaries.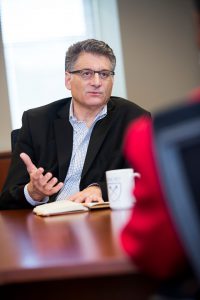 Communication, Trust, and Discipline
Two classes at Goizueta still stand out as formative for Wattenmaker. Global Macroeconomics taught him how to study the external environment for business insights, and Corporate Finance taught by Professor in the Practice of Finance J.B. Kurish spurred his curiosity about how leadership actually works in the business world. Indeed, Professor Kurish remains a mentor and friend to this day.
Even as his education and job skills continue to refine, his most central principles remain anchored in his early Marine Corps experience. That tight, disciplined world taught him to "do the basics well." To him, corporate leadership is ultimately about "communication, trust, and discipline building." He notes, "Those things are easy to say," but in the real world Wattenmaker knows they are "work to do."
Corporate strategy, global financial planning, and leadership are just a few of the many career skills enhanced by Goizueta's MBA programs. Through exploration of the many facets of business growth, analysis, and community impact, Goizueta MBAs make a difference in the world.
Has Goizueta Business School helped to shape your own career? Share your news and updates with us through Class Notes, connect with classmates, or attend an event to enrich your Goizueta experience.