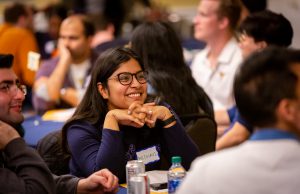 Each year, Goizueta MBA students work closely with a range of companies and organizations to develop strategies to solve their real-world business problems. These...
In a ranking released today by Bloomberg BusinessWeek BSchools, Goizueta's MBA Program ranks #1 in the US in Job Placement. Below is an excerpt...
Goizueta CMC Staff in the Career Management Center located in the Goizueta Foundation Center Building. Goizueta Business School recently announced exceptionally strong employment statistics for...
On Monday evening of Keystone Week, the MBA Class of 2014 filed outside to the Jenkin's Courtyard for what they thought was just a...
Click Here to review the 2012 Edition of our QuadFold and Learn more about our Full-Time MBA Programs.