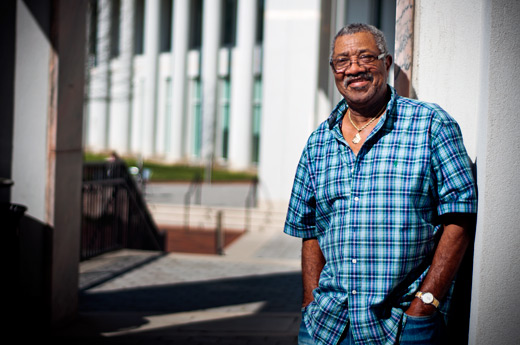 In the early-morning hours at Goizueta Business School, when all is quiet, a lone employee can be found roaming the halls.
James Freeman, the school's operations coordinator, arrives on campus at 5:30 a.m., checks his email and sets about on a daily walk-through to ensure rooms are unlocked, tables are straight and everything needed for a day of classes and meetings is in its place.
For more than 17 years, Freeman has worked behind the scenes to keep the business school moving. He places schedules outside each conference room listing the days' events, sets up rooms for speakers or professors and takes requests on facilities from anyone who may stop him in the halls.
By 9:30 a.m., when most start their workday, Freeman's is slowing down.
With a genuine smile, welcoming laugh and willing hands, Freeman is well-known around Goizueta.
"Most of the students know me and I don't know them. I guess somebody told them, 'Whatever you need done, James will get it done for you,'" says Freeman. "I think I work in the one position at the business school that has an encounter of some kind with almost every employee who works in the school."
Freeman first took a job at Emory – in the mailroom, back when the business school was in the Rich Memorial Building — after retiring from a 30-year career at the Doraville General Motors Assembly Plant.
His role as a trainer at GM may have had something to do with his abilities and attitude. At GM, Freeman would fill in on the assembly line for anyone needing a break. He'd also get coffee for his fellow employees, though he doesn't drink it.
"I enjoy the atmosphere and the people I'm working with," he says. "I thought I wanted to stay retired, but that's not really what I wanted. I enjoy working."
EDITOR'S NOTE: Goizueta Business School's James Freeman was profiled in Emory Report. Click here for the full article. This segment originally appeared in both print and online editions of Emory Report.