Click here for past issues.
Cover Story
100 Years and Beyond: Goizueta positions itself for new era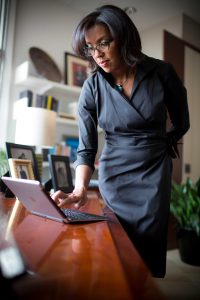 For the last century, Emory's business school has grown and prospered by tapping leaders and faculty with rich research interests and experience, remaining connected to industry and business while establishing a community that focuses on enrichment not only for the individual but the world outside school grounds.
This rich culture continues today.
As Dean Erika James stands at her desk surrounded by technology her predecessors would most certainly envy, she's mindful that the challenges and goals for the future are in some ways similar to those that have come before.
James is one of many deans to lead Goizueta Business School since 1919, each leaving a noticeable thread in the school's fabric. The priorities and visions of each administration have been reflected in updates to curriculum, research focus and building aesthetics. James looks to do the same while also keeping the school agile in the face of increasing change. Many, of course, consider this a requirement as the business world faces more complex problems on a global scale.
GoizuetaBeyond.com Honorees
In honor of our centennial, here are 100 selected stories of grit, passion, and inspiration that truly embody the school's spirit. These women and men truly go beyond!
More In this Issue
Buzz
Start:ME receives SunTrust Foundation's 2019 Lightining the Way Award, grant
Kadous, colleagues receive Deloitte Foundation Wildman Medal Award
Goizueta welcomes new faculty
Nicola Barrett named Chief Corporate Learning Officer
Entrepreneurs-in-Residence program adds new cohort
BBA students gain understanding of selves, world through exchange
New executive coaching diploma program coming in January
A season for conferences
HR clears the path for Goizueta employees 
Real estate investment fund heightens students' skills
Positivity, humor, and integrity at the heart of communication
Faculty celebrate staff work with clap-off
Coffee With…
Coffee With… Anna Gibbons 04C
Libby Livingston
Knowledge Creation
A look at the research of PhD alumni
Scholar Spotlight: Anandhi Bharadwaj
Network
Michelle Wang: on strategic moves and rockin' it at Ticketmaster