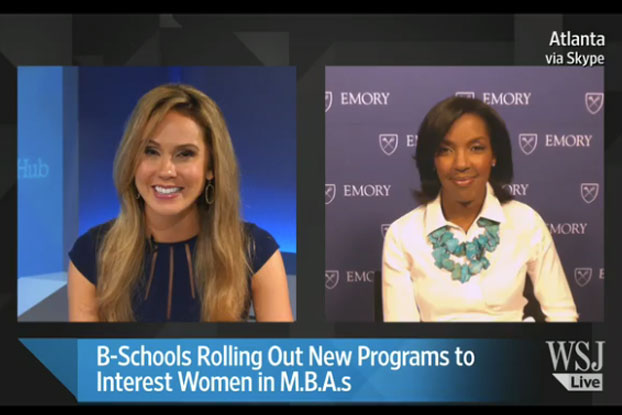 Public attention and research depicting the experiences of women in business schools and corporate America is tiresome. Almost every day I read a story addressing gender imbalance in the workplace. I sigh, knowing business schools face similar problems and a poor track record for success.
More women apply for college than men. Further, females make up half the applications to graduate programs in law and medicine. Yet, in business education, MBA programs regularly enroll classes that are less than 35 percent female. We have worked to solve gender imbalance for decades. Unfortunately, most attempts amount to platitudes and marginal gains.
I believe we are at an important crossroads.
We can choose to do things differently and yield different outcomes, or we keep the status quo and generate the same results that lead to leaky application pipelines, challenging cultures, limited role models, and pay inequities for women. In May, The Wall Street Journal highlighted the problem, its probable sources and various solutions on the table. [highlight]I spoke in more detail with Kristen Scholer on WSJ Live[/highlight]:
I've had the great fortune of spending more than 20 years in business education and the past academic year as Dean of Goizueta Business School. I've seen first hand how corporations and universities strive to improve the environment for women in business.
Now, I'd like to echo some close colleagues and propose a different approach. Let's work together — schools and companies — to try something different. Let's come together under a common set of ideas to solve this problem.
A new initiative, #ProjectEngage, will launch later this summer with select partner schools and the support of Catalyst. The idea is simple — encourage business schools to take a hard look at how they influence the success of female students, faculty and staff. This initiative encourages self assessment, collaboration and accountability. We want schools to find where they can do the most good. When a leader becomes self aware, they become a better leader. In the same way, schools need to become self aware of what hasn't worked and make more strategic commitments for the future. Additionally, Catalyst, one of the nation's leading organizations examining issues of gender equality, has formatted a list of good behaviors for schools to consider when addressing culture and recruiting.
Together, we hope to create and sustain a vocalized effort by 200 accredited business schools to identify internal opportunities for change, with at least 100 partnering with corporate allies to leverage existing models for female success. This initiative combines the knowledge of a respected research organization with the delivery methods of a business school and the tested models from corporate partners.
This mix of vested resources ensures lasting change, which is long overdue.
Join me to engage the entire business world in efforts to change.
EDITOR'S NOTE: Schools or corporations interested in learning more about #Engage can email the Goizueta Business School communications staff.