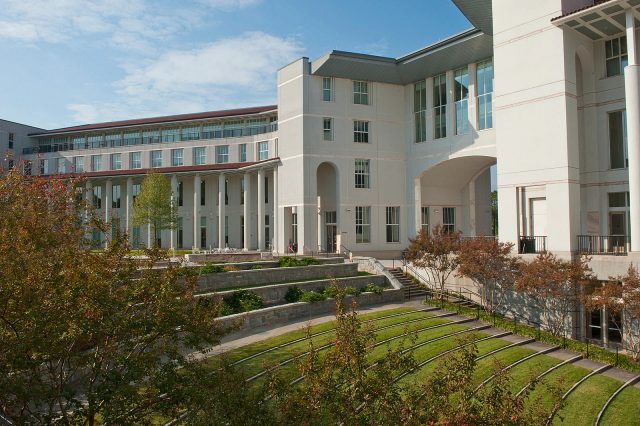 Graduates Dominate in Consulting, Tech, and Financial Services
Goizueta Business School announced today that 2021 full-time MBA graduates celebrated record highs for employment rates and salaries, bringing their skills and expertise into new industries and markets across the world.
"We are so proud of our 2021 graduates and can't wait to see all the ways these principled leaders impact business and society," said Maureen Manion-Leone, associate dean and executive director of Goizueta Business School's Graduate Career Management Center. "The Goizueta MBA is the only top-ranked MBA offering world-class academics and small-by-design classes delivered in a dynamic, global city. We are thrilled to continue to see our program pay off in lucrative, fulfilling careers for our graduates."
Graduates Employed at Record-Breaking Numbers and Highest Salaries
Touting the best employment rates in the school's history, Goizueta Full-Time MBA graduates entered the job market in full force. Within three months of graduating, 99 percent of students received and accepted offers for a full-time job. Furthermore, at graduation, 91 percent of the class received a full-time offer, representing an 8 percent increase over the previous year.
In addition to unprecedented employment rates, Goizueta MBA graduates garnered the highest salaries in the school's history. Graduates reported an average mean salary of $134,700, an increase of nearly $14,000 over the past four years. The class saw a bump in signing bonuses as well, on average securing $29,151 in 2021 vs. $28,076 in 2020.
MBA Graduates Increase Leadership in Consulting, Financial Services, and Tech
While Goizueta MBA graduates continue to lead across industries, the class realized sizable bumps in several important industries, including consulting, financial services, and technology.
Representing the largest industry, 37 percent of 2021 graduates entered consulting, a three percent increase over 2021, with the class of 2021 graduates entering this industry securing a mean salary of $148,007.
Coming in second, graduates entered financial services in high numbers with 23 percent of graduates targeting this field – a 5 percent bump over the previous year.
Capitalizing on the momentum of the tech industry, graduates also seized leadership roles within this industry, representing 20 percent of the class, a 4 percent increase over the prior year.
MBA Graduates Enter Top Global Companies; Expand Presence in West, South, and Northeast
Goizueta Full-Time MBA graduates continue to be sought after across industries, with the top consulting firms (Bain, BCG, McKinsey, and Deloitte), big name tech firms (Amazon, Google, Facebook, Microsoft, and Salesforce), and financial services giants (Bank of America, JP Morgan, Capital One, Citigroup, Deutsche Bank, Truist, and Wells Fargo) hiring Goizueta graduates. With 75% of Fortune 1000 firms having a presence in Atlanta paired with its low cost of living, most Goizueta graduates continue to choose the South (53%) over other regions, taking advantage of its thriving entrepreneurial landscape and hot tech industry. However, Goizueta continues to see growth in other regions as well with 30% of graduates accepting jobs in the Northeast and on the West Coast.
Read the complete report on full-time one-year MBA career and employment data here.
Read the complete report on full-time two-year MBA career and employment data here.
Read the complete report on full-time two-year MBA career internships here.
About Emory University's Goizueta Business School
Business education has been an integral part of Emory University's identity since 1919. That kind of longevity and significance does not come without a culture built on success and service. Emory University's Goizueta Business School offers a unique, community-oriented environment paired with the academic prestige and rigor of a major research institution. Goizueta develops business leaders of today and tomorrow with an undergraduate degree program, a Two-Year Full-Time MBA, a One-Year MBA, an Evening MBA, an Executive MBA, an MS in Business Analytics, a Master of Analytical Finance, a Doctoral degree, and a portfolio of non-degree Emory Executive Education courses. Together, the Goizueta community strives to solve the world's most pressing business problems. The school is named for the late Roberto C. Goizueta, former chairman and CEO of The Coca-Cola Company. For more information, visit goizueta.emory.edu.
Emory University is recognized internationally as an inquiry-driven, ethically engaged, and diverse community whose members work collaboratively for positive transformation in the world through courageous leadership in teaching, research, scholarship, health care, and social action. The University consists of an outstanding liberal arts college, highly ranked professional schools, and one of the larger and more comprehensive healthcare systems in the Southeast.