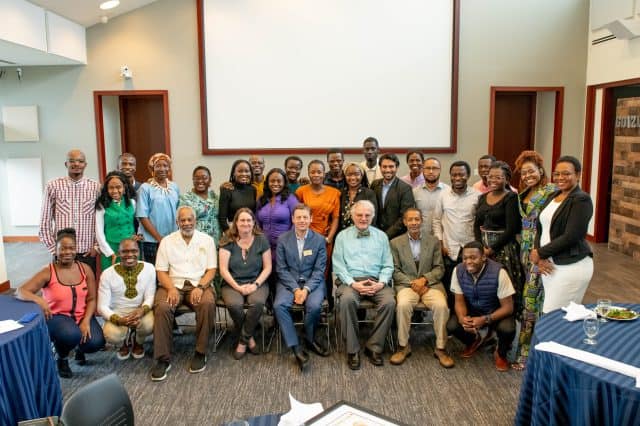 In 2010, President Barrack Obama partnered with Nelson Mandela to create the Young African Leaders Initiative, or YALI for short, to "support an emerging generation of African leaders as they work to drive economic growth, enhance democratic governance, and strengthen the civil society structures that will help the continent grow and prosper," according to White House records.
The program brings 1,000 young Africans to the U.S. for six weeks of learning on one of three topic areas: business and entrepreneurship, civic leadership, or public management. The goal is to provide these leaders with the opportunity to expand their networks, learn, and receive training to better their home continent. In Atlanta, the fellows are hosted by Clark Atlanta University.
This year, 24 fellows from 21 African countries came to the U.S. and visited Goizueta Business School for a special YALI event.
"The fellows, 13 women and 11 men, were all budding and successful entrepreneurs in industries ranging from technology and fashion to education and medical services. They leave with a better appreciation of commerce and society in the U.S. and reflect on their opportunities in their home countries and regions," says Benn Konsynski, a member of the Clark Atlanta University and YALI advisory team as well as the George S. Craft Distinguished University Professor of Information Systems & Operations Management at Goizueta.
The visit to Goizueta is often cited by the YALI fellows as a special feature of their experience.

Benn Konsynski
As part of the business and entrepreneurship topic area, the event featured talks from Goizueta faculty and business leaders. Faculty included Konsynski, who spoke about technology and commerce futures, and Jan Barton, associate professor of Accounting, who spoke about design thinking, the process of improving product and/or business design.
Special guest speakers from Microsoft included Zulna Heriscar 12EMBA, director of device sales; Bo Beaudion, director of client transformation strategy; Zhe Wu 16 BBA/MPA, business development and strategy lead; and Yacine Barro Bourgault, infrastructure and skilling lead, who joined via Teams from Senegal.
The lunch was hosted by John H. Harland Dean Gareth James as part of his first day in office.
The Young African Leaders Initiative visit is just one example of how Emory University and Goizueta Business School create an environment of global engagement. Through partnerships like this, we can extend our network of opportunities and provide spaces for global impact. Reach out to Goizueta.Global@emory.edu to learn more.