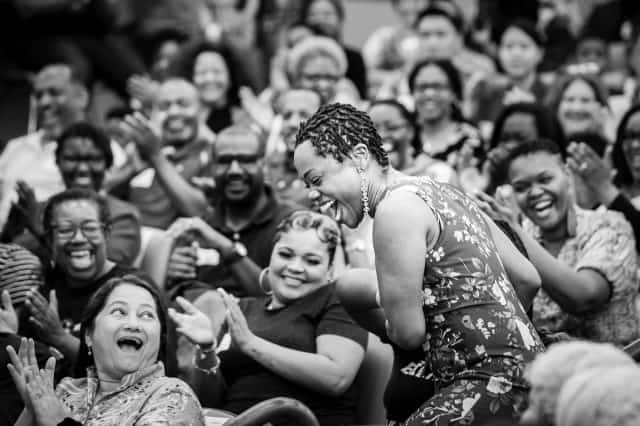 Initiative Empowers Entrepreneurs and Strengthens Small Businesses in Underserved Communities in Atlanta
ATLANTA (March 28, 2023) — Today, Truist Foundation announced a $1 million grant to Emory University's Goizueta Business School's Start:ME Accelerator program, the largest gift in the program's 10-year history. Start:ME is a free, 14-week accelerator training program aimed at supporting small businesses in underserved communities in Atlanta. Delivered by Goizueta's Business & Society Institute, alongside a coalition of neighborhood partners, the program provides micro-entrepreneurs the tools and connections necessary to build and grow successful businesses. 
"Collectively, microbusinesses directly feed into the economic and social vitality of their communities," said Gareth James, John H. Harland Dean of Goizueta Business School. "When these businesses thrive—generating income, creating jobs, occupying spaces and providing role models—surrounding neighborhoods do as well."
From mom-and-pop shops to in-home ventures, microbusinesses are individually quite small but collectively create a big impact. According to The Association for Enterprise Opportunity (AEO), microbusinesses account for 92 percent of all US businesses and create 41.3 million jobs.
Truist Foundation is a longtime partner of the Start:ME program, serving as the program's inaugural external seed funder, issuing the first grant to the program's Clarkston efforts in 2013. This new investment was made as part of Emory University's 2O36 campaign supporting the university's mission to serve humanity through knowledge.
"We are proud to partner with Goizueta Business School and support such a transformational program in the Atlanta community," says Lynette Bell, president of Truist Foundation. "Truist Foundation believes all people and communities should have an equal opportunity to thrive. By strengthening the small business ecosystem in underserved neighborhoods, we can begin to level the playing field and ignite generational wealth for years to come."
Over the past 10 years, the Start:ME program has served 351 businesses in Clarkston, East Lake, and Atlanta's Southside in collaboration with The East Lake Foundation, Focused Community Strategies, Friends of Refugees, and Purpose Built Schools Atlanta. In this year's cohort, 80 percent of the ventures are female-led and 87 percent of the entrepreneurs are people of color. Start:ME focuses on three pillars: business training, mentorship by skilled volunteers, and capital, including $15,000 in seed grants per community cohort.
In addition to providing financial support, Truist teammates offer critical mentorship to participating businesses. Mentors play a hands-on coaching role at each session, pairing up with entrepreneurs based on skill sets, experience, and compatibility. 
"Serving as a volunteer mentor for the Start:ME program for the past nine years has provided a unique opportunity to deliver on Truist's purpose to inspire and build better lives and communities by working directly with people who are building businesses that create jobs and ensure a thriving community," said Ron Alston, not-for-profit and government banking leader for Truist. "I have learned as much from the entrepreneurs I am mentoring as I have taught, while more deeply connecting with the work being done in the East Lake and Kirkwood communities."
Mentorship is a critical component of programming. "The relationship between mentors and entrepreneurs is key and often extends beyond the 14-week program," said Start:ME Director Erin Igleheart. "We want entrepreneurs to have a solid, supportive, constructive network of mentors and peer entrepreneurs to draw upon as they continue to operate their business."
The multi-year grant supports Start:ME's existing community programs along with expansion efforts to serve additional micro-entrepreneurs in Atlanta.
Find out how you can support Start:ME and build stronger communities by supporting local entrepreneurs.  
Find out more about Truist Foundation and its commitment to inspiring and building better lives and communities.
About Emory University's Goizueta Business School
Business education has been an integral part of Emory University's identity since 1919. That kind of longevity and significance does not come without a culture built on success and service. Emory University's Goizueta Business School offers a unique, community-oriented environment paired with the academic prestige and rigor of a major research institution. Goizueta develops business leaders of today and tomorrow with an undergraduate degree program, Full-time MBA (Two-Year MBA & One-Year MBA), Evening MBA, Executive MBA, full-time and part-time MS in Business Analytics, Master of Analytical Finance, Doctoral degree, and a portfolio of non-degree Emory Executive Education courses. Together, the Goizueta community strives to solve the world's most pressing business problems. The school is named for the late Roberto C. Goizueta, former Chairman and CEO of The Coca-Cola Company.
For more information, visit goizueta.emory.edu.
About Truist Foundation
Truist Foundation is committed to Truist Financial Corporation's (NYSE: TFC) purpose to inspire and build better lives and communities. Established in 2020, the foundation makes strategic investments in nonprofit organizations to help ensure the communities it serves have more opportunities for a better quality of life. Truist Foundation's grants and activities focus on building career pathways to economic mobility and strengthening small businesses. Learn more at Truist.com/Foundation.