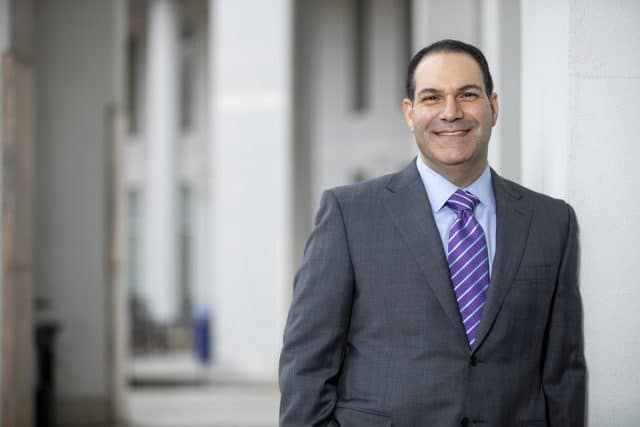 When a student enters any MBA program at Goizueta Business School, there is no question that time management will be a key factor for success. This was certainly the case for Daniel Refai 23EMBA. As a full-time neurosurgeon, a professor of neurosurgery and orthopedics at Emory University School of Medicine, and a loving husband and full-time father of three, he knew getting an Executive MBA from Goizueta would mean he'd have to make every minute of his day matter.
Refai began his medical career as a physician on the grounds of Emory University back in 2010. After graduation, he plans to continue practicing medicine, but he will now be taking on a leadership role as the vice chair of clinical operations, freshly armed with the skills he's learned during his time at Goizueta.
"The MBA, for me, was an opportunity to improve my understanding of business and hospital administration, and look at leadership as well as team building," Refai says.
As a physician, we're really good at the technical and clinical aspects of taking care of patients, but one of the big things that we lack is the ability to communicate on budgets and finances, especially in healthcare. The MBA gave me an opportunity to really organize my thoughts and develop the skill set to be able to be an active member of the healthcare administrative team.
Outside of the classroom, one of the Refai's favorite learning opportunities from his time at Goizueta was a global immersion program, where he not only gained a broader business perspective, but he also had the opportunity to bond with his classmates. Those relationships continued to grow throughout his time in the program, culminating in a partnership in starting a company during an entrepreneurship class.
"I think the group of people that I've met are going to be lifelong friends," Refai says. [This program is] a unique opportunity to be able to be with a group of people outside of what we would normally be associated with given work constraints. They're just some of the most incredible people that I've met as an adult. I'm going to miss being with them every other weekend."
This May, hundreds of Goizueta graduates will walk through our doors ready for the workforce. Learn more about the celebration and register for Goizueta's Commencement activities. Continue to check out the stories of our amazing students all month long.
Are you an executive ready to take your career to the next level like Refai? Read more about Goizueta's Executive MBA program.