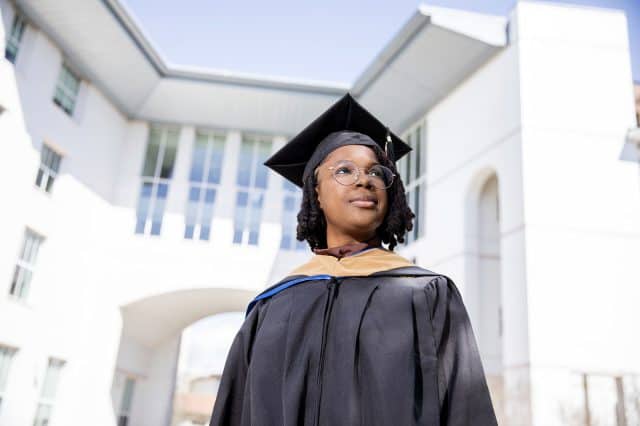 This May, hundreds of Goizueta graduates will walk out of our doors ready for the workforce. Continue to check out the stories of our amazing students all month long.
When you ask Charis Brooks 23MBA what she's looking forward to most after graduating this spring, she'll say: "Travel, travel, travel—then rest!"
Goizueta's Two-Year MBA program packs a punch in a short period of time, says Brooks, who began her career in the hospitality industry. Although she found her roles "immensely rewarding," the effect of the pandemic on her industry gave her an opportunity to reconsider her career path.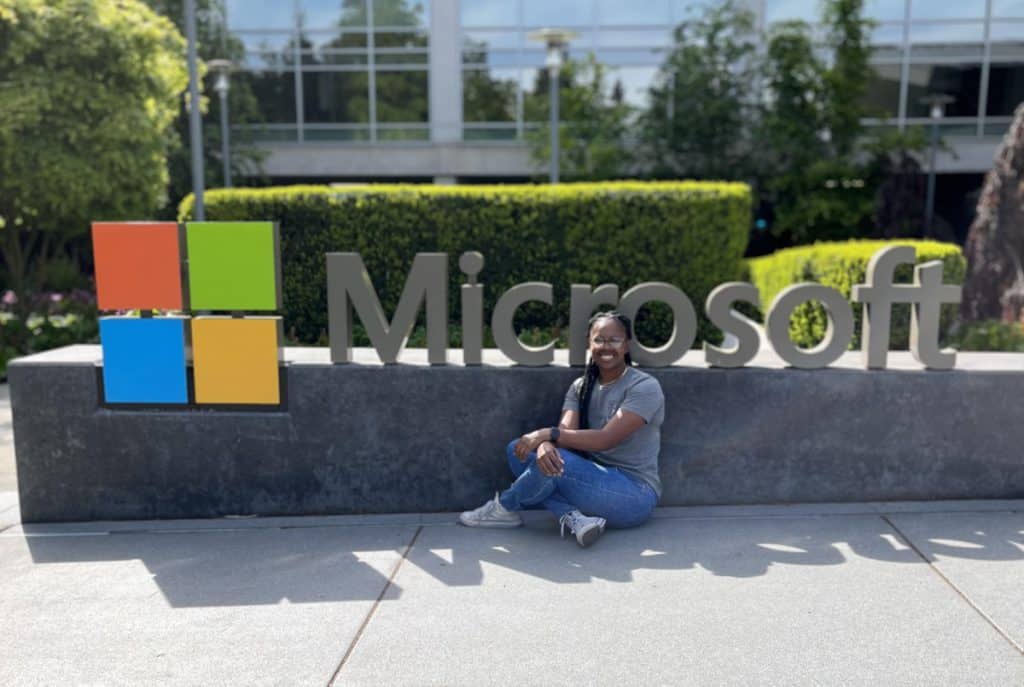 After graduating—and traveling—Brooks will be joining Microsoft as a partner and channel marketing manager, a position she held during her internship.
"I saw firsthand how quickly the hospitality industry could be affected by external factors and knew that I needed to pivot my career to be more adaptable and resilient," says Brooks, who has always been intrigued by the intersection of technology and marketing.
Through Goizueta's Two-Year MBA program, Brooks gained an understanding of the varied aspects of business, of course, but she also learned how to stand tall and voice her ideas.
"[I learned] what kind of leader I desire to be, how to be unapologetically myself, and how a little confidence can be the determining factor in success."
Brooks credits the Consortium for Graduate Study in Management, or her Consortium Family, for that growth. Goizueta is a member school of the program, which is dedicated to increasing underrepresented minority populations in business education. "It has been such an affirming experience to learn, collaborate, and build friendships with other like-minded peers who look like me," says Brooks.
Between study sessions at Goizueta, Brooks interned in Seattle for a summer with two classmates. She traveled to Bali and Panama—just for fun—and studied abroad for a week-long immersive program at the National University of Singapore. And she worked hard. Brooks was diversity co-chair for Inside Goizueta, the National Black Scholar for her cohort, a Forte fellow, a Marketing Analytics fellow, vice president of community for the Black MBA Association, and executive vice president of the Pride Alliance.
"The amount of life experiences I had in two years has been remarkable," says Brooks. "I see my MBA as a way to future-proof my career and ensure my success in an ever-changing world."
Congratulations to our Goizueta graduates! Learn more about the celebration and register for Goizueta's Commencement activities.
Interested in pursuing your MBA? Learn more about the unique programs Goizueta has to offer.