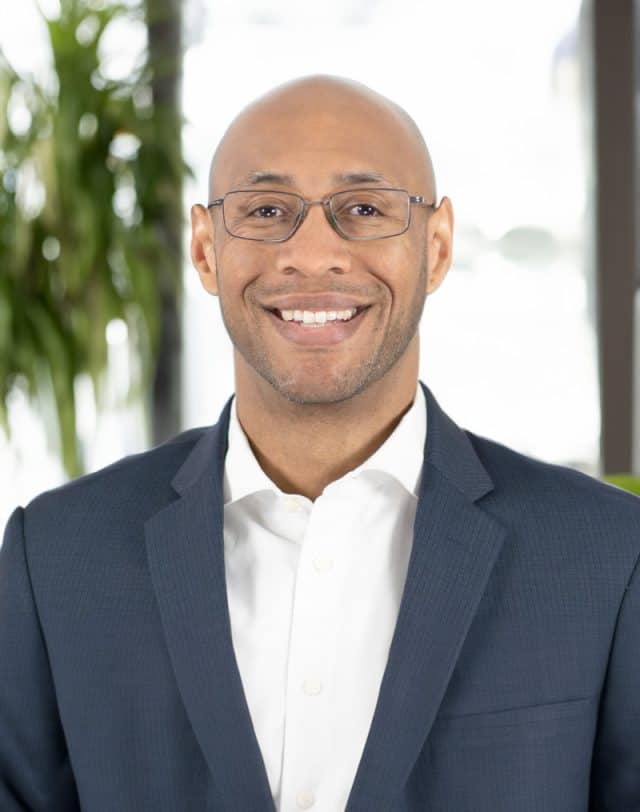 Jason Payton, 12EvMBA, is a natural relationship-builder. From keeping in touch with fellow students, professors, and faculty from his Evening MBA cohort to building exceptional relationships with clients in his role at Scott Madden, a management consulting firm, Payton's passion for people is the through-line that led him to be elected president of the Goizueta Alumni Board for 2023-2024.
"The most memorable part of my time at Goizueta was the depth and quality of the relationships I formed," said Payton. When he began looking into pursuing his MBA, career growth and credibility from employers were top-of-mind.
A lot of people think of business school as a transactional experience designed to help students make more money or change careers. What I received instead was a transformational experience.

Jason Payton
Payton kicked off his career as a product specialist at a building products distributor. He worked his way up the ladder to become a national account executive, then made the leap to consulting after he graduated from Goizueta.
"Emory is, to me, a world-class brand," says Payton. "When I think of Emory I think of excellence."
For the sake of his growing family, Payton knew he wanted to further his education in Atlanta, and Goizueta checked all his boxes. "When you think about rigor and accountability, some of the core values of Emory, you're reminded of what it means to be a strong and ethical leader in the face of resistance," he asserts. Payton uses the collaboration and relationship-building skills he honed at Goizueta daily in his current role as a partner at ScottMadden.
Payton joined the Alumni Board in 2017, five years after graduating from Goizueta's Evening MBA program. He spent several years co-leading the Student-Alumni Mentor Program, which connects current Goizueta students with alumni to foster networking opportunities and professional growth. As one of the longest-running and most successful Alumni Board programs to date, Payton helped facilitate mentor-mentee relationships between 100 to 200 students and alumni each year.
When asked about his experience on the Alumni Board thus far, Payton says, "It's about people developing meaningful relationships, helping people have a better experience while at Goizueta, and making alumni feel more connected with the school." Mentorship has always been integral to Payton's life; in his free time, he manages a scholarship fund for undergraduate students at his alma mater, Morehouse College, with a group of friends. He also volunteers time advising leadership at North Decatur United Methodist Church.
Payton was selected as one of the Goizueta 100 honorees in 2019, and he served as vice president of the Goizueta Alumni Board from 2021-2023. He began his term as president in September 2023.
Did you know that your Goizueta alumni network is 25,000 global members strong? Find out more about how you can volunteer with Goizueta, engage with fellow alumni, access career resources, and invest in the future of Goizueta. Reach out to one of the advancement and alumni engagement team members at gbsalumni@emory.edu.