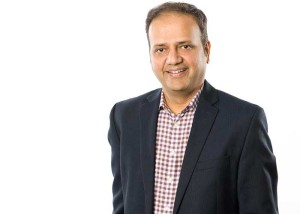 When Faiz Ahmad 03EvMBA began his career at Delta Air Lines in 1999, the Internet was still in its infancy. Google had launched just a year earlier. Wikipedia didn't exist. And the first true smartphone— the Blackberry 6710—was still three years from materializing.
It was, in other words, a different world.
"When I started at Delta, we had this small website, and the entire technology side of things was seen as an 'innovation arm' of the company, not core to the business," says Ahmad, who now serves as Delta's managing director of eCommerce and digital channels. "Over the years, of course, it has become a core business."
Indeed, technology has almost completely revolutionized the airline industry over the past 15 years, and it's Ahmad's responsibility to ensure that Delta stays ahead of the digital curve. It's a job, he says, that demands that he and his team think about mobile technology not simply as a means for passengers to purchase tickets, but rather as an avenue by which Delta can engage with its customers before, during, and after their flights.
"It's not just about the website," says Ahmad. "It's about digital engagement. The focus is more than just selling a ticket; it's now about engagement across platforms—about each of the marketable touch-points."
It's no small challenge, though Ahmad is well qualified to tackle it, thanks in large part to his experience at Emory. When he first joined Delta, Ahmad found himself focused almost exclusively on the technology side of the business. He quickly realized that there was more to technology than technology. In short, to fully realize his potential and to help Delta leverage its technology assets, he needed to gain a broader understanding of strategy.
That's what Emory delivered.
"My decision to attend Emory was driven mostly by my passion to learn more about strategy and how to deliver the power of the brand," recalls Ahmad, a married father of two. "That experience helped me position myself to take on roles where I could apply those learnings."
Moving forward, Ahmad says he expects the digital space to continue to transform travelers' experiences and the travel business. But he admits that it's almost impossible to predict how. That's both because technology is evolving at such a fast rate, and because customers continue to surprise the industry with how they leverage new technologies as they become available.
"I don't think we could have ever predicted that 20 percent of our customers would eventually be using our app to check in, but that's a consistently high number that has improved year after year," he says. "That is part of the X-factor of digital. It's about getting the customer what they want and doing so in a timely manner."
– Tim Hyland