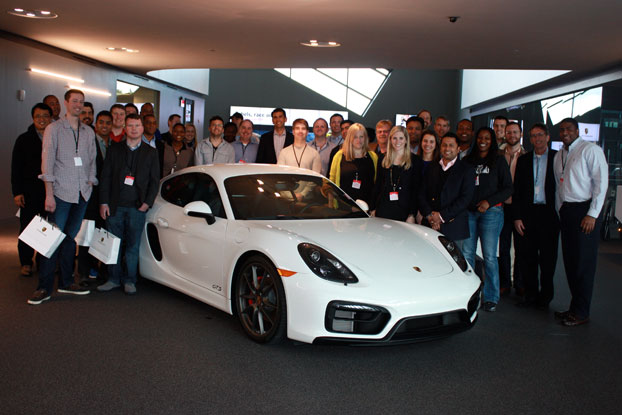 Members of Goizueta's Advanced Topics in Marketing and Leadership courses toured Atlanta's yet-to-open Porsche Experience Center on Friday, March 27. The tour, led by Joe Lawrence 96 MBA, Executive Vice President and COO of Porsche Cars North America, Inc., was held in conjunction with a case study two Weekend Executive MBA classes have been examining.
Porsche employees, Goizeuta alumni and Emory College alumni also toured the facility.
The WEMBA classes have studied Porsche's 2003 Cayenne Launch with an eye towards the company's rebranding efforts. The center, which is set to open in August 2015, is another step Porsche has taken to revamp its image as a high-performance sports car brand that focuses on customer individuality.
The center includes a personal design studio where customers can create a unique vehicle based on their needs and style. As it is, there are about 20 different variants of the Porsche 911 — one of the company's most popular cars.
About 40 percent of customers special-order Porsche vehicles.
"We like to sell on exclusivity and individuality," said Lawrence.
After the tour, students participated in a "classroom" meeting with Lawrence to discuss Porsche's marketing strategy and the company's efforts to make Porsche the most aspirational brand in the United States.
Although the company sees itself, first and foremost, as an exclusive sports car company, it is expanding its variety of vehicles to include models such as the Cayenne (a midsize SUV), and the Macan (a smaller, sportier SUV).