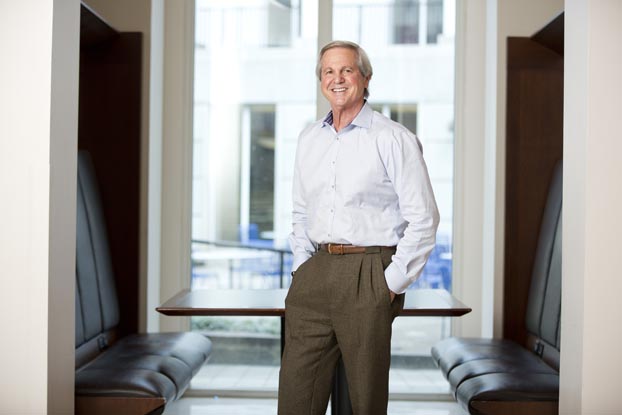 It's not often that a casual conversation can launch a research career, but that's exactly what happened to Jim Rosenfeld, associate professor of finance. As a former Wall Street banker turned academic, Rosenfeld had just graduated with his PhD in finance from New York University when he met a lawyer while at a club he belonged to. They struck up a conversation and the lawyer described his latest project: spinning off a division of Peabody Energy, a huge coal company.
He explained that a spin-off is when you distribute 100 percent of a firm's ownership in a subsidiary to its shareholders. "Basically the shareholders receive shares of the spun-off entity as a tax-free dividend, and they now own shares in both the parent and spun-off company. I thought that was interesting," Rosenfeld says.
The subject of spin-offs would be raised again in his early days as a junior faculty member at the University of Georgia. A colleague shared a Fortune article on spin-offs and asked if Rosenfeld wanted to do a study on the topic. Two years later, their article—the first paper on spin-offs—was published in a 1983 edition of the Journal of Finance.
"Then I decided to explore sell-offs. That's where you take a division and you sell it to the highest bidder," explains Rosenfeld. "Like spin-offs, no one had ever done a study on sell-offs, and I had the first paper published in the Journal of Finance in 1984. I am very proud of the fact I helped pioneer the field of corporate divestitures."
At the time, Rosenfeld notes, there was barely a mention of divestitures in textbooks. Today, every major finance textbook has at least one chapter on corporate divestitures. Rosenfeld joined Emory in 1983 and continued a prolific research career that includes his influential work into reverse stock splits. He'd read about reverse splits in USA Today and wanted to know more about them, which resulted in the 2008 paper that would go on to become a much sought-after and referenced work. April Klein from NYU and Seoyoung Kim 09PhD, now of Santa Clara State University, coauthored the study with Rosenfeld.
"What boosted the popularity of that paper was the 2011 announcement by Citigroup that it would engage in a 1 for 10 reverse split. Their stock was trading at $4.50 at the time, which means that after the reverse split it would be trading at $45 a share. This now makes it looks very attractive to outside investors, or at least it's supposed to," explains Rosenfeld. "But, in fact, it's a Band-Aid approach for most of these companies. We found out that companies that do a reverse split underperform the market by a wide margin. In fact, on average, all 1,600 companies studied underperformed the market by close to 50 percent over three years."
Although the reverse stock split boosts up the value of the stock, it does nothing to identify and improve operating performance. "Well, the reverse split is not going to fix what's broken. And what's broken has to be fixed by management," he says.
Despite more than 20 years at Goizueta, Rosenfeld still ensures that his courses on divestiture policy and capital structure policy are relevant. He finds plenty of real-world supportive material in the Wall Street Journal and financial press, meticulously cutting out articles and distributing them to his classes. Rosenfeld admits to occasionally spending too much time discussing today's financial news. "Students find some of the articles pretty fascinating," he says. "I use the articles to bring out important points that they can't get from reading textbooks and to demonstrate concepts we will be discussing."
During his tenure, Rosenfeld has witnessed much change in the markets as well as at Goizueta. "When I first came to Emory, it was just a small, regional business school," recalls Rosenfeld. There was plenty of potential, though, and in 1987 an accounting and finance guru named George Benston joined the school. "When George came, he shook this place up. He helped turn this school around and was instrumental in nearly every major hire. Not only was he my mentor and best friend, but he was my favorite tennis partner." The fact that Rosenfeld could always beat him was a bonus. Benston was tenacious no matter the score.
"I would hit a shot he could not possibly return, and yet he would still try to run it down. That's the kind of guy George was," Rosenfeld says of Benston, who died in 2008. "He was as aggressive in his research as he was on the tennis court. He was a true academician. He just did research for the pure joy of it."
Although he no longer plays tennis, Rosenfeld can sometimes be found on a 26-foot speed boat he keeps at his vacation home in Siesta Key Beach, Florida. Thankfully, he's given up wakeboarding and leaves that sport to his son Scott, a budding actor.
For those with fond memories of classes in the Rich building and with Rosenfeld, he offers a hearty greeting: "Tell the alums I miss them."—Nicole Golston For more on Rosenfeld, visit emorybusiness.com/ 2011/05/23/question-marks-professor-jim-rosenfeld/.