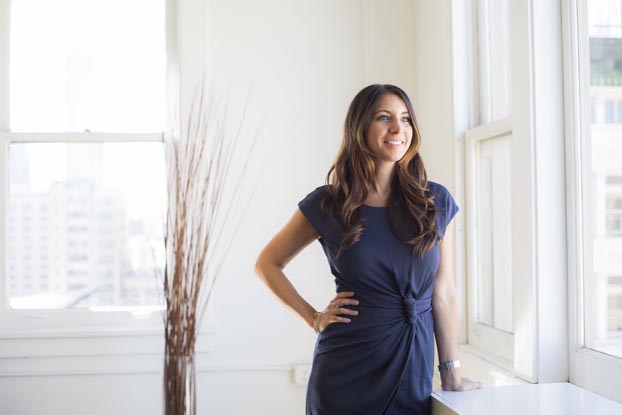 When Diane Cohen Gutentag 02BBA headed to Emory from Chicago, she expected to enjoy the beauty of a small campus along with the restaurants and nightlife of Atlanta. What she did not anticipate was how the coursework and faculty advising would impact her career trajectory.
As vice president of finance for Halston in Los Angeles, Gutentag oversees all the financial aspects of the iconic fashion brand's various businesses. It's a role that surpasses the original job plans she had upon entering Goizueta.
"I've always loved fashion and thought I would open a retail business," she says. "But as I completed a concentration in management, I discovered that I really liked accounting and decided to pursue it instead."
Her interest and aptitude led faculty members to urge her to take the CPA track, a professional concentration that required 150 hours and specific coursework on top of the regular workload. This normally warrants a fifth year of schooling to complete, but with guidance and determination, Gutentag did it in four.
"Faculty worked with me and reviewed all the coursework and the hours needed and figured out ways I could cram a fifth year into my four years at Emory," Gutentag says.
An internship with KPMG in Chicago would lead to a permanent job with the firm in their New York office upon graduation. "I received an offer from the Chicago office, but I made such great relationships while in the program that I wanted to maintain the bond with friends, and that meant being in New York," Gutentag says. "That's when I requested an interview with the NYC office and secured a job before my senior year."
After working two years for KPMG and obtaining a CPA license, Gutentag turned her sights back to accounting and her first love: fashion. In 2004, she found the perfect mix as the director of finance and accounting for the Home Division of Polo Ralph Lauren in New York.
"My Goizueta education, auditing experience, and passing the CPA exam all helped build my confidence in my career and helped me navigate this new company and new role," Gutentag says. "I just hit the ground running."
For six years she would manage the in-house accounting needs, including general ledger recording, writing financial reports, analytics, and budgets. During this time she would meet and later marry her husband Eyal. Starting a new chapter of her life, she took a year off to travel the world with her husband. "My two favorite places were Patagonia and South Africa," she notes.
The Gutentags moved to Los Angeles to be closer to family, and with their travels coming to an end, it was time to job search. "I interviewed with Halston on a Thursday, and by Monday I was hired as controller and began working," she says. Since Halston was a start-up in 2011, there were 15 employees and a big empty office. Gutentag had to do everything from opening bank accounts to reporting taxes.
Today Gutentag is a VP and has a staff, but she continues to implement and streamline processes as the company changes and expands. "We started out as just a wholesale business, then a year later we started a retail business, and that meant opening up a lot of stores," she explains. "That requires a different layer of accounting, like P&L, reconciling cash receipts, setting up merchant accounts, and then calculating sales tax associated with that business."
Halston is now in the e-commerce business, and this also has to be accounted for and reported on. Says Gutentag, "I just love being a part of the fashion industry. I get the best of both worlds, combining my technical skills in an industry that I'm passionate about."
When she is not working, Gutentag spends as much time as possible with her husband and two children, Noah and Ava, ages 3 and 1, respectively.