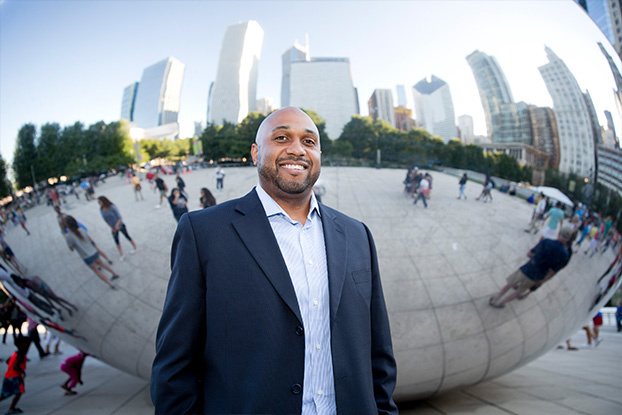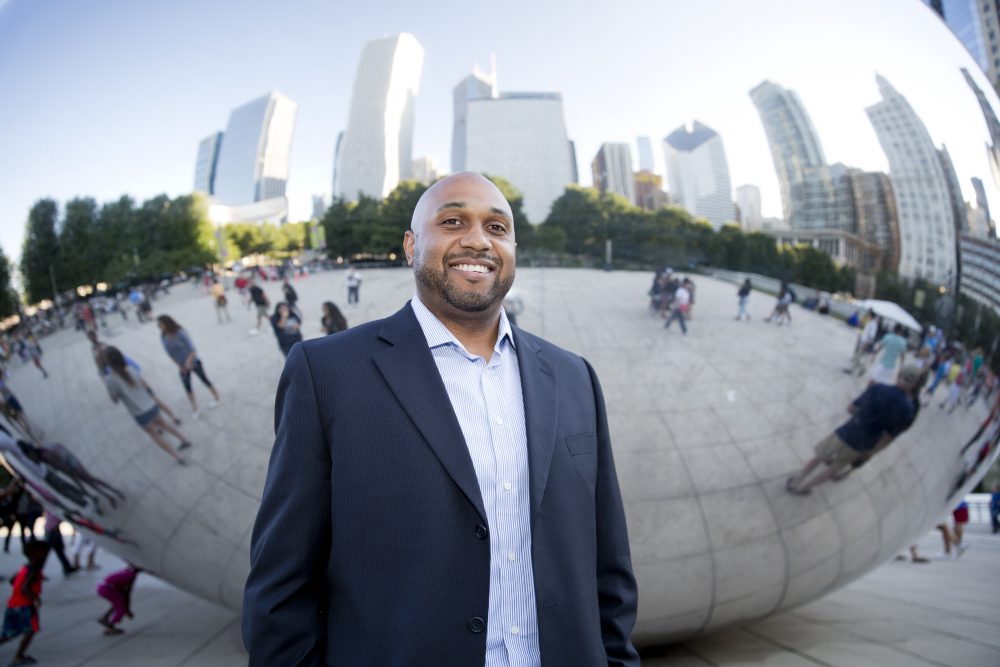 Nick Harris 08EvMBA wants to enhance your online shopping experience. As director of digital operations and optimization for United Airlines in Chicago, he spends his days studying the behavioral patterns of users on United.com and waging a battle for your eyeballs and dollars. This means anything from bundling services to ensuring smartphone capability. The challenge is not only interpreting consumer patterns correctly, but keeping up with his competition.
"If Google is doing something really intelligent, or Apple or Amazon, they're setting a standard for customers, who expect the same capability for all other applications that they're engaging with," Harris says. "In a sense, you actually start designing interfaces and experiences in these digital ecosystems. You're not just competing against others in your industry; you're competing for mind space and time with all of the other devices and apps that are on customers' phones."
For instance, most consumers expect the same capability via an app or accessing a webpage on their smartphones as they would on a computer. It's this type of functionality Harris has to always consider.
While newer companies can be a bit more nimble, Harris is tasked with taking a nearly 100-year-old transactional company and "finding ways to leverage behavioral information to generate value."
Harris enjoys the challenge and partnering with other "product owners," whether it's e-commerce that owns the digital experience or marketing that owns the advertising budget, to help them solve a variety of problems. That's why a typical week is filled with cross-division and cross-team collaboration, assessing metrics, and, of course, studying the data.
"An average week for me usually involves looking at a wealth of information or data and trying to understand what types of hypotheses we can generate based off how customers are behaving or transacting with our channels," he says.
The goal, he adds, is to "identify opportunities to improve our overall experience for customers. We design different experiments that we can put into the marketplace to see if they actually move the needle on whatever metric we're trying to improve."
Devising these metrics takes on several forms, Harris adds. "One of the things that we've been doing a lot is looking at web analytics data and marrying that with transactional data. As a company, we have loads of transactional data, which is one of the things that I absolutely love about being at a company this size."
The irony of this abundance is the problem of having too much data, which can make the analyses harder to manage and process. In these cases, Harris uses SQL or SQL-like language to query relational databases or non-relational databases to stratify data. "There are a plethora of different software packages that we leverage," Harris notes. "I won't say that one is any better than another; the value is really determined by the quality and volume of the data that you have."
For Harris, finding synergies within the data, devising a strategy, and meeting an untapped market need give him an entrepreneurial feeling, even though he is inside of a company with 85,000 employees. Indeed, it was the search for deeper learning of business that brought Harris to Goizueta. While employed at a small tech firm, managing the technical side of e-commerce, he and some college buddies started an investment group. They experienced mild success but were eager to grow and explore their options. Although the group had varying education and experiences (Harris in computer science and engineering), "None of us really had a business background.
"As we started to talk to different people and get engaged with different opportunities, it was exciting to me, but I also knew that I did not have the tool set to really be as effective as I wanted to be," he says.
This led him on a search for an MBA program that would fit his needs.
"I felt it was worth the investment to go back to school and take the time to grow in a structured learning environment, in order to build that tool set," he adds. "This way I could evaluate our opportunities and learn the science of business."
Harris chose the part-time program because it allowed him to keep his job and use what he learned at work.
"I thought there was an interesting opportunity to learn something in the class one day and find out how you can actually apply it in a real world, real-life data set the next day," recalls Harris. "Also, this structure helped accelerate and really engrain the learning process. That was an extremely valuable aspect of going through the evening program."
The bonds made while in the program were an unexpected surprise.
"The relationships that I built during that time are fantastic, especially given that you're bonding with folks that are going through the same experience as you," Harris notes. "Every one of us had a job, every one of us was spending three hours in class each night. This made for a very collaborative learning environment."
The relationships with classmates were an asset, but the relationships with faculty changed the trajectory of his career.
"I had Steve Stuk for my core course and Klaas Baks for a course in private equity, as well as courses in marketing and real estate finance. As I became more interested in marketing and analytics, the decision sciences courses with Patrick Noonan and learning more about optimization were a game changer," Harris says.
It was Noonan who advised Harris to consider working in the airline industry. "We were talking one day, and Noonan said, 'If you really like this work and you're interested in doing optimization, you should think about the airline industry, given all of the work they do from a space revenue management standpoint."
Harris took that advice and landed a job with Continental Airlines after graduation, then stayed on with United after the two airlines merged. He continues to move up the ranks, assuming his latest role in January of 2017.
When not at work, Harris enjoys time with his wife and playing golf.
"As any of my classmates will tell you, golf is my thing. It doesn't take a lot of arm-twisting to get me to go out and play," he says. "Even when I was in school, I always dedicated four to five hours each week to go out and play a round of golf. It was my escape from everything in order to make sure that I could be out in nature and relax and clear my mind."