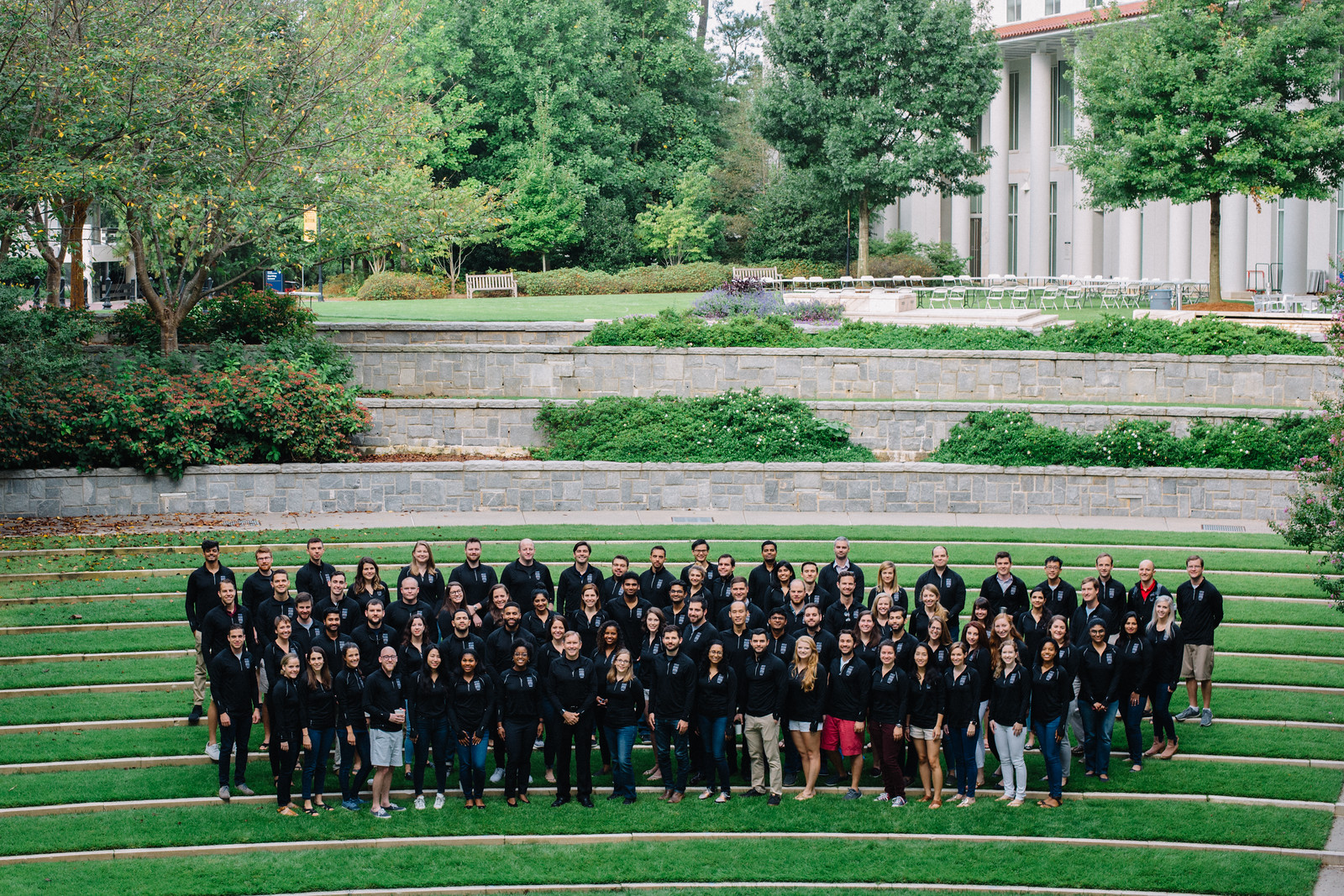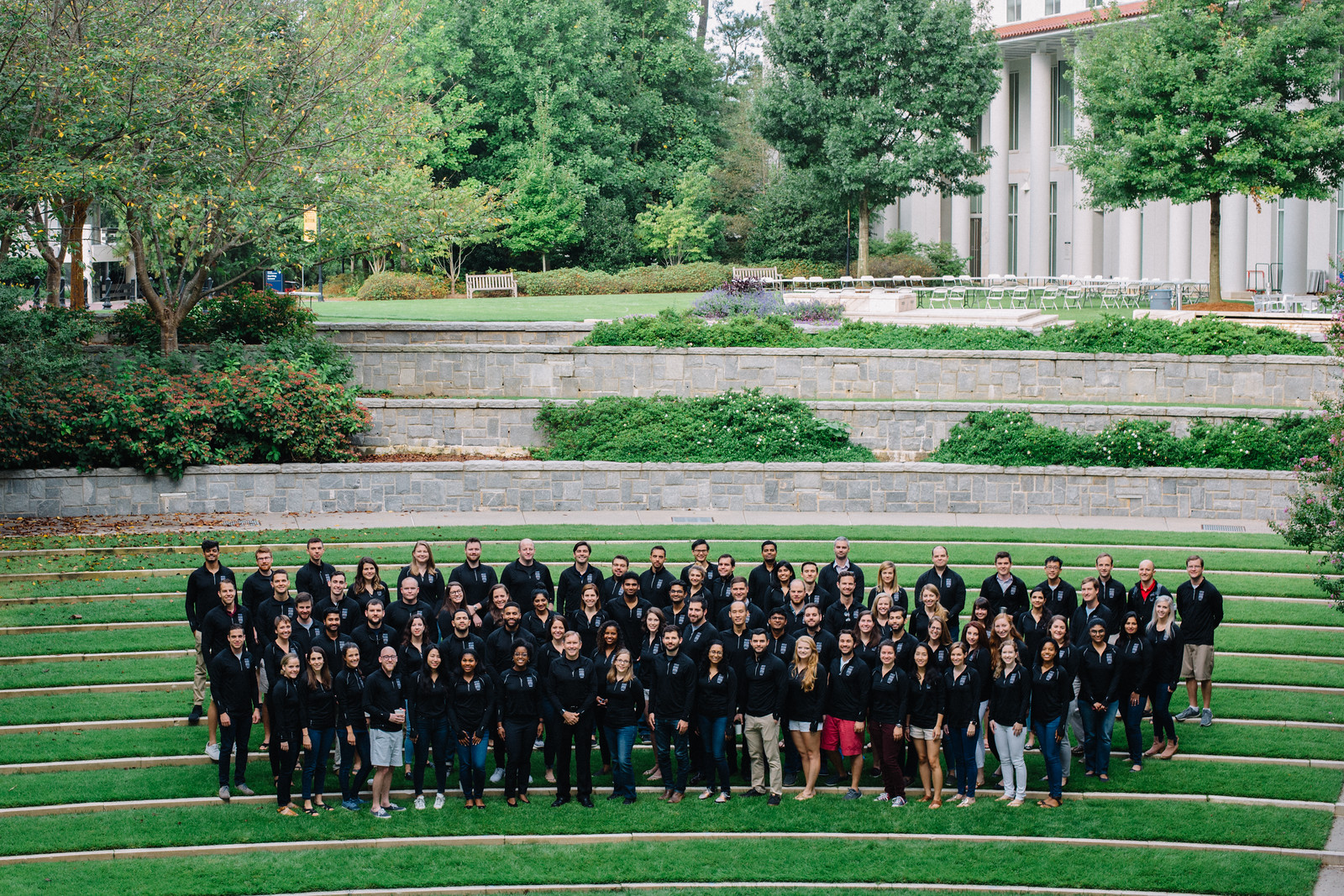 Leadership is an art, not a science.
This idea was emphasized by Goizueta Business School professors Rick Gilkey and Peter Topping as they addressed this year's group of Delta Air Lines Leadership Coaching Fellows. The program begins each academic year with an all-day seminar and workshop. Throughout the semester, students will work at perfecting the art of leadership while acting as peer coaches for first-year MBA, EvMBA and other students.
The LCF program, now in its fifth year, is part of Goizueta's Leadership Development Program, and the course is designed to use coaching skills to enhance leadership attributes.
"First and foremost, this is a leadership program," Ken Keen, associate dean of leadership, told the students. "I want to spend today making sure you are as prepared as possible to engage with your teams."
Keen, Gilkey and Topping led the students through a case study produced by Dean Erika James. One student acted as a peer coach and attempted to reverse the real-life outcome of the study, which involved the dismantling of a student learning team.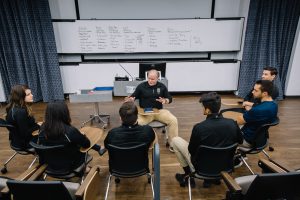 Throughout the morning fellows were given time to journal, reflect, and discuss ideas in small groups.
Gilkey noted first-year students who receive peer coaching may be resistant to the idea for a variety of reasons.
"You may be asked, 'Why are we doing all this touchy-feely stuff anyway?'" said Gilkey. "But they [would be] missing the point. This is a different level of learning. How you get there and what you learn from that is the biggest takeaway.
"Step outside the game and think about how you're playing it."
Topping told the fellows that being an effective coach is something that will always be important.
"Folks, I wish I had been fortunate enough to have the experience you're having, as someone who is doing a fair bit of coaching now," Topping said, remembering a time when the group was a quarter of its current size. "Now seeing everyone here and how motivated you all are, it's very rewarding."
After the morning seminar, students broke into groups to meet with executive coaches who support the coaching fellows by observing sessions, providing feedback, and being available to answer questions and give advice.
ONE-YEAR MBA FELLOWS
Laura Botero
Chase Canter
Steven Cheng
Marissa Cho
Meghan Elliott
Ryan Jaskot
JK Karlsson
Matt Klaiber
Courtney Lemenze
Nicholas Meli
Fiorella Rosalino Orozco
Deven Patel
Kritesh Patel
Kimberly Qualls
Gabi Tudin
Eric Zimmerman
TWO-YEAR MBA FELLOWS
Lindsay Aleshire
Veronica Arroyo
Rhushi Bhadkamkar
Lisa Brauer
Jesse Brown
Morgan Bullock
Karina de Sousa
Lane Eisenburg
Ryanne Fenimore
Alexa Fogler
Max Francis
Ajay Sreekanth Ganesh
Katerina Gazashvili
Matt Gill
Leo Gorgens
Missy Goss
Austin Gray
Isha Grewal
Emani Harris
Mac Hatch
Shige Higashiura
Mi-Yeon Kim
Kelly Kretschmar
Souvik Kumar
Andrew Kupka
Clay Lanier
Jay Mathes
Katie McComb
Alex McDonald
Justin Milledge
Rami Mouad
Jacob Novich
Salona Patel
Abhishek Patro
Claire Pavlak
Amanda Persaud
Parker Plunkett
Daria Preston
Klaenyza Pritchard
Harrison Reeves
Ron Rice
Katie Sweeney
Ranan Tannenbaum
Hitesh Tanwani
Garrett Tash
Ryan Trepte
Michael Weller
Louis Wolff
Frank Woodling
EVENING MBA FELLOWS
Sarah Baker
Sheereen Brown
Josie Brucker
Jordan Bunster-deCorrea
Jaime Cabre
Chase Callaway
Jeff Chermely
Melissa Conners
Adriana Douglas
Chris Fehn
Shehla Hajiani
David Hoffmire
Lauren Jeong
Llana Katz
Lidiya Krochmal
Dennis Luong
Kathryn Marsh-Soloway
Jarrett Oakley
Kenny Owens
Senthil Rajendran
Poornima (Poorni)
Ramakrishnan
Sangita Sharma
John Stegall
Jonna Tiitinen
Ben Wedekind