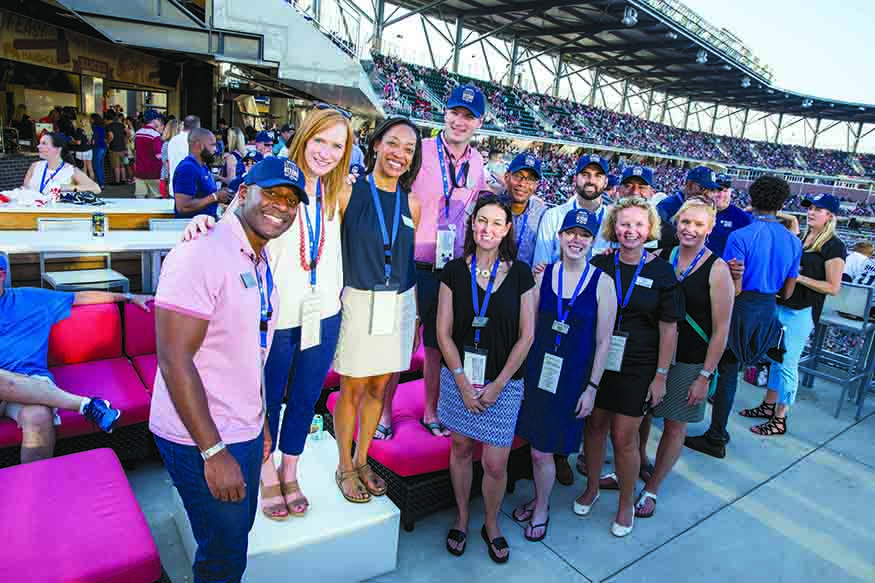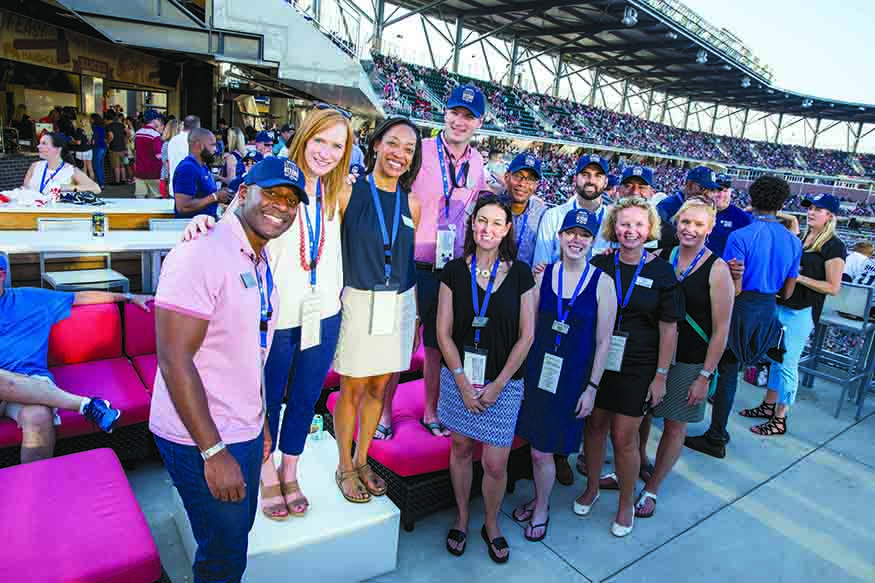 The Goizueta Alumni Board is growing stronger with the addition of five new members. Their backgrounds span industries, bringing with them a wealth of experience to enhance the strategic initiatives already underway, including Goizueta@Work and alumni recognition.
Joining the board are Ainsley TeGrotenhuis 05MBA, Graham Jaenicke 14MBA, Ted Kim 97BBA, Jason Harlow 10BBA 14MBA and Jodi Harvey 03MBA.
Each brings an energy and vitality to the board. For TeGrotenhuis, who leads Facebook's media partnerships marketing team, the impetus to join is to broaden the network to include companies on the West Coast, including in the San Francisco Bay Area where she lives with her husband (Christian Detlefsen 04MBA) and two children. "I'm particularly passionate about getting the non-ATLers re-engaged in the community and finding us opportunities to participate from afar," said TeGrotenhuis.
Kim echoes TeGrotenhuis' desire to expand the network beyond Atlanta. "There is a huge opportunity for alums to benefit from the Goizueta community, whether it be career networking, social activities, recruiting current students, etc.," said Kim. As part of the Alumni Recognition Committee, "I want to promote the many wonderful things our alumni have achieved throughout the year."
Having graduated from Goizueta twice, Harlow makes no secret of his admiration for an Emory education. He likes the fundraising aspect of the board−each member donates annually−and the opportunity to share the educational benefits with his fellow Texans. "As I look at Goizueta and the footprint in Houston, I feel we can do better. As the fourth largest city in the U.S., with major oil, technology and healthcare companies, we should have more alumni at these companies, and they should be active," said Harlow, who is senior finance manager at Hewlett Packard Enterprise. "I want to implement strategies to reclaim current Houston Goizueta alumni first, and then lead efforts to boost recruitment to Houston for current students and recent alums."
Jaenicke is director of strategic planning for SnapAV, a consumer electronics company. Of his role, he said, "I joined the board to find other ways to stay involved and give back to the community that did so much for me."
Transformative. That is what Jodi Harvey felt about her MBA, and she hopes to support and initiate similarly in-depth experiences as a board member. "I am pleased to be leading the Goizueta@Work initiative this year, a program that helps foster alumni communities at companies where a large concentration of graduates work," noted Harvey, who works as a director of sales at Crowne Media Family Networks. "We have more than 25 organizations currently participating and are planning to expand geographically, so it is an exciting time to be involved."
The group's executive committee for 2018–2019 is Aditya Rao 11MBA, president; Deborah Perantoni 00EvMBA, vice president; Jonathan Keen 11MBA, past president; and Leslie Marshburn 10MBA 10MPH, secretary. Other members include:
Stuart Bracken 07MBA
Kelly Fierro 07MBA
Eric Freedman 00BBA
Monika Hudson 09EMBA
Matt Long 04BBA 12MBA
Max Mayblum 16BBA
Patrick McBride 14BBA
Brian Moore 07EvMBA
Jason Payton 12EvMBA
Cary Smith-Marchi 16EvMBA
David Tuder 06BBA
–Nicole Golston and Kaylyssa Hughes