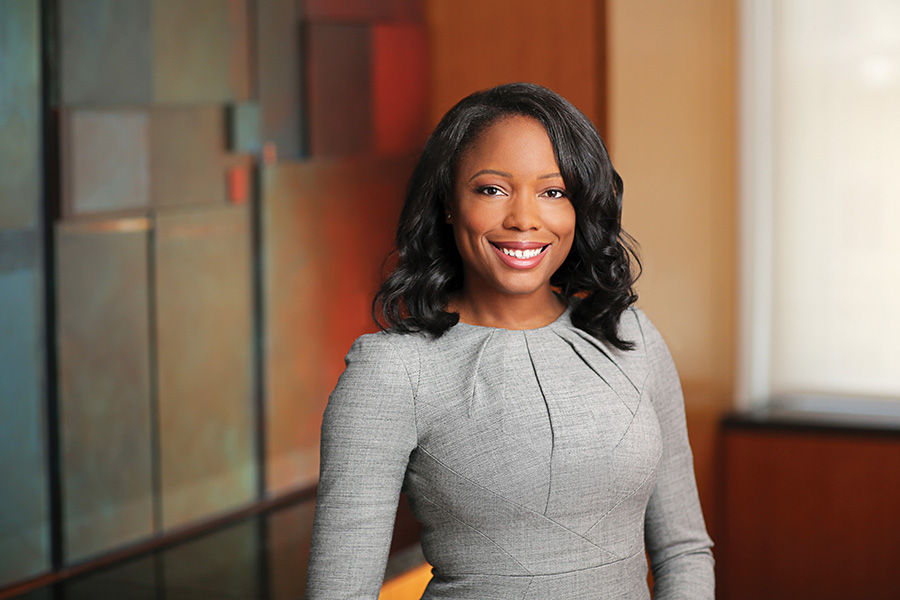 With the current economic climate, Camille Bent 09JD/MBA often reflects on the previous recession, which coincided with her 2009 graduation from Emory's law and business schools. She had graduated with a clear plan: relocate to her native city, New York, begin her career at a large law firm and start her path for future success. But when the recession struck in 2008, Bent's plans quickly changed. Like many other firms, her firm made the difficult decision to rescind its offers for the entire incoming class.
"I was a new graduate ready to go with no job, in a market where few jobs were available, and I had to quickly figure out what to do," Bent said.
With the help of the business and law school career services, Bent was able to quickly land a federal clerkship in Milwaukee, Wisconsin, where she worked with the district's chief bankruptcy judge.
"It was a wonderful experience, and I often look back and think about how I handled that time when I'm going through difficult times now," Bent said. "I wouldn't trade my clerkship for the world. The life lesson here for me is that when faced with adversity, your likelihood of success is directly tied to your attitude and your approach. The experience taught me to focus on the resources I do have and to make sure that I'm using every opportunity I can. It's advice I regularly share with my mentees."
Her career path did eventually lead her back to New York, where she worked at small- and mid-size firms, gaining valuable experience, specifically in commercial bankruptcy and reorganizations. For the past four years, she has been with BakerHostetler, where she works as a senior associate in the firm's bankruptcy & restructuring group. She represents companies in bankruptcy proceedings, including the ongoing Bernie Madoff litigation and the PG&E bankruptcy. In 2019, Bent was named to the American Bankruptcy Institute's "40 Under 40" emerging leaders in insolvency practice list.
Bent also serves as co-chair of BakerHostetler's New York Diversity and Inclusion Committee. "I'm very involved with my firm's diversity initiatives," Bent said. "The corporate world is facing a reckoning with regard to its Black professionals. It can either engage in the performative, short-term activism that has become the norm, or it can do the hard, uncomfortable work to make long-lasting change."
Currently, she is working with office leadership and other committee members regarding the office's recruitment and retention policies.
When asked about her more than 10-year career as a corporate bankruptcy practitioner, Bent said, "It's not about enjoying what you do every day. It's more about the whole picture. Are you living up to your potential? Are you being challenged? When I think about those questions, that's what motivates me, because I am being challenged, navigating complex legal issues and underlying financial concepts, while simultaneously managing and mentoring junior attorneys. I do believe that my work is impactful and that it provides value, not just to the clients, but to the people that are coming behind me. That motivates me tremendously."