Goizueta alumni hold more than a coveted degree from Emory; they also boast a wealth of life experiences and business know-how. In this ongoing series, EmoryBusiness.com shares their sage advice, which you can add to your own toolkit.
---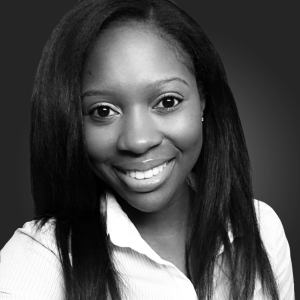 Afiya Hosten 17MBA
Senior Consultant
Prophet Brand Strategy
Afiya Hosten 17MBA is an experienced marketer with a proven track record of driving innovation and change through customer insights and a deep understanding of the digital landscape. After graduating from the Two-Year MBA program, she joined Prophet, a brand strategy and digital transformation consultancy. Her prior experience includes digital marketing at American Express and social media strategy at Coach Inc. and The Estee Lauder Companies.
What about Prophet appealed to you?
I decided to work at Prophet because I had the ability to bring my digital, marketing, and creative experience to a variety of brands across multiple industries. Also, I liked that Prophet is a small consulting firm, and I would get a lot of opportunities to lead and shape the culture of the organization.
How did Goizueta prepare you for the field you are in today?
Goizueta taught me how to be a better collaborator and work on teams. Consulting is all about teamwork and there is rarely ever a time when I have full ownership of the deliverables. This is a lot like working in teams throughout business school. Goizueta taught me to be an empathetic team member–how to acknowledge and understand strengths and weaknesses, see the whole person and be compassionate about other non-work priorities, and how to fill in the gaps along the way and be a leader. 
What was your favorite course at Goizueta?
My favorite course was the Goizueta Marketing Strategy Consultancy (GMSC) because it was a lot like real life, and I was able to use all of the skills during my internship.
Who inspires you and why?
I am inspired by my friends from an organization called Management Leaders of Tomorrow (MLT), who share my passion of making a social impact. MLT is focused on helping underrepresented people go to the top MBA programs. It is humbling to be friends with people who are bankers, hedge fund managers, lawyers and marketers with demanding jobs, but who still dedicate their time to giving back to the community through acts of service and not just their money.
What is the best advice you've ever received, in business or life?
The best advice I've received is that everything done in the dark will eventually come to the light. That's true for relationships, problems, and any uncertainty that you face. You may not have the clarity or the answers that you want in this moment, but when the time is right, what you need to know, understand, or do will be revealed to you. So, don't stress it!
Is there a lasting lesson, memory, or skill gained from business school that you particularly remember or credit your success to?
My biggest memory of business school is my classmates' enthusiasm and willingness to be friends. From day one, everyone was focused on sharing their authentic selves and getting to know me. My classmates were always willing to help, whether that meant prepping me for an interview, even if they were interviewing for the same company, or going through a finance or accounting practice test. The Goizueta community is something that I take with me, continue to try to cultivate, and often reflect on.
What advice do you have for today's business students?
Make sure that you prioritize creating and solidifying your network. Get to know your classmates, understand their goals and passions, and help them whenever you can. That way, when you leave school, your network is strong and genuine. It's cheesy, but your network is your net worth and there are amazing people surrounding you who are going to do even more amazing things!
Please describe some professional and personal goals.
My professional goal is to become a known and trusted voice in the business world who speaks about the intersection of brand and customer experience. Another unrelated professional goal is to write a New York Times best-selling relationship self-help book. The book will focus on helping women love and value themselves, in hopes that they will create a relationship that brings them true joy and love.