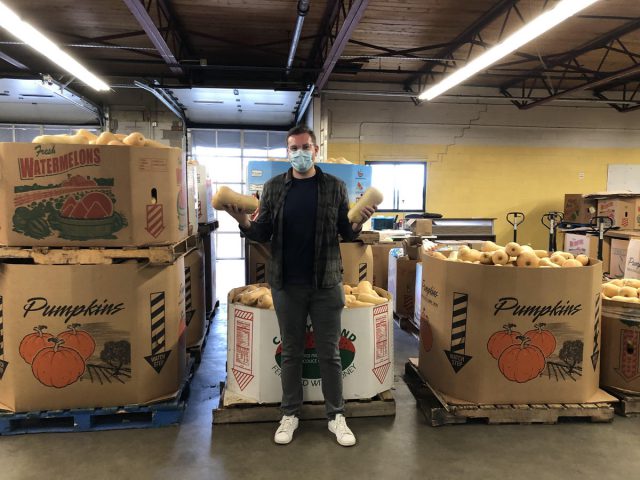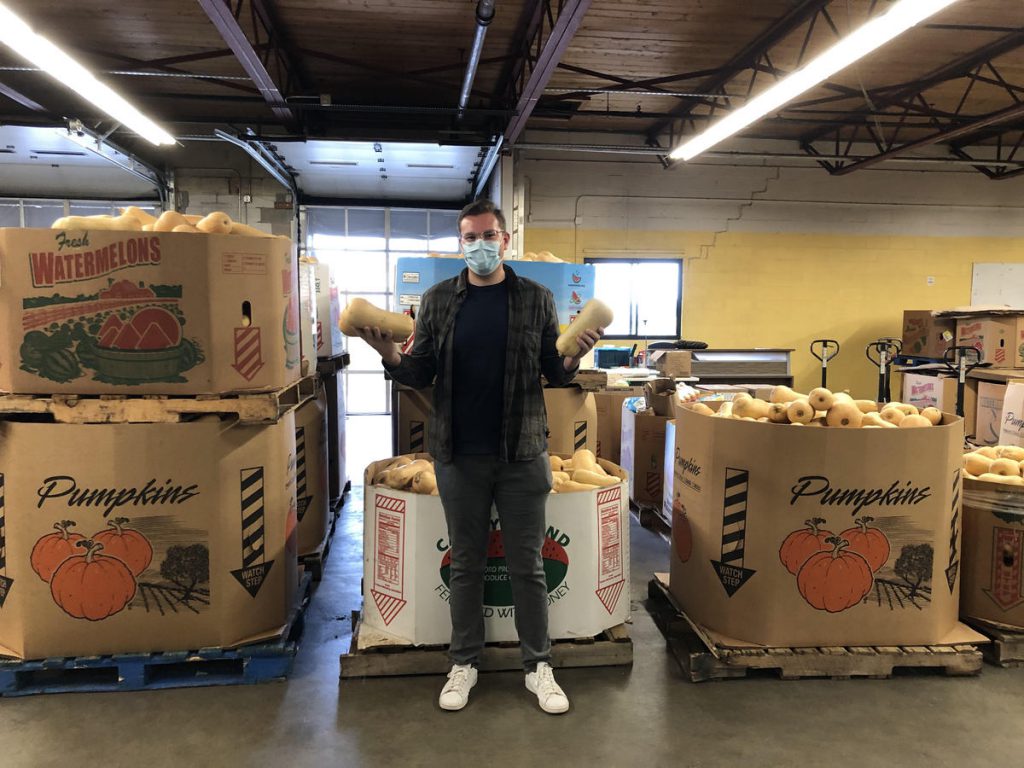 Having extra time on your hands during a pandemic can take on many outcomes. For Ben Sigel 20BBA, it was a catalyst to achieve a life goal earlier than expected: start his own organization.
Sigel had some free time because the start date for his new job as an associate omni merchant with Walmart was delayed due to the pandemic. Inspired by news stories related to food distribution efforts, he decided to get involved.
"I didn't like sitting around and feeling powerless," he said. "I kept seeing all this press about the level of need and the increased demand for food. Food is such a basic need, and I knew I could do something about it. So why not see where this could go and utilize the skills that I just learned in business school?"
Those skills have helped him start and grow Central MA Food Rescue, a nonprofit established with the singular goal of providing high quality food directly from farms to food banks. The organization recently passed 51,000 pounds of food delivered, with another 20,000 pounds set to be delivered to the Greater Boston Food Bank. It is trending to pass 100,000 pounds in a matter of a few weeks. The goal is to provide 1 million pounds of food in 2021.
At Emory's Goizueta Business School, the Massachusetts native enjoyed an applied entrepreneurship class taught by Charles Goetz, senior lecturer in organization and management and distinguished lecturer in entrepreneurship. Sigel had a double concentration of management consulting and marketing with a sub-concentration in entrepreneurship. He chose Emory thanks to his parents (who met at Emory Law School) and because he wanted to attend a top-ranked business school with a strong entrepreneurship program.
Sigel said Goetz's class helped him with running the nonprofit because it prepared him to deal with curveballs in business, marketing on a very slim budget, and growing something from nothing.
"I knew I wanted to start a company at some point in my career," Sigel said. "It happened earlier than I expected. Plus, I had the opportunity to do it and help people, and that's really what led to it taking off."
Launching a business
Sigel launched the effort in early August 2020 in what he describes as true bootstrap fashion, with help from family and friends. He was motivated to start an organization connecting farms directly to food banks to transport surplus or excess produce because that type of streamlined organization for matched specific farm-to-foodbank donations simply did not exist in the central Massachusetts area. It was especially relevant during the COVID-19 pandemic because farms had excess food expecting to supply restaurants and schools like the cafeteria at the University of Massachusetts.
Among the challenges early in the endeavor was navigating the most efficient and cost-effective model to maximize the donor's contribution for people in need.
"That's taken a lot of work, to get to a point where we're feeling in a good place with efficiency, making sure that we can really feed a ton of people with a limited amount of money," Sigel said.
The first trip involved Sigel driving a U-Haul truck to a farm and transporting food to food banks. Then, it evolved to him gathering friends and family to take a fleet of cars to deliver food to various soup kitchens across Massachusetts. Now, this process has scaled to semitrucks that are packed full of 20,000 pounds of food at a time.
"It's not even that there's increasing demand, the demand is just that great," Sigel said. "There's a very large need from people right now, and we're trying to scale up as fast as possible to meet that demand."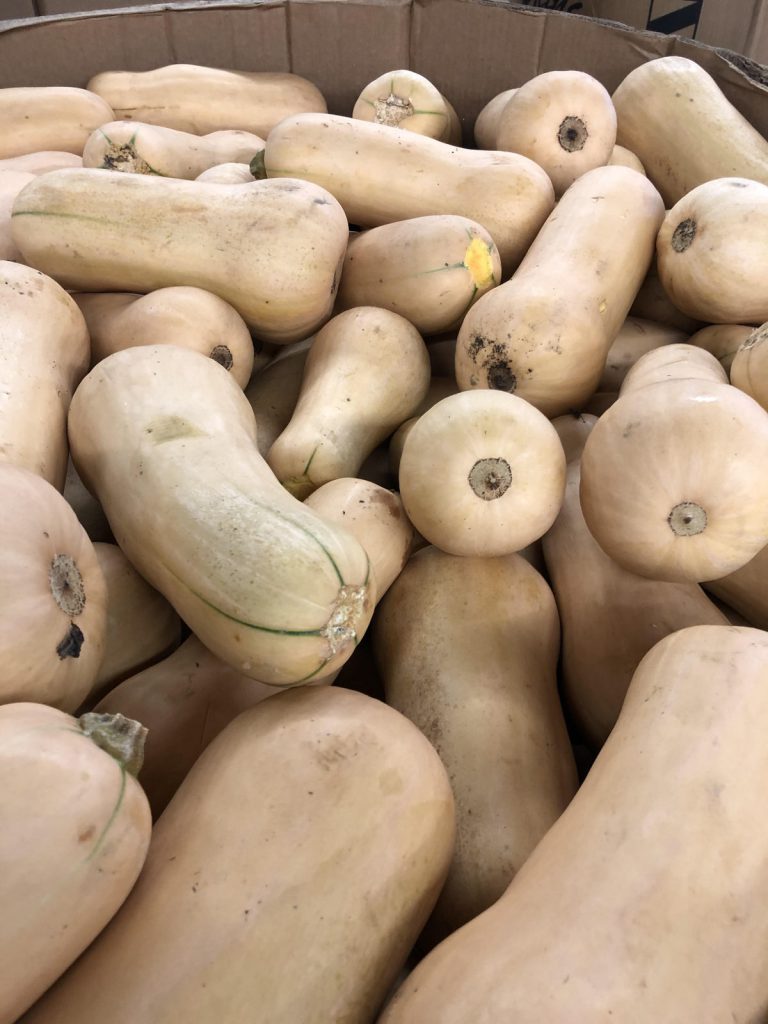 The organization plans to expand to other states, but first it is trying to meet the need of the Worchester area and across Massachusetts. That also means meeting fellow workers in need. Sigel shared that one director of a soup kitchen contracted COVID himself becoming seriously ill, but he recovered and has run the soup kitchen every day since.
"There are people lined up out the door," he said. "Families who don't have anywhere else to get food right now."
Sigel is joined in the effort by fellow Goizueta graduates Ryan Alexander 20BBA, Michael Silver 20BBA, and Bryan Graf 20BBA, who assist in fundraising efforts, organizing shipments, negotiating prices for delivery services, and other operational matters.
At Walmart, Sigel is an associate omni merchant, which means he runs the website business for Walmart.com and for all Walmart stores in the country that offer eye care and ear care.
Walmart appealed to Sigel because it offered the opportunity to run a business with complete autonomy. He manages more than $500 million in P&L, which he admits is a unique position for someone his age.
Although his Goizueta friends-turned-colleagues will either start graduate school soon or relocate to jobs like Sigel, who will move to Arkansas once the office reopens and in-office work resumes, Central MA Food Rescue will continue, even after the pandemic. As Sigel reiterates, the demand will continue, and the work to support it can be done remotely.
"With evenings, weekends and early mornings, we're going to make this work," he said.
Learn more or support Central MA Food Rescue's efforts. A donation of $10 can provide more than 30 pounds of food for families in need.