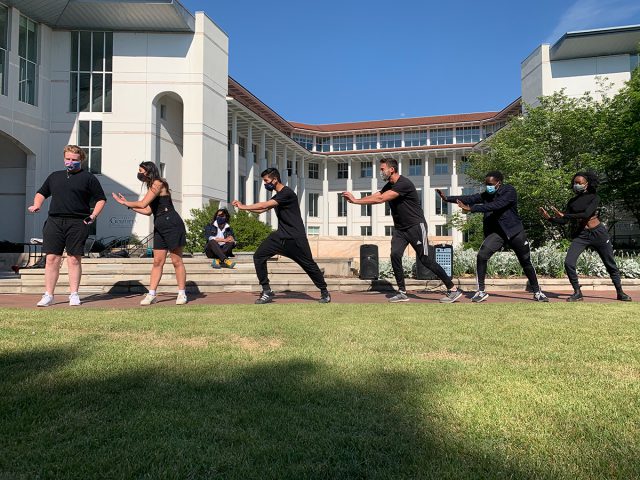 Hip-hop was way off the map for Lucy Daro 21BBA in her final two weeks of an international business law class at Goizueta Business School. Her mind was on graduating and moving to New York this summer to begin working for Citigroup's capital markets division.
Her classmates were popping with the same curiosity about collaborating with the Emory College advanced hip-hop class: How were international business law and hip-hop going to work together?
The assignment was to perform an engaging original dance on Patterson Green that tackled a current human rights issue in international business law.
Hip-hop dancer Madison Lee 24BBA 24C had a few doubts herself. As a first-year business major, she wondered if the international business law students would be willing to try choreography and dancing, some for the first time. Plus, her crew had to create a routine together that reflected human trafficking, and they needed to capture its severity.
The discomfort was part of Allison Burdette's design. As Goizueta Professor in the Practice of Business Law, learning means opening yourself to new things. "It's not a risk if you know how it turns out," she said. "In Zoom classes, we miss the moments of serendipity. It was time to create a little bit of that magic."
Goizueta Got Something to Say
On a brilliant day on Patterson Green in late April, the business-dance teams made their (literally) moving presentations. Daro's crew of five focused on the global oppression of prisoners, first with a call-and-response poem. Posters displayed during the dance featured excerpts of the poem (We suffer / they tyrannize / You catastrophize, but we still die).
Dressed in all black, the dancers synced distressful movements to "Believer," a chart-topping 2017 song from Imagine Dragons: "I'm fired up and tired of the way that things have been / Pain! You break me down and build me up."
"A lot of times when we think of human rights violations, we think of other countries far away that are treating people unfairly," Daro said. "The reality is that the U.S. is treating people unfairly through our criminal justice system. We systematically incarcerate Black Americans at a rate much higher than any other race. We also employ cruel punishment in the form of solitary confinement. I chose this topic because I wanted to acknowledge the human rights violations taking place close to home and learn more about how I can help."
Lee's crew wore blue, the internationally recognized color for human trafficking awareness, and used hip-hop as part of a public service announcement. They centered a narration by activist Barbara Amaya of being trafficked from age 12, which included the poignant line, "I never had my first dance." Choreographed to "Lemon Pepper Freestyle" by Drake and Rick Ross, the seven dancers used aggressive moves to convey the violence of human trafficking. They ended in a tableau of submissive poses such as kneeling or hands covering eyes, before describing ways that the audience could help.
"Everyone in my group had such great attitudes, and they really wanted to learn and make sure they nailed the choreography," Lee said. "This experience has definitely helped me with my leadership and collaboration skills, especially when working with people across multiple disciplines."
The six student dancers who interpreted climate change waved their bodies apart and together to portray sea level rising to the eerie percussion of "Money Trees" by Kendrick Lamar. Each dancer broke away to recite original lines of spoken word such as, "The earth cries out, but we cover our ears."
"Waving is like a current through your limbs, and when I saw the dancers pass that along to one another to create this massive circular wave that washed down and brought bodies down to the ground, I felt like that group was effective at embodying the subject matter," said Assistant Professor Julio Medina 13C of Emory Dance and Movement Studies Program, whose dance students including Lee were leading the business students. "Water levels are rising but they're going to come down hard on us."
"It Was a Good Day"
Burdette's previous semester's work with Emory's inaugural Arts and Social Justice Fellows program gave her confidence to collaborate with Medina. "With the pandemic, there is a sense of now or never," he said. "If we don't go out of our way now, this is not going to happen."
While the performances tested his students' leadership skills, learning hip-hop tested attributes that Goizueta Business School students master for business success.
"Hip-hop takes discipline and commitment and a lot of creativity and willingness to work in collaboration with others," Medina said before adding one more: "You need to make yourself vulnerable."
Daro has digital proof of that. "I have some pretty cringe videos on my phone of me dancing alone in my room. But it was very worth it," she said.
"This experience taught me to keep an open mind heading into any project. I have no idea where my career will lead in the future, but if I head into new experiences with excitement and enthusiasm, I will learn new things about myself and find new passions to explore."
Cross-collaboration across Emory University on critical human rights issues is celebrated with creative, thought-provoking events like these. Learn more about the important work Goizueta is doing through The Roberto C. Goizueta Business & Society Institute to advance our understanding that meaningful change requires meaningful action.