Each fall, Professor Allison Burdette teaches a business law seminar that builds students' minds and fosters community. First and second year Goizueta Scholars are required to take it; upperclass scholars usually return. After 12 years, the class is almost a family reunion, with older students advising new ones, forming lasting friendships.
In fall 2020, the seminar went even deeper, building their hearts and capacity for empathy, which is the first step in design thinking for innovating in business and for social change. Burdette co-taught with Atlanta actor Olivia D. Dawson, and their collaboration was part of Emory's inaugural Arts and Social Justice Fellows program.
To practice storytelling—a key business skill for connecting to investors and consumers, as well as job interviewing—the 15 students created a haunting 12-minute video directed by Dawson. "A Space for Empathy" shares their personal stories of belonging, and what it feels like not to.
"A simple interaction laid the foundation for me and dozens of other students' stereotype: that Hispanic people are naturally better at soccer," one unnamed student says in the video. "However, now I look back and realize how easily unfair and often untrue generalizations of race can be spread almost like a virus."
Redlining in White Detroit
The seminar, Social Justice: Zoning, Contracts and Environmental Racism, began with the story of Ossian Sweet in the required text: Arc of Justice: A Saga of Race, Civil Rights, and Murder in the Jazz Age, a National Book Award winner.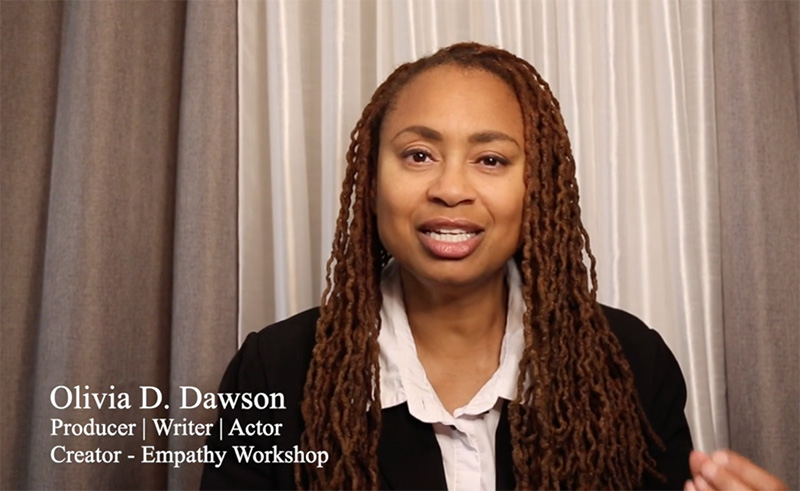 Sweet was a grandson of a slave who had become a doctor in Detroit, and in 1925 bought a home in a previously all-white neighborhood. When a mob of white people gathered outside his house, shots were fired, a white man in the mob was dead, and Sweet was arrested and charged with murder. Famed attorney Clarence Darrow took Sweet's case, and the book chronicles the societal shifts from slavery to the Great Migration to the civil rights movement.
The class also studied a case in Union Hill, Virginia, a rural and mostly Black community whose ancestors were enslaved on the same land. The residents won a federal lawsuit to prevent the building of a massive natural gas pipeline compressor station, and now are eligible for nomination for historic landmark status. Oral narratives, and archival research that revealed unmarked slave burial grounds, were key to fighting off the pipeline station.
"Even though I used stories all the time to teach business law, I did not see the idea of empathy initially," Burdette said. "As Olivia put it so well, I look at legal perspectives and systems. That is so important, but people need to tap into empathy and build empathy to make systematic change. That was brilliant and I didn't see that before. We use the word 'interdisciplinary' and I now see how that works. I'd love to have our business school do more work in storytelling."
Students Share Personal Social Justice Stories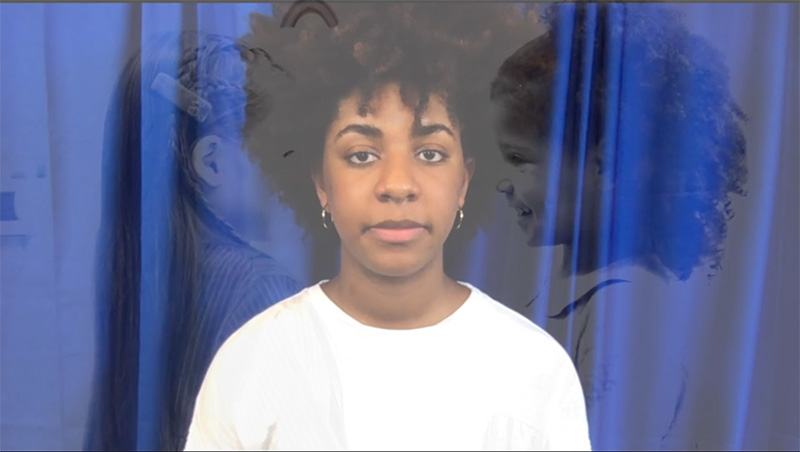 First-year student Nyah Bruce 24BBA said the class was well-timed after the protests and dialogue in summer 2020 sparked by the death of George Floyd. A graphic designer, Bruce has worked in marketing and branding.
"When you have a product or service, you build a brand that conveys a story," she said. "And in professional development, you're trying to tell your story and build that brand for yourself. The class exercise was a little bit different but is equally important for where I see myself in business."
In the video, Bruce tells her story of growing up in a predominantly white neighborhood, where she heard her Black hair compared to animal fur and had to learn to tell people not to pet it. When she stopped straightening her hair in middle school, other students made fun of her, and after only 48 hours, she ditched her natural look. For the next four years, she says she "straightened every curl and coil until I couldn't recognize them anymore."
Her classmates' openness inspired the same in her. "I wasn't expecting a negative reaction to my story, but once I shared it, it was not a big deal because of the environment we were able to foster by telling our stories," she said.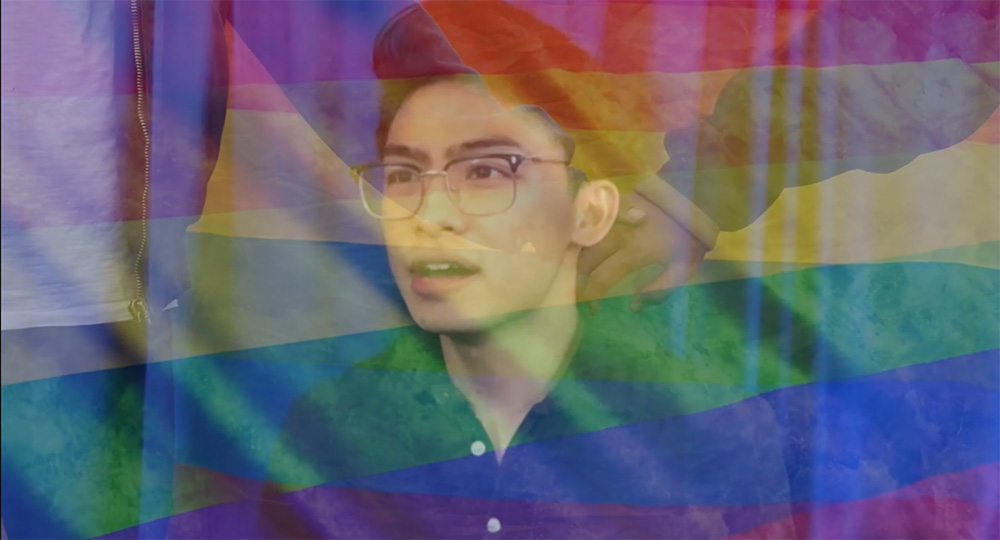 In that circle of trust, Chris Kusumonegoro 22BBA went on camera to describe breaking free from immense cultural pressure to be perfect: "For some reason the world looks at me and tells me that because of my race, who I like, what I feel, that I am not smart enough, not Christian enough, not man enough, not good enough."
The class connected art to business for him in a powerful way, and helped him assert his values were changing, along with his professional goals. As he said in the film: "And so, I rewrite my story each and every day for my God, and with my faith, that I make my own to define myself with new eyes."
He had been attracted to the fast pace of consulting but realized during the class that he needed to make sure his work improved lives. Helping people was more important to him than profit maximization.
"To know your art is to know your story, and to know your story is to know how much of an asset you will be to the organization you are joining," he said. "A lot of times in business, people are cogs in a machine, but if you know your own story, you know that people have inherent value, and you can help your company bring out that value."
Face Social Justice Issues with Courage and Compassion
The class and its film achieved the goal of the fellowship program, to offer "critical nuance to the public dialogue about [social justice] issues and prepare college students to face them with courage and compassion in the real world," says Carlton Mackey 05T, co-creator of the program and director of the Ethics & the Arts program.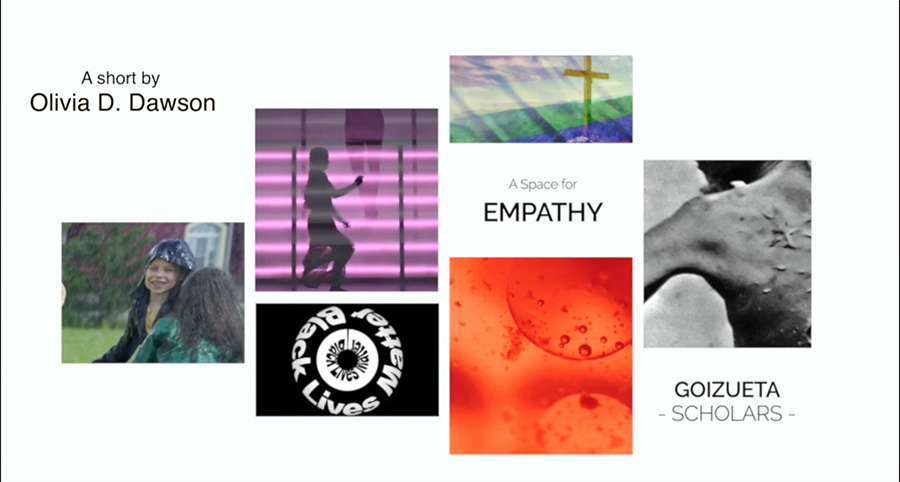 The program is part of Emory's commitment, as the 2020-21 academic year began, to racial justice actions "inspired directly by the vision, energy, and guidance of our students and community — to improve the Emory experience and live up to our values so that everyone feels a sense of belonging and shared purpose," Emory President Gregory Fenves said.
Participating in the inaugural Arts and Social Justice Fellows program highlights Goizueta Business School's commitment to cross-disciplinary education for business students interested in the arts, and for student artists attracted to business.
"We are very energized by the work being done in the business school and across the university around social justice. The context that comes from addressing this crucial topic from an interdisciplinary perspective enhances understanding and adds depth and breadth to the conversation."

– Andrea Hershatter, senior associate dean of undergraduate education and senior lecturer in Organization and Management.
"Professor Burdette's course serves as one example of many natural intersections between business and the arts. Our students' passions have led us to offer a vibrant and growing Arts Management concentration that includes BBA students along with majors in art history, music, dance and theater. I believe we are still in the early stages of imagining where these collaborations might lead."
To Dawson, the significance of the class stretched far beyond campus. The 15 Goizueta Scholars modeled the honesty and strength needed for racial reconciliation and healing among all Americans. "They have set the example and are leading the way," she wrote on her blog. "Follow their example and share your story; listen to someone else's; find connections and commonalities as we move forward as a nation—together."