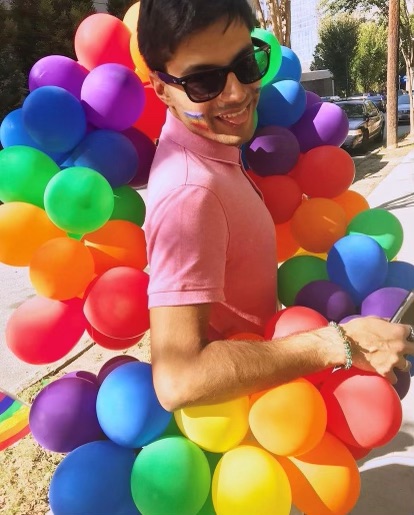 Neil Vasudeva 16BBA first planted the seed for the change he would bring the LGBTQ+ community when he became a career coach at Goizueta as an undergraduate. Vasudeva's coaching focused on LGBTQ+ recruiting; however, he said his real impact at Emory happened post-graduation.
"During college, you know, we're all kind of 'figuring it out' — figuring out how to grow up in different ways," Vasudeva said. "I think learning things from that and then applying them in the 'real world' and as an alum interacting with my alma mater were actually the greater growth experiences."
To help other students "figure it out" and provide a more inclusive environment, Vasudeva joined GALA, the Emory LGBT alumni group known as the Gay and Lesbian Alumni at the time, first as a member and thereafter as co-chair.
"My main goal was to create stability as an organization and modernize," Vasudeva said. "Get back to what we were really good at doing, which was fundraising, hosting social events, and, finally, advocating and supporting Emory LGBTQ+ undergrads and grad students. We also needed to modernize ourselves in that we needed to change our name because we were known as the GALA Alumni Association, but that wasn't necessarily representative of all the identities, not that just exist within queer culture, but also that exist even within our own cabinet."
One of the largest impacts Vasudeva had was through his work with the GALA Legacy Fund. Through planning events, such as the annual Blue Jean Brunch, his team raised $100,000 and endowed this fund, which supplements the budget of Emory's Office of LGBT Life.
"The most rewarding experience was seeing how fundraising through the GALA Legacy Fund directly goes to positively impact current queer students at Emory," Vasudeva said. "At my age now, I'm in my 20s, I like to say, 'I can't really write huge checks, but what I can give you is my time and energy and passion.' And hopefully that creates a positive and constructive impact on the queer community."
Vasudeva's time, energy, and passion earned him recognition at the Pride Awards by the Office of LGBT Life as Alumnus of the Year. "It's humbling but also a motivating factor to now continue to drive impact to a pretty marginalized community," he said.
Community Strength Builds through Campus Allies
Marché Simpson, director of regional networks, diversity, and inclusion for alumni association and herself named 2020 Ally of the Year, said engaging in conversations and showing up for these communities is a big part of being an ally.
"I think what it means to be an ally is to be able to show people care and respect and empathy no matter what, and not one particular group but everyone, and to help people get access to opportunities they wouldn't normally have access to," Simpson said. "People see where your heart is and what you're trying to do ultimately, and if your allyship is not coming from a good place when you're trying to be there for a person, they sense that."
For Vasudeva, among many others, Simpson is excited to see all the change he drives. "The world needs him, and the world is calling him," she said.
The Connection between LGBTQ+ Inclusivity and Human Rights
Vasudeva has also taken his work in diversity, equity, and inclusion beyond Emory and into the greater Atlanta area as a corporate committee member for the Atlanta chapter of the Human Rights Campaign (HRC). There, he worked with prospective sponsors on how to be a sponsor and how the HRC can best support their organization with more LGBTQ+-inclusive practices.
Vasudeva said his long-term aspiration is to work in the intersection of human capital and diversity. Throughout his consulting career, he hopes to advise clients and companies on the best way to answer this question: "How do you create and drive a culture transformation that makes all individuals feel included, such that they can share their opinions and drive better outcomes as a team?"
For more information on Goizueta's longstanding commitment to all aspects of Diversity, Equity, and Inclusion, please visit emory.biz/equity. Have specific questions or need assistance? Reach out to your Goizueta Business School Safe Space Allies who have been trained to help and support members of the LGBTQ+ community at Emory.