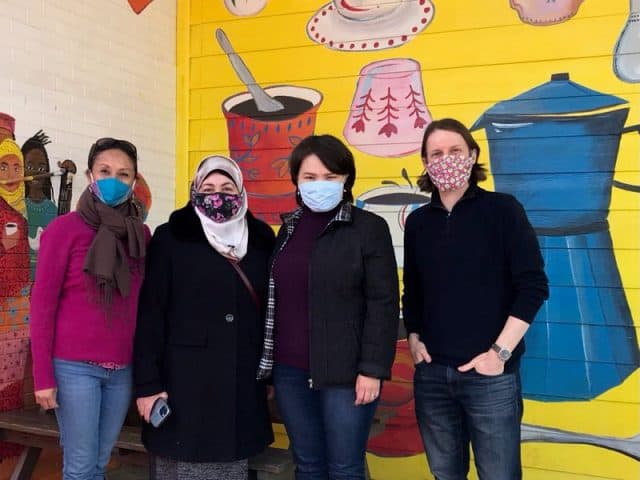 September 15, 2021 – The Start:ME business accelerator program is currently recruiting promising microentrepreneurs in and around Clarkston, East Lake, and Southside Atlanta for its 2022 programs. Fifteen to eighteen entrepreneurs from each community will be chosen to participate. The deadline for applications is October 15, 2021.
Start:ME is a free, intensive accelerator program for promising local small businesses. The program runs from January to April and operates within communities, drawing talented entrepreneurs that live, work, and/or provide valuable products and services to the community. Each community offers peer-selected grant pools of $10,000 to invest in promising businesses looking to start or scale up.
During the 12-week program and beyond, Start:ME connects selected entrepreneurs to the knowledge, networks, and capital needed to build and develop sustainable businesses. The program works across all business stages and industries – mechanics, artists/makers, professional services, bakers/caterers, farmers, tutors, and more – and focuses on entrepreneurs with promise and dedication.
The Winter 2022 will run as a hybrid program. Classes will meet virtually one night per week for 12 weeks. The program also plans to hold three in-person Saturday sessions. The Saturday sessions are subject to change based on COVID concerns and university guidance.
Start:ME's goal is to help entrepreneurs achieve business success and build neighborhood vitality.
Yenny Yang – Read 4 Unity (Clarkston) – "My advice is to not be afraid to apply even if you think you "don't have it together"! Impostor syndrome is real but try to get over that hurdle and pull up a chair. There is a seat for you at the Start:ME table!"
Noor Iqbal & Jess Boyd – Atlanta Forest School (East Lake) – "Start:ME helped me focus attention on the most important aspects of my business and understand the things that actually make my business tick – customer profiles, financials, and core offerings."
Kristin Jordan – Zumbido Atlanta (Southside) – "The experience of being part of a cohort cheering one another on, helping one another learn and grow was life-changing. In addition to taking my business to the next level. Start:ME gave me professional and personal friendships that I hope will last a lifetime."
Kwame Thomas – Kwamination (Southside) – "Getting comfortable with my finances was an awesome development for me! By forcing me to look at my own data I began to realize what I was doing in my business that was actually making me money… I'm now restructuring my business to focus on the services I actually enjoy and make me money."
Start:ME has supported more than 300 local businesses that account for 515 jobs and 34 brick and mortar locations. Businesses that have completed the program have earned $11M in combined annual revenue.
Start:ME also engages 75+ volunteer mentors with significant professional business and/or entrepreneurial experience to provide critical support for entrepreneurs participating in the program. Start:ME welcomes applications from business professionals interested in a skills-based volunteer role.
Mentor Roxann Smithers – Smithers + Ume-Nwagbo, LLC – "Start:ME is creating a powerful network of individuals who are dedicated and have a meaningful impact on their communities through economic development."
Mentor Amita McClain – Journey Real Estate Investments, Inc. – "Start:ME truly motivates and celebrates individuals, creating a positive environment for all. The program provides entrepreneurs with tools that are helpful and meaningful."
Mentor Brian Cohen – BRC Associates, Inc. – "Start:ME equips entrepreneurs with the necessary tools to be successful in business with the unmatched support of peers, alumni, and experienced volunteer mentors."
The program is offered annually by Emory University's Goizueta Business School in partnership with community lead nonprofit organizations the East Lake Foundation, Focused Community Strategies (FCS), Friends of Refugees, and Purpose Built Schools Atlanta.
Start:ME is made possible through the generous support of Emory University, The Goizueta Foundation, PNC Foundation, Regions Foundation, and Target Corporation and alumni supporter Delta Community Credit Union.
Learn more about Start:ME, apply, and/or volunteer as a business mentor at startmeatl.org.
About The Roberto C. Goizueta Business & Society Institute
The Roberto C. Goizueta Business & Society Institute within Emory University's Goizueta Business School explores how businesses can create long-term value while addressing the social and environmental challenges of our time. Faculty, staff and students work with for-profit, non-profit, and hybrid organizations to inject business thinking into communities through research, fieldwork, and teaching/student activities.
About Start:ME Clarkston
The Roberto C. Goizueta Business & Society Institute works with Friends of Refugees and local partners the City of Clarkston, Clarkston Community Center, Georgia Piedmont Technical College, Global Growers, International Rescue Committee, New American Pathways, Refuge Coffee Co., and Refugee Women's Network to support entrepreneurs in Clarkston, GA since 2013. The Clarkston program has graduated 131 ventures since 2013.
About Start:ME East Lake
The Roberto C. Goizueta Business & Society Institute works with the East Lake Foundation and local partners Charles R. Drew Charter School, Columbia Residential, East Lake Family YMCA/East Lake Early Learning Academy, East Lake Neighborhood Community Association (ELNCA), Fred. A. Toomer Elementary School/Whitefoord Early Learning Academy, Kirkwood Business Owners' Association, Kirkwood Neighbors' Organization (KNO), and The Villages of East Lake to support entrepreneurs in East Lake, Edgewood, and Kirkwood. The East Lake program has graduated 110 ventures since 2015.
About Start:ME Southside
The Roberto C. Goizueta Business & Society Institute works with Focused Community Strategies and Purpose Built Schools Atlanta, along with local partners Atlanta Volunteer Lawyers Foundation, Capitol View Neighborhood Association, Carver STEAM Academy, The Villages at Carver, and The Villages at Carver YMCA to support entrepreneurs in Southside Atlanta. The Southside program has graduated 62 ventures since 2018.
CONTACTS:
Erin Igleheart, Start:ME Program Director, erin.igleheart@emory.edu, c: 703-217-1820
Hannah McCord, Friends of Refugees, hannahm@friendsofrefugees.com
Catherine Woodling, East Lake Foundation, cwoodling@eastlakefoundation.org c: 404-550-7271
Pamela Stringfield, Focused Community Strategies, pamela@fcsministries.org c: 404-200-5936
Dr. Tonya Williams-Saunders, twilliamssaunders@purposebuiltschools.org
Kim Speece, Leff & Associates, kim@leffassociates.com c: 404-849-6579