At Homecoming 2021, Executive Women of Goizueta (EWG) presented scholarships at a campus ceremony on Friday, October 22. The 2021-22 scholarship recipient was Julie Friedberg 87C 23EMBA and the 2021-22 distinguished scholar recipient was Sonji Jacobs 23EMBA.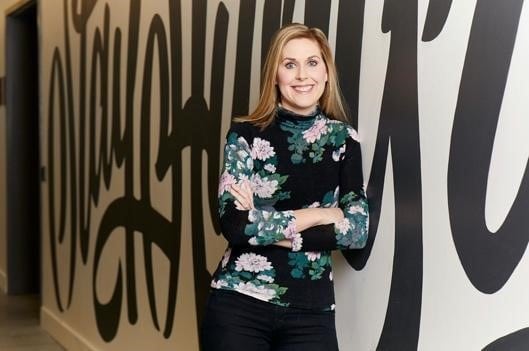 The EWG 2021-22 vice president and past scholarship recipient Danielle Donnelly 17EMBA shared insight into the importance of this group to the Goizueta community. Professionally, Donnelly serves as executive vice president of strategy for Moxie and MRY. "Executive Women of Goizueta gave me a home to find a community of women who are as driven and as ambitious as I was," she said.
Women have to support other women. We have to lift as we climb. We have to reach down, and reach across, and bring other women along with us.

Danielle Donnelly 17EMBA, 2021-22 vice president of Executive Women of Goizueta and Executive Vice President of Strategy for Moxie and MRY
Donnelly explained her motivation to lead EWG. "As a recipient and a beneficiary of organizations that are focused on cultivating and developing female talent and supporting women in leadership, it became so important when I got into a position to do the same, to give back, because I have so greatly benefitted from that."
Scholarships Change Lives and Create Momentum
"Receiving the EWG scholarship was such an honor for me," said Friedberg, vice president of development for Kindle Energy, a Blackstone Portfolio company.
To know that EWG is giving me a scholarship in recognition of things that I have achieved reinforces my enthusiasm to provide other women with mentorship and for being mentored by them. It's important for us as women to help other women succeed.

Julie Friedberg 23EMBA, Vice President of Development for Kindle Energy, a Blackstone Portfolio Company
But being part of EWG also will allow me to reach out and influence more women, particularly students and younger women in the workforce. I'm so excited to be part of a group that is so focused on mentoring women to succeed."
In thanking the scholarship donors, Friedberg notes, "I am very proud to have been selected, and I am eternally appreciative of the award."
Jacobs is vice president of corporate communications and public relations at Cox Enterprises. As the 2021-22 distinguished scholar recipient, she expressed excitement about Goizueta's vast network of global alumni. "Connecting with the Executive Women of Goizueta is a high point for me in thinking about my trajectory as a student and after I graduate in terms of what comes next in my career, my community service, and my life in general," she said. "I want to thank the Executive Women of Goizueta for having a scholarship that recognizes students and invites and connects them into this special network."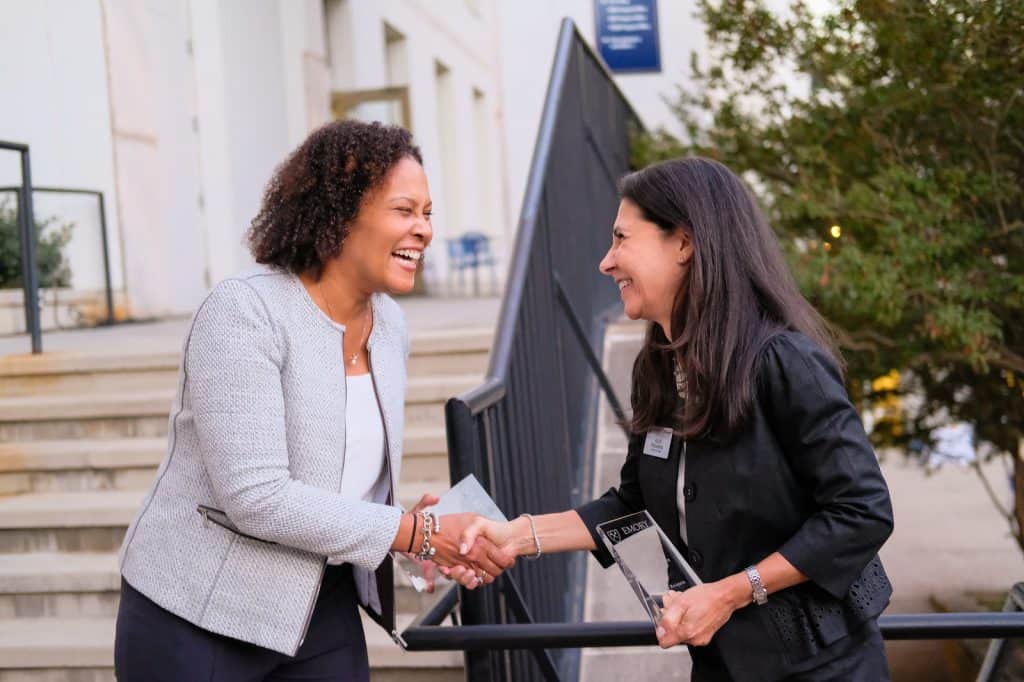 Stressing the importance of open conversations in the workplace and in our communities, Jacobs pointed out, "Many women are still hitting the proverbial glass ceiling. During the COVID-19 pandemic, we've seen how remote and hybrid work have, in many cases, had a positive impact on women who are balancing a career with raising children and taking care of partners, spouses and elderly parents. If we don't have that perspective in the workplace, it's hard for people to understand the challenges that many working women face," she said.
In addition, how we speak to each other in the workplace, how we evaluate each other and how we open up opportunities all have a gender component." Jacobs added, "The more women we have in leadership positions and in the board room, the more we'll be able to bring their perspectives into the decisions about how we're hiring and promoting people and the future of companies overall.

Sonji Jacobs 23EMBA, Vice President of Corporate Communications and Public Relations at Cox Enterprises
Donnelly thanked the many donors who have made the EWG scholarship possible. "First and foremost, thank you for your generosity and kindness, for you continuing to invest in women and do that time and time again, not just for me, but for many of the EWG Scholarship recipients that have come before me and those who have come after me. It's just so incredible in today's world, where there are so many organizations to give to and so many things going on, we're so incredibly grateful and appreciative that you are continuing to choose to invest in women."
Are you interested in becoming a member of Executive Women of Goizueta? Membership is for women who are Goizueta alumnae, current Executive or Evening MBA students, and BBA grads with professional experience. The organization has no dues. To join/be added to our member distribution list you can reach out to us over social media or email. Follow the group on Facebook or reach out to emoryexecwomen@gmail.com. Write to Executive Women of Goizueta, Goizueta Business School, 1300 Clifton Road Atlanta, GA 30322.
If you would like to learn more about ways to invest in Goizueta's future, please join us at emory.biz/give.