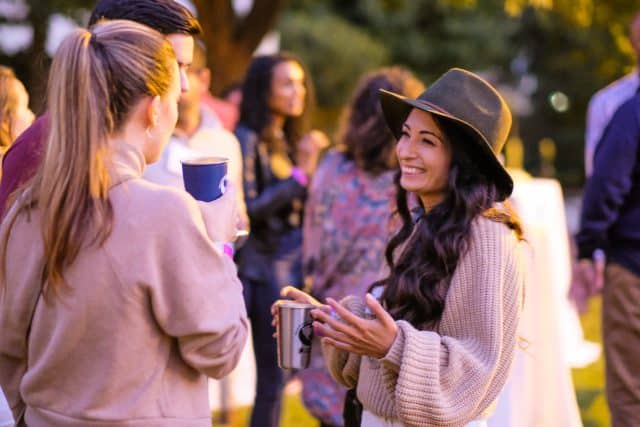 Students, alumni, families, and friends roamed the quad from October 21-23 when Emory's annual Homecoming celebration took over the campus with athletic events, a 5K race, walking tours, academic discussions, musical celebrations, impromptu gatherings, and reunions, all in a vibrant festival atmosphere. Highlights included performances by headliner Black Pumas, a Grammy-nominated act described as "Wu-Tang Clan meets James Brown" and special guest Lennon Stella who has a stellar synth-pop sound, as well as Yacht Rock Schooner with their smooth 70s and 80s rock vibe.
Karen Sedatole, Interim John H. Harland Dean for Goizueta Business School delivered a TED-talk presentation focused on the future vision for the school. "While we are heartened by the achievements of Goizueta today, we understand that the future is now and we have to keep pushing forward," she shared. "With a firm focus on student success, faculty eminence, and research excellence, we are building principled leaders prepared to positively impact business and society."
At Goizueta, the Advancement and Alumni Engagement team sponsored a time-honored tradition: MBA Reunion KEGS. Please enjoy these images taken by photographer and marketing student Octavius "O.C." Chen 22BBA.
So, Who Joined in the Fun at KEGS?
Nearly 250 Goizueta MBA alumni joined us for reunion KEGS, food, fun, and entertainment in Jenkins Courtyard and Patterson Green. "We enjoyed reconnecting and reminiscing with our alumni," says Lindsay Topping, senior director of alumni engagement. "It's always so gratifying to see friends and classmates reunite and share great memories of their times as students."
In addition to family and friends, Goizueta celebrated several special milestone reunions:
40-year reunion recognized classes of 1980 and 1981
30-year reunion honored alumni from the 1990 and 1991 classes
25-year reunion celebrated the 1995 and 1996 classes
20-year reunion paid tribute to the 2000 and 2001 classes
10-year reunion brought together alumni from 2010 and 2011
5-year reunion recognized the classes of 2015 and 2016
Zero to 1-year reunion brought the classes of 2020 and 2021 back to campus
Did you know that you don't have to wait until next year's Homecoming reunions to connect with your fellow Goizueta alumni? Keep up to date on Goizueta happenings and kudos on LinkedIn, Instagram, Twitter, and Facebook. Do you have a new role or address? Update your alumni information here.