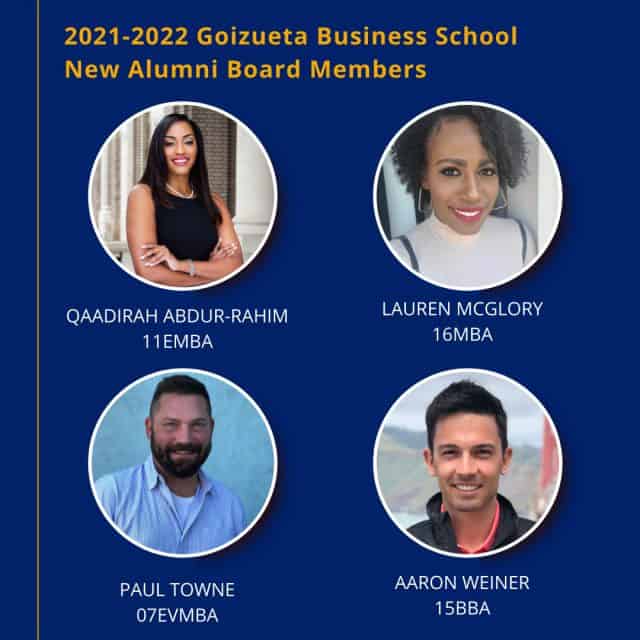 This year, the Goizueta Business School Alumni Board appointed four members to its impressive roster of leaders, strengthening the team with professional expertise in social justice, marketing, fundraising, and business development. Driven by a strong passion for their alma mater, they've set to work immediately to help execute the board's initiatives.
Joining the board this year are Qaadirah Abdur-Rahim 11EMBA, Lauren McGlory 16MBA, Paul Towne 07EvMBA, and Aaron Weiner 15BBA.
"There is a strong passion for Emory. Even before the official start date, Paul and Aaron took the reins and jumped right into the mentor program, which is a big program for us," said board president Graham Jaenicke 14MBA. "Qaadirah leaped into helping the Goizueta@Work program, which looks to hold and establish relationships with companies and drive engagement activities. And lastly, Lauren dove into helping guide us through a strategic vision process."
What Does the Goizueta Alumni Board Do?
The board's purpose is to advise and work with the Goizueta Advancement and Alumni Engagement Office to promote close ties among alumni. The board is made up of alumni representatives from all the degree programs, representing a variety of class years, geographic regions, as well as a broad range of professional experience.
Abdur-Rahim is the chief equity officer for the City of Atlanta. McGlory is the senior marketing manager and senior associate account director for PepsiCo in Dallas. Towne, senior director of institutional partnerships for Resilia, resides in northern California and once worked for Emory University and spent three years in alumni relations with Goizueta. Weiner, who is senior director of finance for Bilt, lives in New York and brings perspectives of investment banking and financial technology to the board.
Looking at the new additions to the board, Jaenicke sees a wealth of diversity on the board from degree program to geography to industry perspective. "For us to be an impactful board requires that breadth given what we want to accomplish."
Lindsay Topping, managing senior director of alumni engagement, notes the board's priorities for the year include strengthening the Goizueta Student-Alumni Mentor Program, revamping the Goizueta@Work program, and creating a strategic plan covering the next three to five years. Another priority is heightening diversity and representation on the board.
The Value of Your Goizueta Network
"We're always looking for someone to raise their hand. It is important and key to who we are as an alumni network," Jaenicke says. "Continuing to drive the mentor program is always going to be a priority because it is a great way for alumni to give back to the school and build relationships for current students to expand their networks."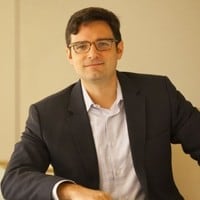 "While the board's strategic plan covers a long-term vision, the short-term need focuses on defining the makeup of the board, selecting and driving initiatives, and measuring success to assure we reach our goals," Jaenicke says. "The alumni office supports the board to both execute on those near-term initiatives and define long-term direction."
The board's executive committee for 2021-2022 is Jaenicke, president; Jason Payton 12EvMBA, vice president; and Deborah Perantoni 00EvMBA, past president. Other members include:
• Rashida Burnham 14MBA
• Edward Dearborn 16EMBA
• Kelly Fierro 07MBA
• Eric Freedman 00BBA
• Jason Harlow 10BBA 14MBA
• Jodi Harvey 03MBA
• Ted Kim 97BBA
• Max Mayblum 16BBA
• Patrick McBride 14BBA
• Carey Moede 16EvMBA
• Brian Moore 07EvMBA
• Ainsley TeGrotenhuis 05MBA
Did you know that your Goizueta alumni network is 23,000 global members strong? Find out more about how you can volunteer with Goizueta, engage with fellow alumni, access career resources, and invest in the future of Goizueta. Reach out to one of the advancement and alumni engagement team members at gbsalumni@emory.edu.