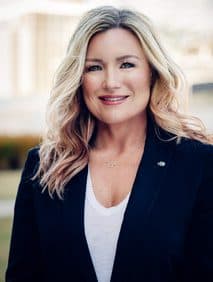 In an Instagram-perfect world that seems obsessed with success, Christy Brown is more than happy to talk about her failures. In fact, she's proud of them.
"I have founded and exited four of my own companies," says Brown. "I've had a lot of successes, but the way I can help early-stage founders the most is from my failures. In my opinion, that's where we learn."
A serial entrepreneur with more than 20 years of experience, Brown is now an Entrepreneur-in-Residence (EiR) for The Roberto C. Goizueta Center for Entrepreneurship & Innovation. She lends her expertise to Goizueta students who dream of starting their own businesses, and she gives it to them straight.
All entrepreneurs think that our ideas are amazing, but that does not mean that anyone is going to buy it. I give founders the tools to really ensure that there is consumption for their idea. My interest in working with founders is focused on how to save them time and money and on customer conversations and customer discovery. Entrepreneurs must have organic conversations with potential customers to determine if anyone even cares about the problem they're solving.

Christy Brown, Goizueta Entrepreneur-in-Residence
Brown's true passion, though, is helping female founders—a notoriously underrepresented demographic in the startup world.
Rocket Fuel for Women Entrepreneurs
In 2020, just a few months into the pandemic, Brown became president of Launchpad2X, a "CEO school" for women entrepreneurs. With a mixture of business training, funding, and operational support, Launchpad2X creates "rocket fuel for female entrepreneurs," helping them accelerate from founders to CEOs.
In a recent report published by the organization, Brown wrote, "Investment at the startup stage presents a focused approach to narrowing the gender gap, as only 1.7% of female-led businesses achieve $1M in annual revenue. By comparison, 25% of Launchpad2X alumnae cross the million-dollar mark."
That kind of success isn't just good for women; it's good for everyone. "If there's not a diversity of thought, how are we going to think outside the box?" Brown asks. "Women multitask, women are natural leaders. Given the right resources and tools, like confidence and financial strength, they thrive differently, and that creates tremendous economic growth, on a global scale."
The pandemic impacted men and women differently, and Brown witnessed that disparity from the front lines at Launchpad2X. "The impact on women was real," she says. "Our CEOs had to leave their offices to become full-time caretakers and teachers in their homes because their kids couldn't go to school or daycare. It took a toll on their mental health. We started having some conversations with our alumnae about wellness for CEOs and CEO mindset, to help address how they were feeling."
A Fully Loaded Toolbox Prepares Entrepreneurs for Both Opportunities and Challenges
Pandemic or no pandemic, the world of entrepreneurship is a constantly shifting landscape of new challenges, and Brown has a fully loaded toolbox to deal with whatever comes her way. It's what makes her such a great mentor.
"It's a matter of been there, done that," she says. "I've been on multiple sides of the table. I'm a venture capitalist. I've had multiple exits. I've owned 100 percent; I've also owned 20 percent. Raising money, having liquidity events, building the exit strategy—I've seen it all, which is why I can give early-stage founders some of the levers I didn't have."
A high achiever in her personal life as well, Brown formerly competed in Ironman triathlons and other races for many years. She is still an avid runner and can be seen hitting the pavement regularly. As a lifelong Atlantan, she loves to walk around the city via the connected beltlines or sit outside Anis Café in Buckhead. She's also content to simply walk around Emory's campus with her Dalmatians, Crosby and new puppy Lucy, and husband, Jeff. "This campus is such a gift," she says. "It's beautiful, and there's so much to see and do nearby."
As an Entrepreneur-in-Residence, Brown takes part in helping the Center foster entrepreneurship and innovation born of critical inquiry. The Roberto C. Goizueta Center for Entrepreneurship & Innovation was developed to serve fundamental societal needs, executed according to sound business principles, and conceptualized in ways that open possibilities and spark imagination. Learn more today.