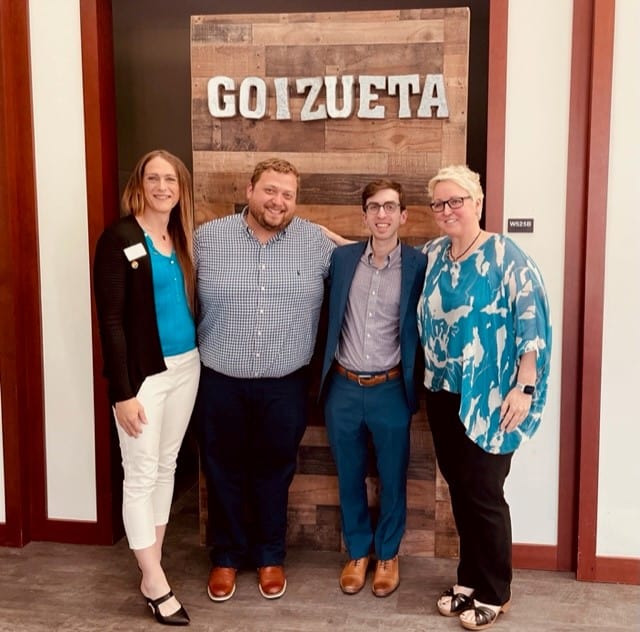 In June 2020, as the world was grappling with the COVID-19 pandemic, the U.S. Supreme Court voted in favor of a gay man from Georgia. After a decade of positive performance reviews and a job well done, Gerald Bostock was discriminated against in the workplace, and ultimately fired, due to his sexual orientation.
The ruling of Bostock v. Clayton County, Georgia stated that discrimination due to sexual orientation and/or gender identity is a direct violation of Title VII of the Civil Rights Act of 1964, thereby also protecting transgender people.
Despite this decision, and the positive measures that have come about, 46 percent of LGBTQ+ workers experience unfair treatment at work in their lifetime, according to a 2021 study by UCLA School of Law Williams Institute.
Cultivating a Culture of Inclusivity
Goizueta Business School is committed to breaking down the barriers that LGBTQ+ individuals face in the workplace and creating a more inclusive, supportive, and encouraging work environment. For several years, Goizueta has hosted "Out in Business," a panel during which alumni can share their experiences about being out–or not–in the workplace with current students and LGBTQ+ allies.
"Goizueta is a very welcoming place to be and to work for LGBTQ+ people. We have LGBTQ+ people at every level of leadership," says Jamie Harrell 16EMBA, business intelligence and data analytics lead for Goizueta. "One of the challenges we face is making that known."
Harrell was Goizueta's first openly transgender graduate, and when asked about the significance of that statement, she quotes Charles Bolden, the first Black administrator of NASA, who said, "It doesn't matter being first until or unless there's a second."
Authentic YOU: Fostering Positive Self Awareness
For "Out in Business," Harrell happily took on the role of staff sponsor again this year, as she's sponsored and moderated the panel in the past. This year's event was driven by the determination of a recent Goizueta graduate: Eliana Kavouriadis 22BBA.
When I first came to Emory University, I was interested in business, and I never saw my queer identity being relevant in that.

Eliana Kavouriadis
After attending a conference about being authentically you at work, Kavouriadis says her awareness shifted. She realized that she didn't have to separate her personal and professional life. Emboldened by her experience, Kavouriadis, who was the president of Goizueta Pride's undergraduate group, set out to create a greater sense of community.
Kavouriadis worked with Harrell and various organizations around the school to have the event this April. And what once would have drawn a crowd of maybe 15 people, recalls Harrell, attracted a room full of folks. More than 50 people attended the event. Goizueta students were also able to earn class credit, which Kavouriadis believes made an impact on attendance.
"It's important to get the message out to people who wouldn't normally come to this kind of event. Otherwise, it would just be preaching to the choir," Kavouriadis says.
Alumni Talk Workplace Inclusion, Harassment, and Tips for the Future
This year's alumni included Shawn Scott 09T 15EvMBA, partner sales senior manager for MuleSoft Enterprise Business at Salesforce; Rachelle Kuebler-Weber 16MBA, vice president of marketing for Southern Veterinary Partners; and Bobby Wilson 20BBA, analyst for Insight Sourcing Group.
Wilson notes, "Although we all identify as LGBTQ+ professionals, our experiences and beliefs differ, but these differences facilitated a productive dialogue."
Panelists discussed whether they were out or not at work and the challenges associated with their decision to make a part of their personal life public. They provided advice for navigating job searches as an LGBTQ+ individual and tips on what to look for in a company's culture (hint: don't fall for good marketing alone). They touched on handling inappropriate workplace behavior and how allies can help create a more inclusive space.
It's important to extend grace to one another. Even as a member of the LGBTQ+ community, I don't always get it 'right.' If and when people make comments or are behaving in a way that is alienating members of the team, there are ways to stand up and offer corrective guidance without shutting down the conversation, embarrassing people, or ignoring the issue. In my experience, people tend to be open to having a conversation and finding ways to do better in the future.

Shawn Scott
Scott credits his time at Emory, both as a student and employee, as being critical to his coming-out journey, and he–much like the other alumni on the panel–was more than willing to jump at the opportunity to share their experiences with future graduates.
"Visibility matters. People need to see that they can live authentically at work and not have to hide who they are in order to be successful in business," says Scott. "While we've made progress in many areas, being out at work is not without its challenges. An event like this provides a venue for those of us who have encountered these challenges to share our experience to better equip others in their own coming out at work journey."
"Providing students with a safe space to learn about how to engage as they shift into the world of business is critical," says Kuebler-Weber. "They need to know people like them exist. They need to be empowered to feel comfortable in their own skin and be authentic at work. If these events help them do that, then it's time well spent."
The "Out in Business" alumni panel is a joint effort between Goizueta's Office of Diversity, Equity, and Inclusion, the DEI Council, BBA Goizueta Pride, and the Advancement and Alumni Engagement Office. Goizueta is committed to sharing different voices and creating a safe space for everybody. Learn more about our commitment to diversity, equity, and inclusion.