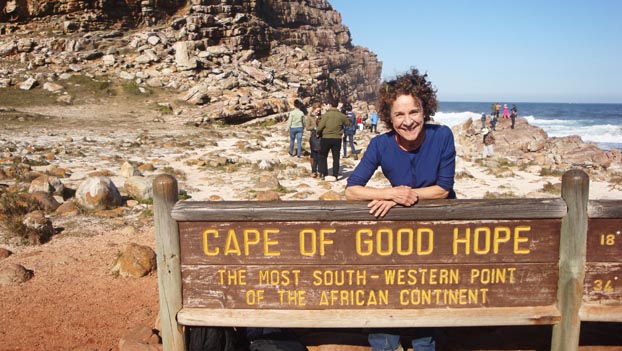 Lee Pasackow's world extends far beyond the bookshelves of Goizueta Business Library. Pasackow, a Goizueta Business librarian and three-time Fulbright Specialist Grant recipient, is as hands-on as they come, traveling extensively to increase and share her knowledge about research and library sciences. With the help of the grants, Pasackow has spent summers at Maastricht University in The Netherlands; Koç University in Istanbul, Turkey; and most recently the National University of Science and Technology (NUST) in Bulawayo, Zimbabwe.
While in Zimbabwe, Pasackow taught "Train the Trainer," an information literacy skills course, to librarians from elementary schools, universities, and technical colleges from around the country. "They were enthusiastic and eager learners," says Pasackow. "I shared with them exercises that my Woodruff colleagues had prepared using Google forms. We created interactive exercises to engage the students more in the learning process and designed learning outcomes for their individual classes so they could better assess their students' progress."
Pasackow conducted similar work in Istanbul, sharing with the university library's staff her knowledge in librarian instruction, reference services, and collection development. After her visit, they made several changes to their facilities and operations.
Though Pasackow makes winning look easy, Fulbright Specialist Grants are much-coveted awards. If you're hoping to secure one of your own, she has a few tips: "I would recommend selecting a location that may not be everyone's first choice," she says. "Then use the Goizueta and Emory networks to find someone who is willing to host you. The Fulbright Association, Georgia Chapter has contacts all over the world. I encourage staff and faculty to apply. We have much to contribute and people everywhere are eager to learn."—BW