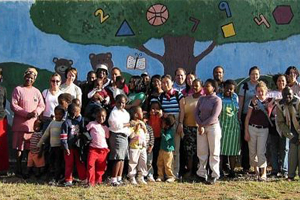 If you're looking for an experience that will change your life and the way you see the world, look no further.
Housed in the Office of Spiritual and Religious Life, the Journeys of Reconciliation Program takes small groups of students, faculty, staff, and alumni on trips every May to places troubled by racial, religious, economic, and other kinds of tension. This month, ten students will travel to Cuba to visit the newly opened US Embassy in Havana and learn about the historical political strain between the two countries. Other Journeys in 2016 will see Emory students in Bosnia-Herzegovina, an area whose borders and political identity have changed hands countless times, and the Mississippi Delta, where the program members will join a Habitat for Humanity build and learn about the ongoing challenges to providing affordable, accessible health care to this poor, rural area.
"We want students to look at parts of the country and world that are not like ours," said Cynthia Shaw, Journeys coordinator, in a February interview. "We tell students all the time, 'We are not trying to duplicate your Emory experience. You will be uncomfortable. You will be staying in places where the water and electricity aren't always reliable.'"
Shaw, who went on many of the Journeys herself, said that discomfort turns into huge learning and growth opportunities for the participants. Sarah Loftus 16OX, a sociology major who is taking the trip to Cuba this month, is excited at the prospect of full immersion. "I am always trying to gain new insight about the world, different cultures and environments," she says. "Traveling to other countries is a vital part of deepening my understanding of sociology and humankind in general."
Goizueta Professor of Marketing Sandy Jap's Journey to the Arizona/Mexico border last year changed the way she teaches. The trip, which focused on the many problems of migrant workers and illegal immigration, held both a professional and personal interest for Jap, who immigrated to the United States from Indonesia with her family when she was two.
"My own work and research is centered on organizational conflict and management," she says. "So I was interested in how social enterprises like NGOs, churches, and non-charitable organizations come into play to solve a social problem like
illegal immigration."
Jap has incorporated the example of Café Justo, a cooperative of family coffee growers throughout Mexico, into her classes. "They band together to consolidate their coffee production volumes, and they sell it to the US through churches," Jap
explains. By securing a fair price, Café Justo ensures its workers are never forced by necessity to migrate. "It's a great example of how individual firms can coordinate together to bring greater value to all of them."—Breckyn Wood
For more information or to apply for an upcoming Journeys trip, visit religiouslife.emory.edu/journeys/index.html.
Editor's Note: Cynthia Shaw passed away two weeks after the interview for this article. Her tireless efforts will be greatly missed.