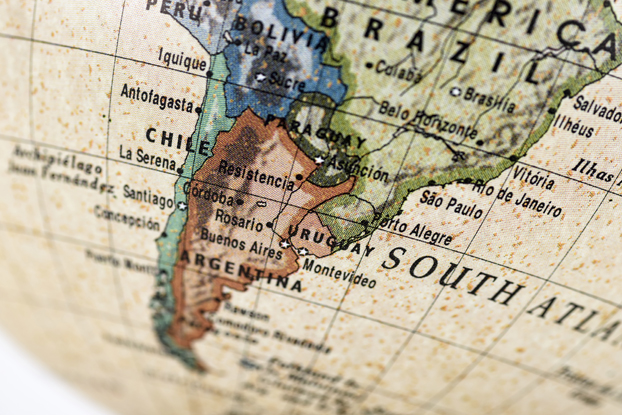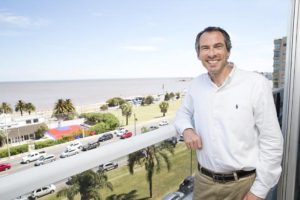 Montevideo is Uruguay's capital and its largest city; nearly half of the country's population lives there—including several Goizueta alums: Javier Jasinski 01MBA, Andrés Mokobocki 03MBA, and Diego Socolovsky 02MBA.
Jasinski, director of LankPharma, a company that represents and manages assets for clients in the pharmaceutical indus- try, learned about Goizueta from fellow Uruguayan alum Marcelo Poliak 00MBA (Poliak, a financial advisor, now lives in Miami, Florida). Jasinski thought so highly of the coursework and people he met while at Goizueta that he in- fluenced both Mokobocki and Socolovsky to go to the school. "After more than 15 years, I am still in touch with classmates, professors, and administrators," says Jasinski.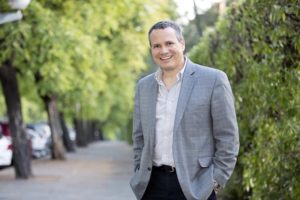 As architect, president, and director at Andrés Mokobocki Arquitecto, a real estate investment and development com- pany, Mokobocki's construction projects dot the Uruguayan landscape. When he isn't scouting for land or investment partners, he spends time with his wife and two daughters and one son in Punta del Este, one of South America's most glamorous seaside resorts—about two hours east of Monte- video. Jasinski, Socolovsky, and their friends and family also frequent Punta del Este.
All three men are active in Montevideo's Jewish community. Jasinski is the current president of Yavne, an Orthodox Jew- ish school where his son and daughter attend. Mokobocki is a past-president of Yavne and is currently a member of its board, and Socolovsky is a long-standing member of the Tzedaka Foundation, an organization that works to relieve Jewish people in poverty.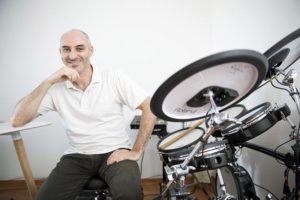 Socolovsky, who runs his own multi-family wealth manage- ment practice advising wealthy families from Latin America, Europe, and Israel, found Goizueta's accelerated one-year program a perfect fit for him. "You spend an intense time with 60 classmates," notes Socolovsky. "You have the opportunity to get to know each other and get to be close friends."
When not strategizing for his clients, Socolovsky hones his street photography skills at Montevideo's flea market—one of the biggest in the world. He also plays the drums and is putting a jazz fusion band together. "I came back to Monte- video to raise my kids [a daughter and son] with family," he says. Like Jasinski, he lives five minutes from his parents and much of his extended family. Perhaps Socolovsky speaks for all three alums when he describes the allure of Uruguay. "It's a particular way of living," he explains. "You get to live in a small place but work in the big world." —Allison Shirreffs