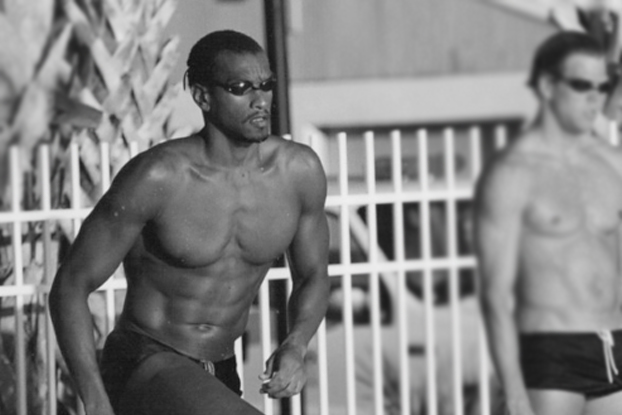 The Olympic Games is the pinnacle of sporting events, and getting there requires determination, perseverance, teamwork and thousands of hours of practice. Not every athlete makes it to the games or even the Olympic Trials, but their thirst for sport, competition and the time spent aiming toward that finish line is never lost. In fact, it enhances other areas of their lives. In this new series, Goizueta alumni and students share their athletic passion, favorite Olympian, and what they've learned along the way.
Sabir Muhammad 07MBA has a string of competitive swimming titles and even his own Wiki page. Now a data strategy and precision marketing lead for The Coca-Cola Company, Muhammad was one of the most successful and groundbreaking swimmers of his time.
He was an NCAA champion as an undergraduate at Stanford; he won seven Pac 10 titles and was a 25-time All-American. In 2000, Muhammad was a finalist in the 100 freestyle at the Olympic Trials, and a semifinalist in the 50 freestyle. Also in 2000, he won a silver and a bronze medal at that year's Short Course World Championships, becoming the first African-American to medal at an international swimming meet. Over his career, Muhammad broke 10 American records, was a four-time U. S. Open champion, a five-time World Cup Swimming champion and two-time runner-up at U. S. Nationals.
Muhammad spoke with EmoryBusiness about his love for swimming, his career transitions, and why he has no regrets about not making the Olympic team.
EB: Have you always wanted to participate in the Olympics?
I started thinking about the Olympics seriously when I was about 12 years old. I'm a native of Atlanta and grew up swimming for the City of Atlanta Dolphins (CAD) swim program. Through my involvement with CAD I met a number of Olympians, such as Steve Lundquist and Melvin Stewart. They all left positive impressions on me and helped make my Olympic aspirations more concrete.
EB: What is your most memorable moment/highlight of your swimming career?
At age 16, I met my favorite Olympic swimmer, Pablo Morales. I was so excited to meet him that I just started talking and boasted of my plans to break all of his records. He smiled, asked my name, and then showed me his gold medal. I'll never forget that moment. Six months later I got a call from Skip Kenney, then the head coach of Stanford University. I learned later that Pablo had advised him to recruit me, without ever seeing me swim. My first three years at Stanford were rocky; the team struggled at NCAAs and had trouble living up to the previous class's national championship run. My senior year, Skip hired a new assistant coach: my hero, Pablo Morales. My senior year was like a Rocky training montage with me training and Pablo as coach. At the final meet of my last year at Stanford I broke Pablo's American record in the 100-yard butterfly. That was highlight of my career.
EB: You were the first African-American to win a swimming medal at an international meet and hold an American Record. What does that mean to you?
I'm incredibly honored with that distinction because it represents progress. There were many great African-Americans who came before me who were the first of their generations to accomplish great things in swimming. I'm excited to have passed the torch to other African-American swimmers such as Cullen Jones, Maritza Correia and Simone Manuel. Ultimately, it's further confirmation to young people of all backgrounds that they should pursue their dreams regardless of how contrarian they may be.
EB: Who is your favorite Olympian – past or present? Why?
Pablo Morales, the son of Cuban immigrants, is definitely my favorite Olympic swimmer. He is the most humble and laid-back guy you will ever meet. My all-time favorite Olympian is Muhammad Ali. I think people forget he was an Olympian, but he won a gold medal and dominated the 1960 Olympics in Rome. I had the opportunity to meet him several times in my life, and he is "The Greatest" not only for what he did in the ring, but for his convictions in his beliefs and commitment to fighting for oppressed people. Ali is probably my favorite human being/Olympian of all time.
EB: What elements of sports and business have you found to be the most useful? Why?
The gold medal skill is teamwork. Nothing can be achieved in a silo. The successes of athletes and business people alike are realized when they work together to achieve a common goal. Every success I've realized─be it athletic, family or professional─has been the result of working on a dynamic team.
If I had to pick a silver medal skill, it would be negotiation. Sports requires negotiation with your body, mind and spirit─an internal negotiation. During my heaviest training I remember telling myself, "Sabir, it's time for our third training session of the day." My mind and spirit would listen, but most times my body would ignore me. Negotiation is a subset of communications, and I find it to be a vital resource now as a professional.
EB: As the 2016 Olympic Games are under way, do you feel any regret about not achieving your early goal?
I wouldn't trade my Olympic Trials experiences. True, I missed the Olympic team by very small margins multiple times in my career, but never making the team left me with a burning desire to succeed in other areas of my life. For example, had I made the Olympic team, who knows, I might not have gotten my MBA from Emory. I'm happy with the way things turned out and can appreciate all of the experiences I've had along the way.
EB: What's your favorite memory from your time at Goizueta?
The team building exercises we did as part of the orientation for the full-time program at Goizueta. Each of the teams went through a series of obstacles à la American Ninja Warrior. Our team was diverse, primarily by body type: small, average build and a few really tall students─one of them was nearly 300 pounds, too. It took an incredible effort from everyone. We all got through the obstacles and it was a great time. It was an early example for me that diversity is good for teams.
EB: You've recently started a new job with Coca-Cola in Atlanta. With your startup experience, what drew you to this established firm?
As lead of the Data Strategy & Precision Marketing team, our goal is to be the ambassadors of data-driven marketing at the company. This is a young team and we operate like a startup. We're scrappy, we move fast and we use data and technology to achieve our lofty goals. The more time I spend at Coca-Cola, the more impressed I am with the company and its mission.