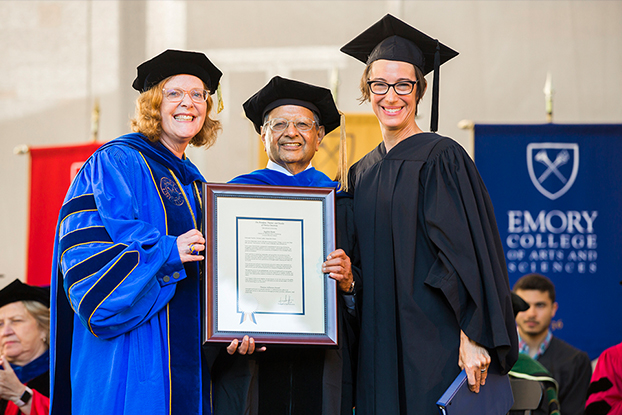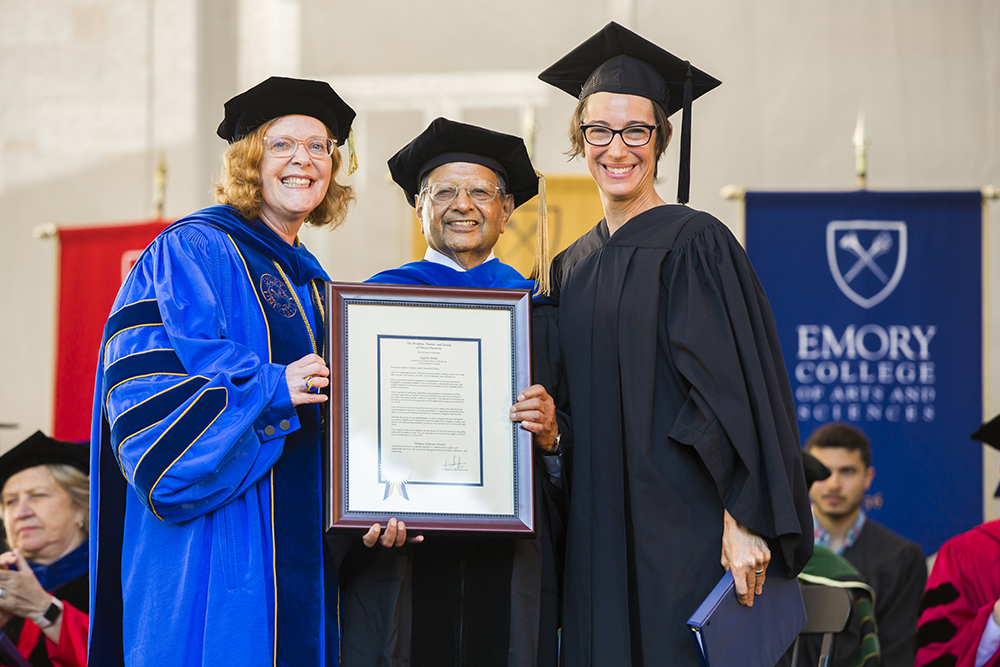 Last year, Professor Jagdish Sheth turned 80 and shows no signs of slowing down. During this year's commencement ceremony, he received the 2019 Thomas Jefferson Award. This prestigious award honors a faculty or staff member who has significantly enriched the intellectual and civic life of the Emory community.
For Sheth, Charles H. Kellstadt Chair in Marketing, who has won a number of awards, the Jefferson Award holds a meaningful spot.
"This award is really special because it is selected by a committee of university-wide peers," says Sheth. "Also, it is special because the Jefferson Award reinforces the mission of an academic, which is to unlock the potential of others."
Helping others find that potential is a passion of Sheth's and has fueled his research and teaching. The breadth of Sheth's work and activities were detailed in a six-page nomination letter from Erika James, John H. Harland Dean of Goizueta Business School, and seven others from across campus. The impact was not lost on the judges, all of whom are prior award winners.
"The committee was deeply impressed by the local, regional and international contributions Professor Sheth has made through his distinguished career at Emory," says Carol J. Rowland Hogue, Jules & Uldeen Terry Professor of Maternal and Child Health, professor of epidemiology and director, Women's and Children's Center.
Sharing in the celebration with her father was Reshma Shah, associate professor in the practice of marketing, who won the Emory Williams Distinguished Undergraduate Teaching Award.
In other awards, Charles "Chip" Frame and Libby Livingston received the Donald R. Keough Award for Excellence. The award, named for and endowed by former Coca-Cola President and COO Donald Keough, is the school's highest service award and recognizes extraordinary contributions by faculty and staff.
Ramnath K. Chellappa, associate dean, academic director of the Master of Science in Business Analytics program and associate professor of information systems & operations, is this year's recipient of the Provost's Distinguished Teaching Award for Excellence in Graduate and Professional Education Award.
---
In the fall of 2018, The Goizueta Foundation contributed a gift to endow the Roberto C. Goizueta Award for Leadership. This award, which is the highest honor a graduating BBA or MBA student can receive, recognizes two outstanding students who are academically sound and have demonstrated leadership tied to the shared characteristics of love of learning, inspirational leadership, creative thinking, courage and commitment, transparency and trust, excellence, and integrity. In accepting the award, student recipients identify the faculty or staff member who has been the most influential in shaping their time at Goizueta. Both students and faculty receive a cash prize in recognition of their noteworthy leadership.
Roberto C. Goizueta Award for Leadership
Student Award: Willi Freire 19BBA
Faculty Mentor: Nikki Graves
Student Award: Ted Kietzman 19MBA
Faculty Mentor: Daniel McCarthy