Every August, Goizueta Business School students unite on campus for a week of activities called Keystone. Associate Dean Brian Mitchell describes this week as a bridge between where students have been in the program and where they'll go in the future.
It's an opportunity for the One-Year MBA students to converge with the second-year students from the Two-Year MBA program. In addition to writing a letter to their future selves and just generally celebrating being on campus after internships or a very intense first course for the accelerated program, these students may participate in Keystone's Day of Service.
The service component is an undoubtedly important aspect of Keystone. It keeps everything that's going on in perspective and provides space for the perspective of humanity, our individual humanity.

Brian Mitchell, associate dean of Goizueta Global Strategy and Initiatives and the full-time MBA programs
This year, 140 students volunteered 389 hours of service to 11 organizations in Atlanta. Lara McGee 23MBA, vice president of community outreach for the Graduate Business Association, explains that the process of picking which organizations to partner with included looking at existing Emory University and Goizueta relationships as well as asking students for their preferences and affinity groups.
"It's important to recognize that one day of service might not necessarily be beneficial to an organization, so we wanted to be intentional about creating a meaningful and lasting impact and relationship with these organizations," says McGee, who put equal effort into ensuring the locations were easily accessible for students.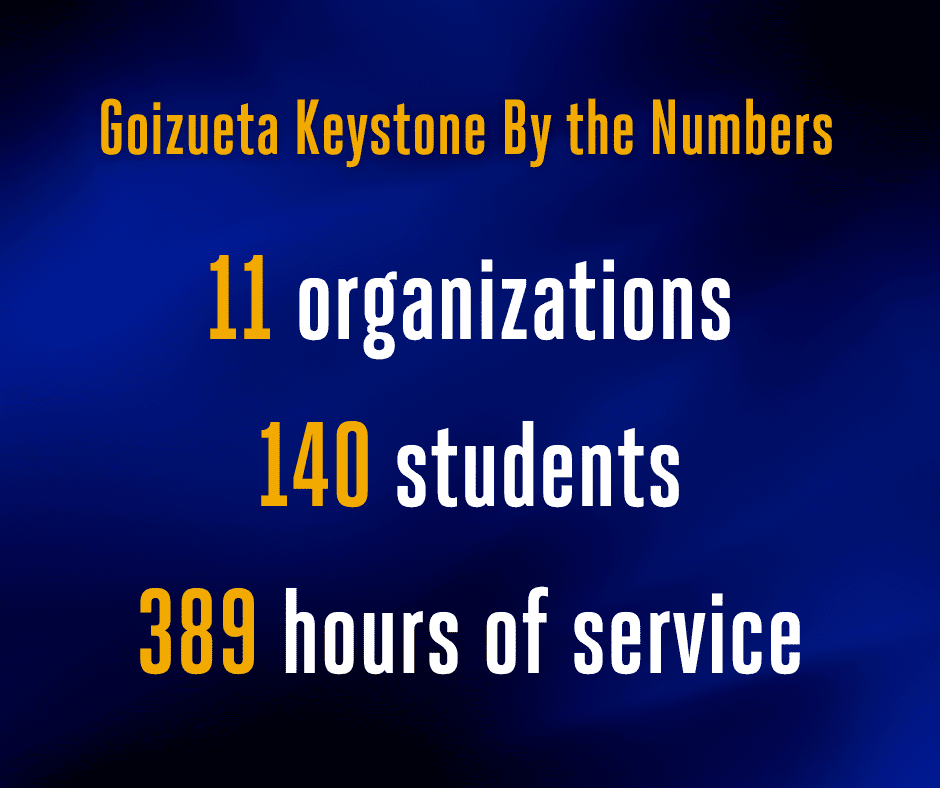 Projects included packing grocery donations at Atlanta Community Food Bank, campus beautification at the Convent House and Jerusalem House, hosting a career workshop for HOPE Atlanta, processing donations at Lost-N-Found Youth, packing home-delivery meals for Open Hand, cleaning up the outdoor space at Refuge Coffee, and assisting with a back-to-school event by Step Ahead Scholars.
Katie Hoole 23MBA, a former kindergarten teacher, volunteered at Atlanta Children's Shelter, where she and other classmates taught toddlers and preschool students. "I'm so inspired by the work they're doing," says Hoole. "It was a great morning, and I plan to go back and volunteer."
Many full-time MBA students found McGee after the event to express their gratitude and excitement at what she and the team of site leaders had done.
"There are only 200 of us, and this volunteering is optional," says McGee. "Even so, 140 people signed up. People still want to take time out of their day and give back. It's also a great opportunity to engage with the Atlanta community and make a meaningful difference," says McGee. "It's also a really great way to reconnect with classmates and meet new ones."
In Goizueta's small-by-design, customizable full-time MBA programs, you'll work side-by-side with some of the world's leading business thinkers and strategists, tap into a global, dynamic city, and become the leader ready to shake up any status quo. Learn more here.