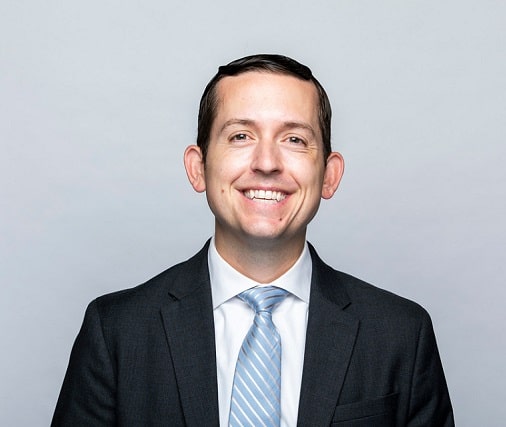 Throughout Veterans Awareness Month, Emory Business will introduce readers to the stories of veterans who excelled at Goizueta and are thriving in their careers.
When it came time for United States Marine Corps veteran Ryan Martin 23EMBA to take the next step in his professional career, advancing his education was a critical move. For the Marine Corps, Martin served as a non-commissioned officer who made decisions daily. In choosing the next stop on his educational journey, his direction was clear.
Ryan explains, "Choosing Goizueta Business School was my clear choice due to the prestigious brand recognition, small-by-design classes, unique leadership program led by Lieutenant General (Ret.) Ken Keen, associate dean of leadership development and senior lecturer of Organization & Management, and robust Atlanta corporation and community networks." 
Professionally, this South Carolina native and family man holds an electrical engineering degree from University of South Carolina. He gained experience in manufacturing and operations management for the Pepsi, Gatorade, and Frito Lay brands at PepsiCo, then shifted to multiple roles at his current company, Sidel.
"After relocating to Atlanta from California with Sidel, I took a more global role within my company," Martin explains. His work now focuses on operational strategy, continuous improvement, and quality for the company's business in the Americas.
I am extremely passionate about building holistic and sustainable business models and utilizing business as a tool for social change. Business is becoming extremely complex, and we need principled leaders now more than ever to drive long-term stakeholder value.

Ryan Martin 23EMBA
So, what does the future hold for this veteran and sports fan? "I will concentrate on strategy and general management to accelerate my career and prepare me to be a principled leader for the evolving business world."
Scholarships can pave the way to future success for many of Goizueta's veteran and military students. Learn how together we can do more.