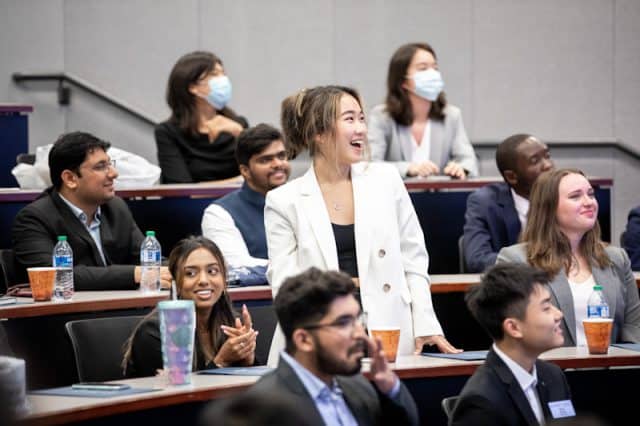 When Goizueta Business School launched its Master of Science in Business Analytics program in 2017, leaders set high goals for success. With compact and intense, STEM-designated courses and experiential learning opportunities in 10 months, the program produces business data scientists who consistently (and quickly) find employment at well-known companies.
Now, with more demand than seats in the program and companies seeking business analytics professionals more than ever, Goizueta is aiming to push even further, giving businesses and students more cutting-edge experiences and opportunities.
Starting in Fall 2023, the MS in Business Analytics (MSBA) will expand its options to the current full-time MSBA by offering a new AI in Business track. Goizueta will also launch the Master of Science in Business Analytics for Working Professionals (xMSBA), a degree based on the same successful full-time MSBA, but in a new format. The xMSBA is exclusively designed for professionals currently working in the data, IT, and analytics fields.
xMSBA: The Master of Science in Business Analytics for Working Professionals
Since the launch of the full-time MS in Business Analytics, Goizueta has been inundated with interest from corporate partners about a part-time degree for their employees. Students enrolled in the full-time program are mostly recent undergraduate students with little-to-no professional work experience, looking to start a career in business analytics.
Companies want the same intensive MSBA program with advanced machine learning and AI techniques, but for their working professionals.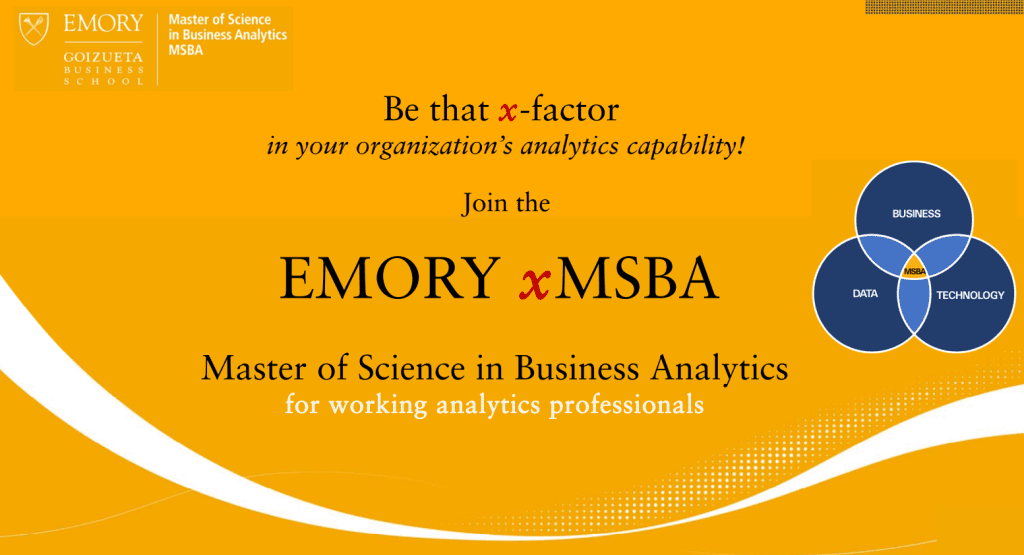 "We have observed a need in the industry from current working professionals in the areas of business, technology, and data, and what we are offering is fundamentally different than other possibilities that these people have right now," says Ramnath Chellappa, associate dean and academic director of Goizueta's MS in Business Analytics and professor of Information Systems & Operations Management.
Goizueta's xMSBA will build upon the core competencies and classes of the current program, but certain elements will be tailored for the working analytics professional. Classes will be held in the evenings and on Saturdays. Students will participate in multiple residencies: two to start and end their degree in Atlanta and two three-day international trips.
The xMSBA program welcomes students who have five or more years of work experience in business analytics or related fields and already possess basic data and programming skills. The goal is not only to upskill the students' core abilities, but to also provide better understanding of how the advanced topics of machine learning, artificial intelligence, and cloud computing can be applied to problems their industry and company might face.
This degree is targeted towards those individuals who are working and want to make a difference in their firm's ability to use data to solve business problems. Earn our xMSBA and be that x-factor in your organization's analytics capabilities.

Ram Chellappa
Another unique element is the analytics practicum. Firms that send employees will have the opportunity to unravel a particular real-world problem they're facing, using their own data. Often, the legal teams at large organizations roadblock access to this proprietary data due to liability and intellectual property concerns. However, through the xMSBA, only the students from that firm will have access to the data, and they will be guided through the process by the expert hand of MSBA faculty members and Managing Director Scott Radcliffe.
"The program has developed a unique way of taking a business situation, converting it to a data problem, deriving data-science-based solutions and converting those solutions into a business recommendation," says Chellappa.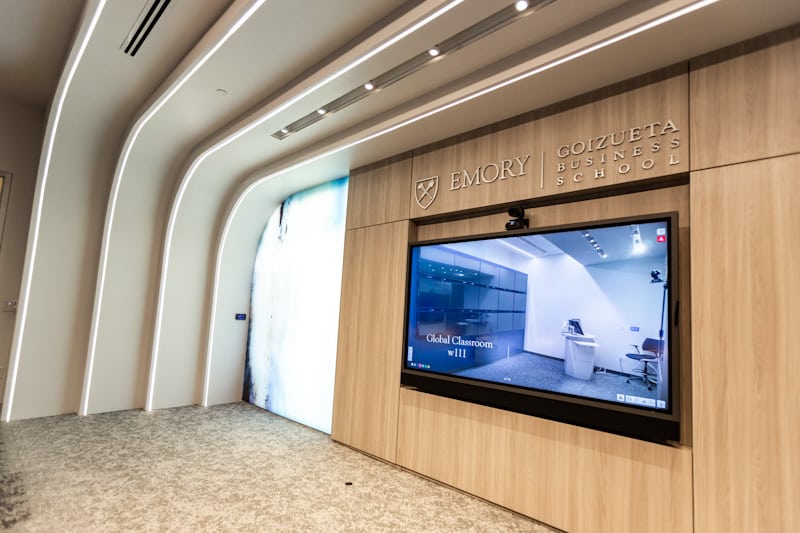 The xMSBA degree also utilizes Goizueta's Global Classrooms to connect with students outside of Atlanta, such as in Mexico City, Mexico, and Bogota, Columbia, where companies have already expressed interest in the program. "We're not just bringing in students from other countries; we're offering the program there. The idea behind that is that the firms in those countries are going through the same data science and data analytics questions," explains Chellappa.
Students will still enjoy the intimate small-class-size nature of the program because the compulsory residencies will allow the international students to experience the cohort in person.
"In the xMSBA, we not only preserve the cohort nature from the students' perspective, but we also have the ability to cross-pollinate people who are actually working in the industry. They're learning not only from their professors, but they'll also be learning from each other in terms of how to do projects for their firms," says Chellappa.
They'll have an opportunity to learn best practices as they go through the program.

Ram Chellappa
A New Concentration in AI
The use of artificial intelligence in business has skyrocketed over the past few years, and in order to properly leverage this sophisticated technology, organizations need the expertise of educated, trained employees. In response to this ever-growing need, the full-time MS in Business Analytics will offer a new technically advanced track called AI in Business, starting in Fall 2023.
Based on ability and interest, students who complete the core curriculum of the MSBA degree have the opportunity to be guided towards advanced courses in applying artificial intelligence to business.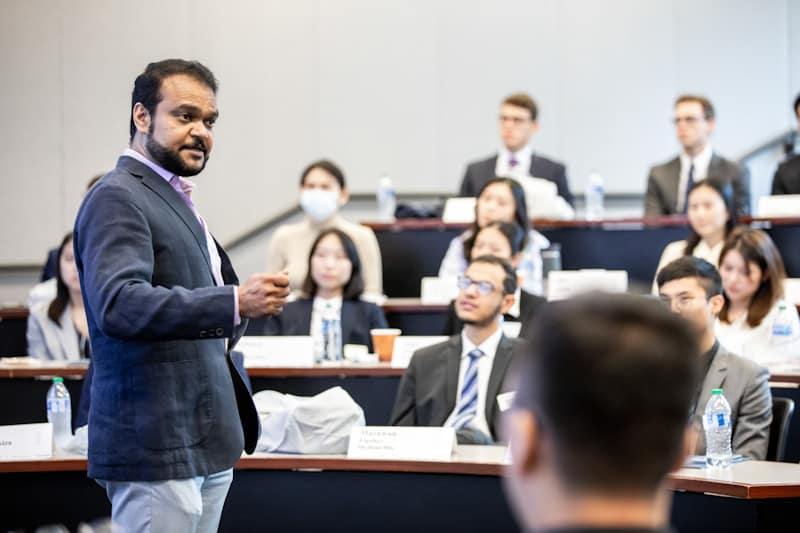 Whereas the current curriculum focuses on the intersection of business, data, and technology, producing top-notch business data scientists, the AI concentration will go further. Courses for the AI in Business track will cover advanced topics such as deep learning, reinforcement learning, AI at scale, and advanced network analytics.
The MSBA program is responding to a need from the industry, student population, and interested applicants for advanced topics in the application of AI in business.

Ram Chellappa
In addition to meeting the needs of the industries where students end up—as well as the students themselves—this new track also aligns with Emory University's AI.Humanity initiative, explains Chellappa, who also sits on the advisory committee of AI.Humanity.
"Our stakeholders are the students, industries where we place them, and the larger university mission and agenda, and this new track meets a number of needs," says Chellappa. "The launch of this track also enables our students to be more attractive to advanced tech firms on the West Coast, like Google and Facebook."
Learn more about Emory's full-time MS in Business Analytics for early career professionals or Emory's advanced part-time MS in Business Analytics for Working Professionals.