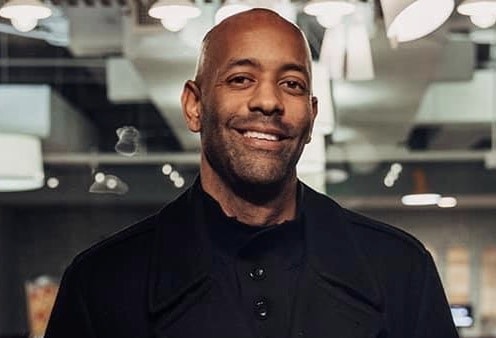 Cedric Rogers 12EMBA understands the true meaning of hard work. Rogers says a strong work ethic and perseverance are values his father instilled in him, and he believes they can be applied to nearly every situation. Rogers held on to those principles as he navigated a successful career at Apple, before receiving his Executive MBA from Goizueta Business School and moving into the world of start-ups.
Rogers' career at Apple started at the height of the company's success, seeing the iPhone come to fruition and watching the Steve Jobs era unfold. However, Rogers comes from a family of entrepreneurs, and he was inspired by Jobs to build his own company. With the help of Goizueta's Executive MBA program, Rogers took a deeper dive into business and gained key business acumen that would help him find success.
During his time at Goizueta and with the help of one of his cohort members, Andrew McCaskill 12MBA, Rogers soon discovered his new career path.
In the time that we were together, sitting in the same row, [McCaskill] kept challenging me to keep thinking about multicultural audiences and the impact that they had in the marketplace.
After graduation, Rogers created his first start-up, which gained traction with various organizations but couldn't turn a profit. He ventured on to work on another start-up called Looklive, an app focused on men's fashion. However, after completing a start-up accelerator program, Rogers decided to attend an entrepreneur residency in Los Angeles with Mucker Capital, a venture capital firm.
"That proved to be a wonderful opportunity to learn more about the other side of the table from the investor's perspective," Rogers said.
After a year in the program, Rogers launched his current company Culture Genesis.
I really had this passion to want to build software for multicultural creators and helping them maximize and monetize their content. That was always our number one focus.

Cedric Rogers
Rogers' passion to make a difference is directly reflected in Culture Genesis as it helps underrepresented creators be seen on a larger scale, inevitably helping them grow their businesses in the creator economy.
"The one reason why I stayed at Apple for so long is because it was a company that was full of passion and purpose," Rogers said. "You really felt like you were making a difference to change the world."
I want to build a company that would do the same in its own way, and my ethos is to make a difference. If I'm not making a difference than I don't really want to do it.
Culture Genesis has seen tremendous growth already, with the goal of scaling to $100 million in revenue in the next few years. As for Rogers, he is quickly approaching the 10 year mark since he left Apple, a milestone he believes coincides with the advent of his "ultimate success" for a reason.
"I think that's the one thing I would always encourage young people to understand is that this doesn't happen overnight," Rogers said. "It is a marathon, not a sprint. It will be based upon your willingness to dedicate yourself. But in the meantime, don't forget your friends and family, and take those people along with you because that's going to be, a lot of times, the fuel you need to keep going."
Learn how Goizueta Business School's Executive MBA program is building future business leaders.