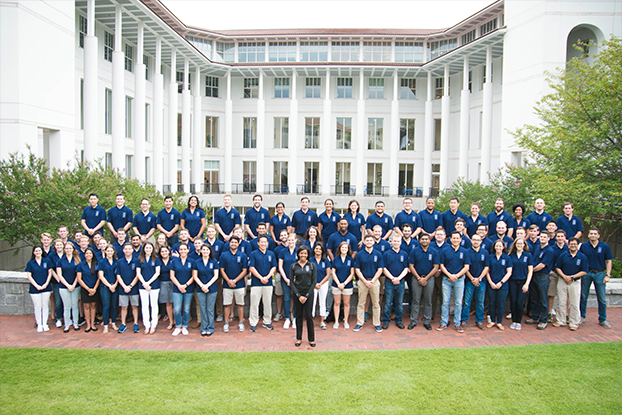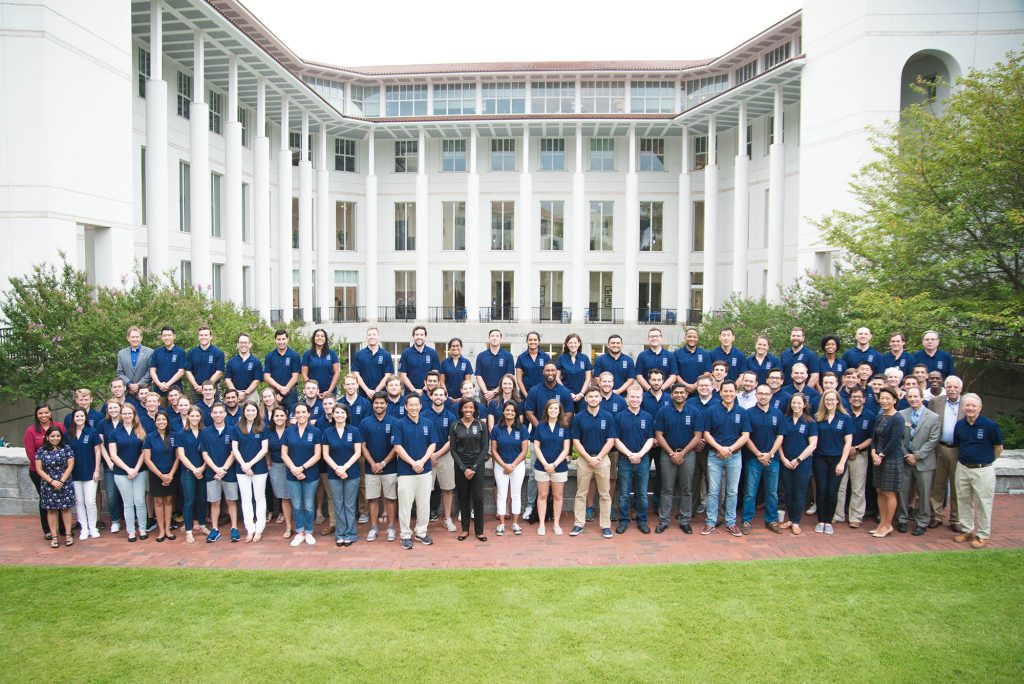 For the first time this year, One-Year MBA, Two-Year MBA and EvMBA students witnessed what it truly means to be a leader during the Delta Air Lines Leadership Coaching Fellows Program training session recently.
During the day of training, students had the opportunity to meet other fellows, hear from Dean Erika James, attend a seminar on coaching an MBA team and have lunch with an executive coach.
The LCF Program provides a leadership learning opportunity for second-year MBA students to understand, practice and enhance their skills of providing team and individual performance feedback. Students are trained to be peer coaches for first-year MBA students in selected team settings of the curriculum and one-on-one coaching sessions.
To kick off the day, students congregated in the new Delta-sponsored leadership hub to hear James discuss a case study relating to a team in a crisis.
"I am delighted to be here," James said. "I love being dean. What I miss as dean is I don't really get to spend time in the classroom. Anytime I'm invited to go back to my former life and be a professor and engage with students is always a happy day for me."
During the interactive session, participants discussed an in-depth case study where a group of students faced varying personalities, creating conflict and turmoil.
"This was based on an actual learning team at a different school," James said. "The names have been changes but the situations are eerily similar. You all have gone through the learning team experience as a participant. You could probably identify some aspect, if not all of the aspects in this case, but you will now be entering the stage where you will be engaging as a coach to teams who might have a bit of dysfunction. Our goal today is to give you some practice with that."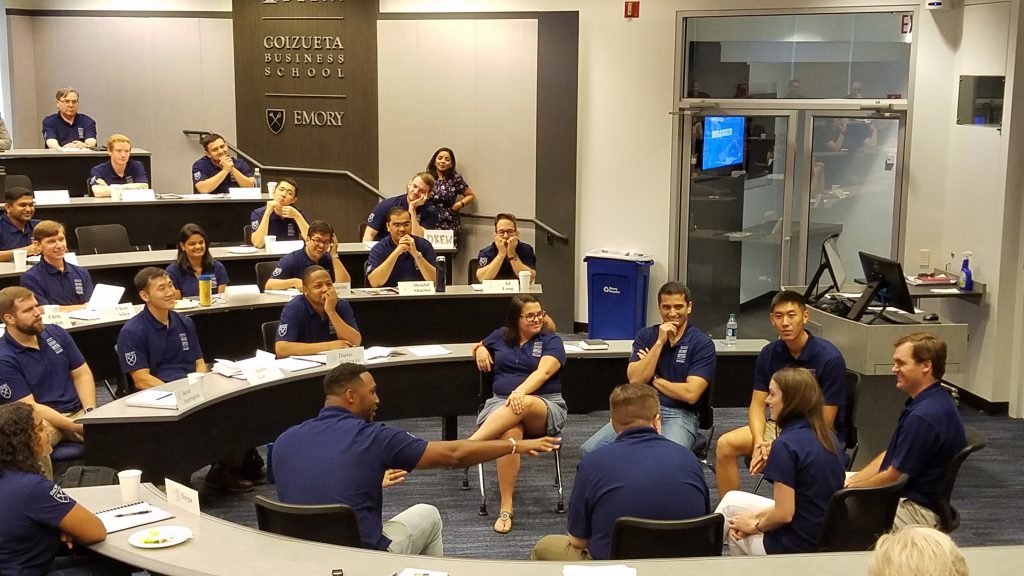 2018 Delta Air Lines Leadership Fellows Program
Two-Year MBA
Pierre Gross / Deepa Raju / Rio Sato / Rekha Ananthanpillai / Edward Michel / Rene Meza / Ali Martinez / Andrew Heck / Jeff Pearlman / Ainsley Sutton / Ryan Vancampenhout / Jonathan Wang / Amanda Piltzer / Peter Hawkins / Russ Coleman / Steve Rogers / Sarah Wilson / Dr. Rohan Choudhari / Claire Allen / Priyanka Jain / Mark Neufeld / Jason Zweig / James Mason / Jack Murray / Mike Reed / Ankit Javia / Brian Harrington / Katie Hoppenjans / Rob Sweeney / Darias Holloway / Tiffany Anderson / Gui de Araujo / Robert Lee / Andrew Fisher / Cynthia Tassopoulos / Kyle Davis / Alex Hubartt / Chris Carr / Jesse Simmons / Natarajan Srikrishnan / Omar Ahmed / Rashima Vatnani
One-Year MBA
Will Swafford / Jacky Mozzicato / Brian Hsu / Joy Halperin / Ryan Flynn-deOnis / Sonia Jain / Mackenzie Henry / Adam Macie / Alex Ontiveros / Ashley Jones / Julie Weber
Evening MBA
Natalia R Barreto / Lindsay Carswell / Caine Devoskin / Jesse Woods / Chris Ames / Chris Allen / Chris Harris / Drew Smith / Lisa Sthreshley / Marty Griffin / Mradul Sharma / Tom Kennedy / Umair Khalid / Angus Long / Bryan Macon / Caitlin Allen / Adam Holt / Shyam Nair / Sudhanshu Gakhar / Jorge Castillo / Alejandra Aquirre / Jonathan Jackson