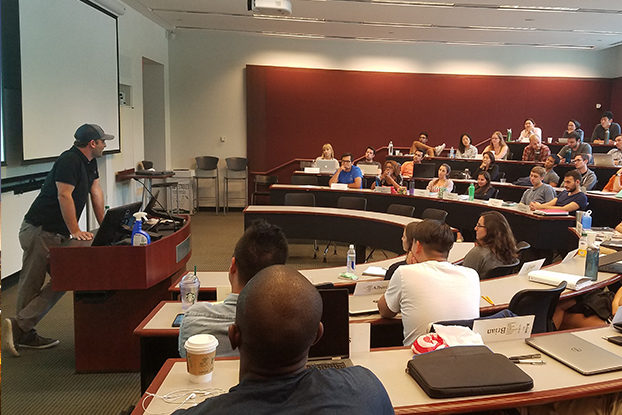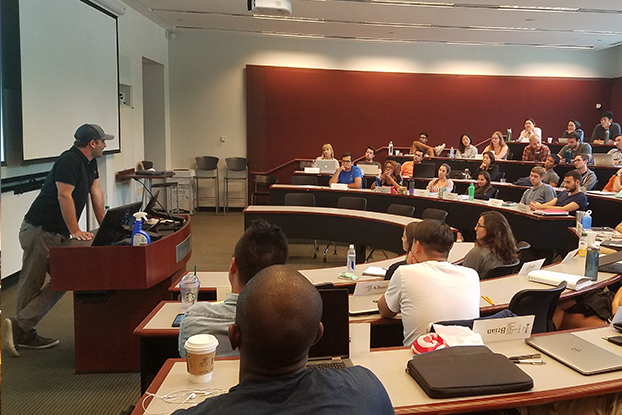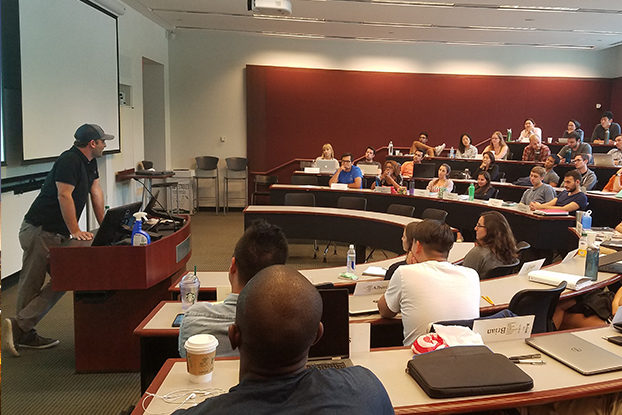 This summer, Matt Fishman 13MBA, CEO and co-owner of Barking Hound Village, came and spoke to the One-Year class about how his MBA helped him in new business opportunities.
Barking Hound is Georgia's largest dog daycare, grooming and boarding establishment with six locations throughout the Atlanta area. He purchased the company in April 2017 with his co-owner and Emory classmate Matt Gryder. Prior to purchasing the company, he worked as an assistant vice president on Voya's below investment grade private credit group as lead analyst on new investments and underperforming rates. He sourced and underwrote new investment opportunities, conducted due diligence, coordinated with the internal counsel and monitored the team's portfolio companies. Prior to Voya, Matt worked at Bayview Opportunity Fund, a hedge fund investing in RMBS and hold-on securities. Matt earned his MBA from Emory University, 2013 class, and his BBA from Tulane's A.B. Freeman School of Business.
The question and answer session with the class is below.
---
Q: What were some of the things that you factored in when you decided to leave corporate America to start or buy your own business?
A: It was an itch. I always wanted to be an entrepreneur. I never knew how it would evolve, but it was one of those things where if I didn't do it, I would regret not having done it. I realized that I was at a life stage where I could do it with as few negative effects as possible, if it went bad.
---
Q: Did the opportunity fall in your lap?
A: When I was at Voya, I led a lot of investments in the pet space, veterinary roll-ups and some retail. I got access to the books, learned the layout of the land and built a thesis. It's happenstance, and then you try to line up your cards as much as you can.
---
Q: How did you and your partner find this business together?
A: After school, there was a group of five of us, me and these Two-Year guys, who'd meet up to discuss opportunities and different ideas. One day, we started to run with the idea, and one thing led to another.
---
Q: Are you passionate about dog daycares, or are you passionate about starting a business?
A: I have a dog. It's a prerequisite to owning a dog daycare. I love dogs, but I'm more passionate about business.
---
Q: How did you raise money?
A: Barking Hound was 19 years old with a steady cash flow. Acquiring a business is an easier way to get your feet wet than starting something new because you can buy cash flow. That makes it a lot easier to get funded. We put in some cash, and we had a seller note. It's a weird gap structure, but a lot of it's funded by the Small Business Administration.
---
Q: What surprised you the most after you took over the business?
A: Numbers are pretty easy for me. The things that I underestimated were diligence and human capital. I tend to think I'm half decent with people, but it's exhausting.
---
Q: What was your thought process going into negotiating the price and the equity?
A: I know valuation, and I had looked at a few other dog daycare companies before. When he threw out a price, I was like, "Okay." I could always back out of it, but I was fairly certain that the price that he gave me was good. The equity side, you have to knock it out in the beginning. So that's what we did. But it's an uncomfortable conversation.
---
Q: How did you and your partner divide up duties and responsibilities?
A: You have to see your friendship above all of it, but we have an operating agreement that's 50, 60 pages that divvies out duties, equity, all sorts of things. It's constant checks and balances. It's probably one of the most difficult things.
---
Q: Other than that original partnership agreement, do you see a lot of legal issues that come up in your everyday business?
A: Liability after liability. It's a service-based business. You have temperament issues, obviously. You have HR issues. You have leases. For every aspect of it, there's a legal side that you have to think through.
---
Q: Do you have any bucket list items that we should definitely do while we're here?
A: If you have ideas, entrepreneurial ideas, take advantage of the fact that you have more time now. Think through or outline some ideas that you might have and chase after them. Look at everything from a downside case. If I'm going to do something entrepreneurial, I don't yet have a family, so my downside was falling about as low as it's going to be from here on out. There's nothing to lose with trying to do something and failing in the next nine months. So if there's a bucket list, it's to take advantage of your time.
---
Q: We have our first networking event this week. Any advice?
A: Networking's tough. Things don't always come of it, but it's a game of odds. For maybe 800 people, you get a few back. Be persistent. It gets competitive because everybody's trying to distinguish themselves. You have to be real, be yourself.
---
Q: What advice do you have on finishing strong, the transition between the summer and fall, and involvement in the fall and spring.
A: When you get into the grind, lift up and think about the bigger picture. The transition can be overwhelming. You have all these new people, and they all know each other. You will want to stick with the One-Years, but that's doing a disservice to yourself. The most valuable thing that you're going to get out of this place is the network. You have to make yourself uncomfortable and sit next to different people, get in different groups, put yourself out there, meet people.
---
Q: Do you have any final thoughts?
A: With networking, get outside your comfort zone. The other thing is that the downside of where you are now, trying something out, is the lowest that it probably will be for a long time. So if you have an idea, or you want to try something new and crazy, whatever, do it.