David Glattstein 04BBA knows a thing or two about taking calculated risks. As a high school student, he invested his bar mitzvah money in the stock market to anonymously endow the Matthew J. Kamin Rainbow Scholarship in honor of his childhood friend. Now, as co-founder and president of Veterinary Emergency Group (VEG), Glattstein is invested in transforming the emergency medicine experience for pets and their owners.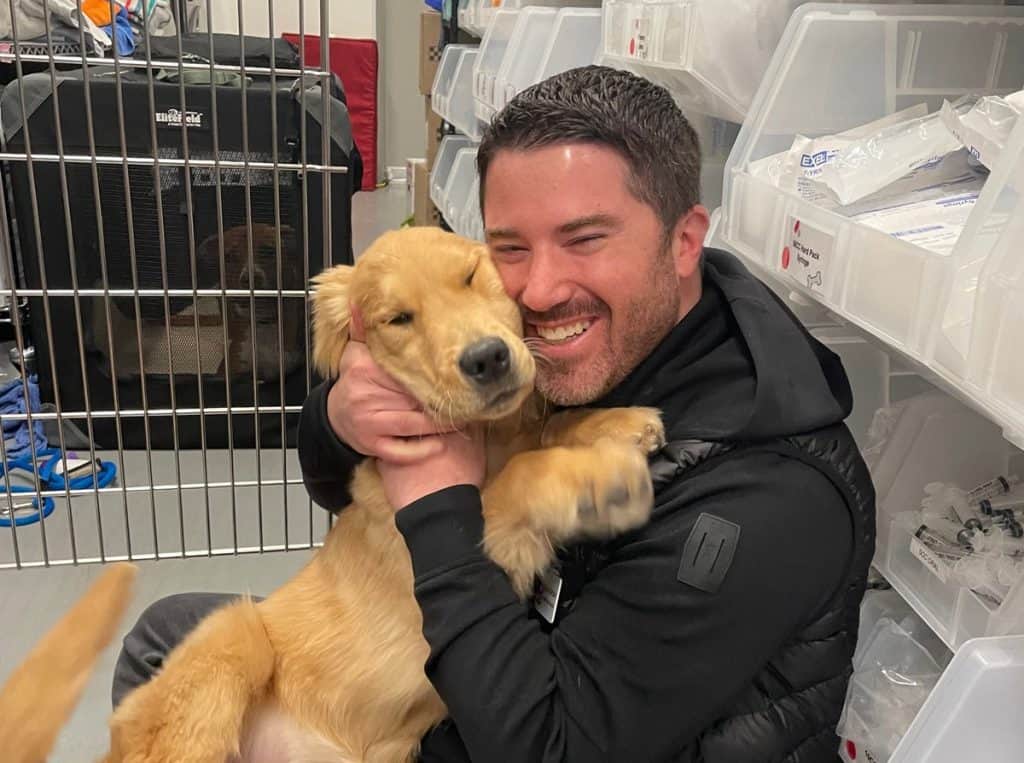 "Thirty years ago, people kept their pets outside," Glattstein notes. Now, according to Bloomberg Intelligence, the global pet economy is projected to be worth $493 billion by 2030, up 54 percent from today's number. With store aisles dedicated to pet treats, toys, clothing, and supplies, animal lovers increase household pet spending each year for pampering and medical care.
"I didn't come from the veterinary world, but I was fascinated by the industry," Glattstein says. With professional experience in investment and private equity, a BBA from Goizueta, and an MBA from Wharton, he was ready to sit on the entrepreneur's side of the table as a founder.
The way people treat their pets has dramatically changed in the last several decades. Pets now sleep in their human parents' beds, eat organic food, and are treated like members of the family. But even with these shifting behaviors, how pets are treated at the vet, certainly at an emergency vet, hasn't really changed.

David Glattstein 04BBA
Partnering with founder and CEO David Bessler, VMD, the team conceived a new holistic standard of veterinary emergency care. The model developed after implementation through a single hospital. As noted on the company website, "Pets would be treated like people and pet parents like human beings." Glattstein explains, "We set out to create a completely different veterinary ER experience."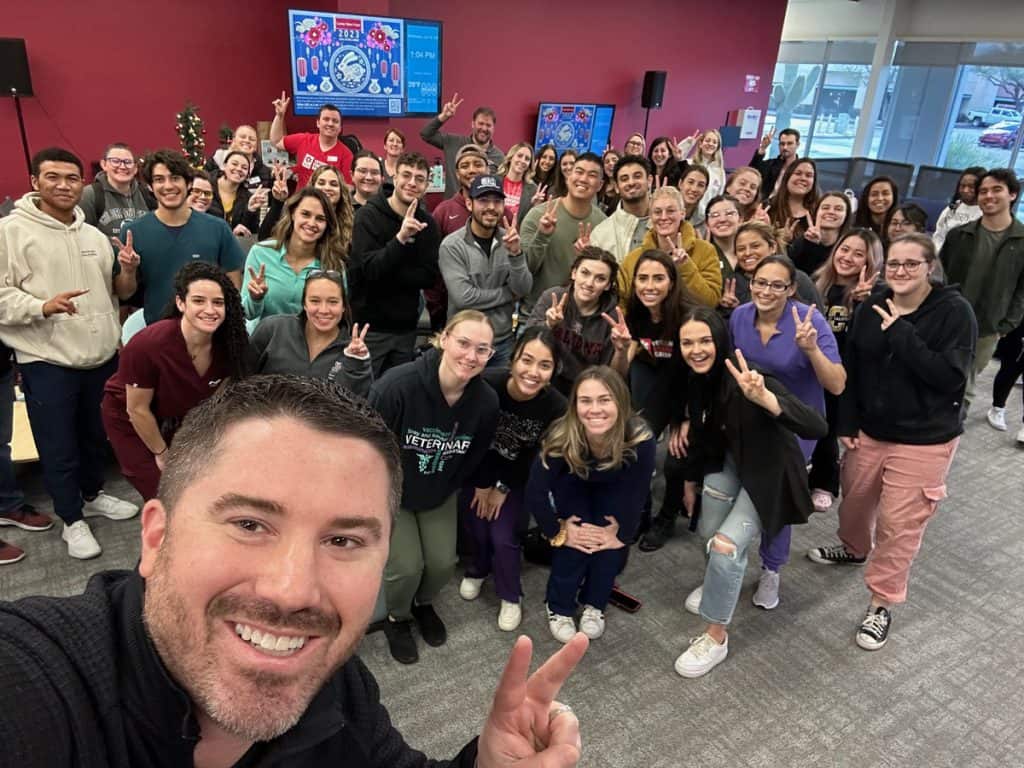 Veterinary Emergency Group now owns 53 emergency veterinary hospitals across the country, open 24/7, 365 days a year, with more than 3,500 employees and medical personnel affectionately called VEGgies. The company earns more than $500 million in revenue and is backed by Sequoia Heritage. Glattstein sees extensive future growth for the VEG model of care, setting sights on 500 nationwide hospitals in just a few years. "We're just getting started."
The road to success began with extensive research. Glattstein recognized the need for innovation and entrepreneurship in the veterinary industry. "I envisioned a reimagined veterinary business model that created a new environment for the stressful situations that surround emergency medical care for beloved family pets. Our pets are family," he says. "We know that emergencies are frightening, so we created a completely new, inclusive experience to offer comfort to family members and their animals."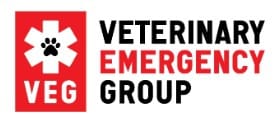 Veterinary Emergency Group facilities are revolutionary within the industry. Hospitals are open floor plan and families can choose to witness "healing-focused heroics" and participate in treatment. "We find a way to say yes to owner requests," Glattstein explains, noting accommodations for families to bring comforts of home or stay overnight with their animals. "Our philosophy is to care for the person as much as the pet."
Strong Brand Integrity Will Continue to Guide the VEGolution
While an undergrad student at Goizueta, Glattstein gained appreciation for the vital importance of critical branding, refined strategic goals, and powerful marketing.
Goizeuta laid the foundation for my desire to do something entrepreneurial. Everything I learned in the classroom, from marketing to finance to leadership, and everything I learned from my peers has made me a better executive.

David Glattstein
Success is reflected in the numbers, and penetrating a niche market has earned high praise for Veterinary Emergency Group. With an average Google score of 4.7 and a Net Promoter score of 91, customers consistently respond well to the company experience. In fact, more than 1 million pets and owners have been helped since inception.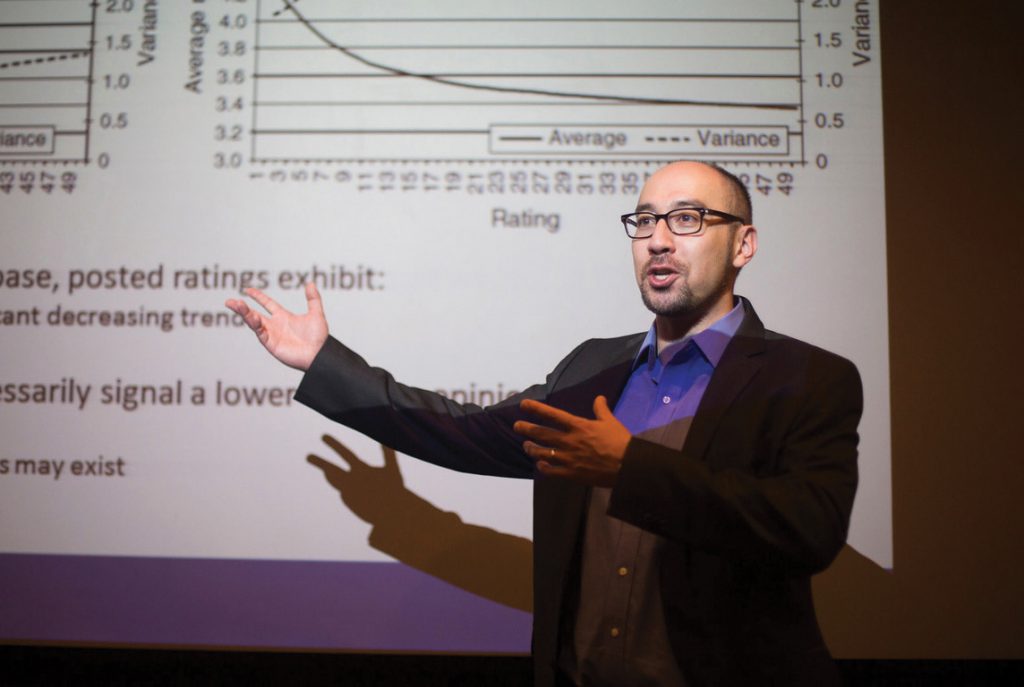 David Schweidel, Rebecca Cheney McGreevy Endowed Chair and Professor of Marketing, notes that "From a marketing perspective, they are focused on pet owners who are the key decision makers for their pets. They're putting it in terms that people can relate to. When you or I have an injury, we go to urgent care or to the ER. But where do you go for pets?" He adds, "You probably need to call around because you aren't sure if your vet has emergency hours or the necessary equipment or facilities. VEG branding makes it crystal clear that if you have an emergency, you come to us."
Reinforcing a strong brand comes as second nature to Glattstein. He reiterates the phrase that sums up the company business model. "Emergency is all we do, so we do it best."
Immersion in entrepreneurship and innovation is central to Goizueta's business education. The Roberto C. Goizueta Center for Entrepreneurship & Innovation takes a multi-faceted approach to engage students and business owners through interaction with Entrepreneurs-in-Residence and ecosystem collaborators, Pitch the Professor events, the annual Emory Entrepreneurship Summit, focused coursework, a Startup Launch Accelerator, venture capital opportunities through the RAISE Forum and the Peachtree Minority Venture Fund, and other entrepreneurial programming. Learn more here.
Listen to more of the founders' start-up story in the Authentically Successful podcast "Transparency Breeds Appreciation: David Glattstein & David Bessler."