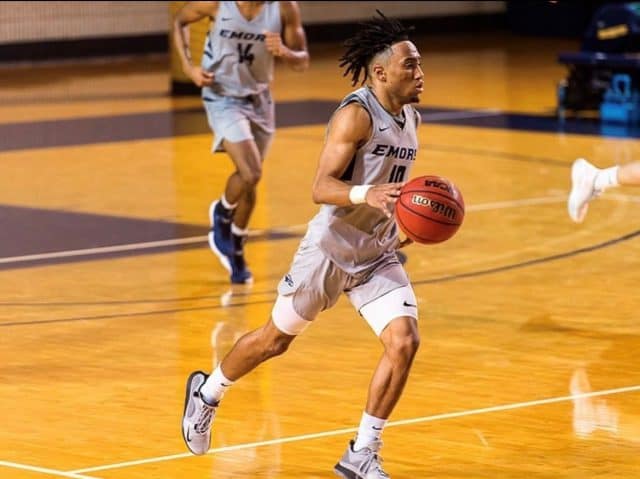 Passion, curiosity, and drive. When Romin Williams 21BBA 22MSBA entered Goizueta Business School as an undergraduate in 2017, he brought with him many of the leadership qualities he would need for success, but his journey as a business student and all-star athlete would test his resolve and push him to grow in ways he could never have imagined.
The New Orleans-native found Emory University during the basketball-recruitment process. Williams began playing basketball when he was 5 years old and always dreamed of suiting up in college.
He became enchanted with Emory upon visiting campus, and, growing up business-minded, he was impressed by Goizueta. "My passion for business is why I chose Emory—because of its prestige and everything it brings to the table," says Williams.
At Goizueta, his studies concentrated in strategy and management consulting and marketing.
He said he was always interested in learning about what drives people to buy certain products, and he wanted a major that allowed him to be creative. He liked both consulting and marketing and figured, "Why not combine the two and see where they take me?"
Williams said simple lessons on how to properly network yourself, give presentations, and engage an audience are tools that have helped him in his emerging career.
Goizueta does a great job of preparing you for the future. It wasn't really based on degrees as much as it was on you learning and growing, not just as a student, but as a person. I'm using skills that I learned from Goizueta and applying that to my everyday life.
The Goizueta Network in Your Corner
Looking to satisfy a taste for something new and play one more year of basketball after losing his senior season to the pandemic, Williams stuck around Goizueta to pursue his master's degree.
Williams was a fellow and fund beneficiary of the John E. Robson Program for Business, Public Policy, and Government at the Goizueta Business School. The Robson Program strives to better prepare graduates to lead complex organizations by fostering proficiency in issues of business, government, and public policy from diverse perspectives.
In taking part of the Robson Program, Williams became close with Jeffrey Rosensweig, the program's director, who developed into a mentor figure for Williams.
"Professor Rosensweig is just an awesome guy who you want in your corner," Williams says. "Professor Rosensweig knows somebody in some industry that interests you. He's very well connected, and he looks out for students."
As part of the program, Williams said he, along with other fellows and MBA students, participated in events where they could network with industry professionals, which provided him with opportunities to grow, learn, and connect with others.
Williams pursued Goizueta's STEM-credentialed Master of Science in Business Analytics, a full-time, immersive 10-month program designed to turn students into business data scientists. The program features real-world, project-based learning that combines business, data, and technology.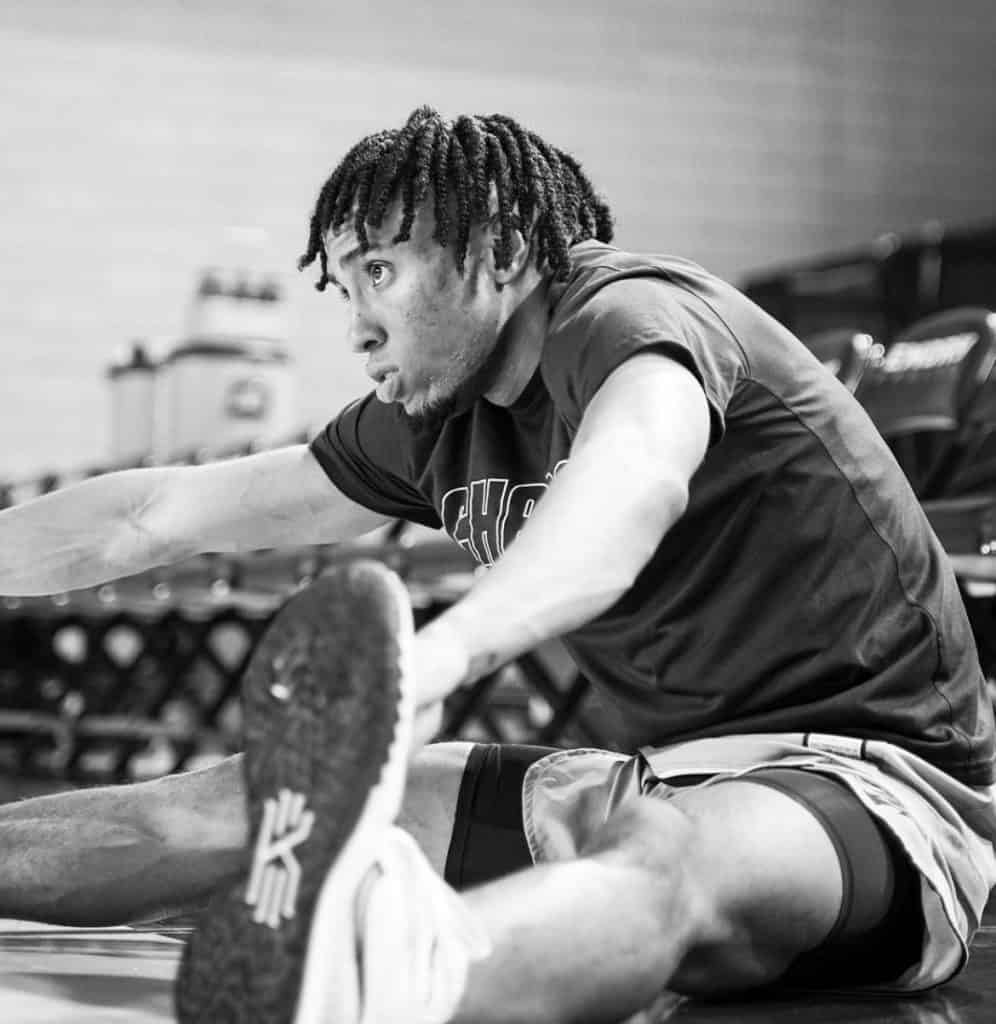 Williams said his graduate year was his most challenging at Emory. Compared to his undergraduate experience, where he was pursuing deep passions in marketing and consulting, data analytics was a completely different wheelhouse for him.
"This degree is more analytically based—it's numbers and something I felt I didn't necessarily have in my repertoire," says Williams. "Most people, when they choose a degree, they know 'that's what I want to do.' For me, I just wanted to try something different. I was optimistic that I might find something new that I'm passionate about."
Williams is also the first student-athlete in the program.
While competing on the men's basketball team, he racked up the accolades, contributing to three conference championships, being a three-time all conference player, holding the number five slot in program history for scoring, and securing the Emory record for most three-pointers made in school history—which he achieved while in the rigorous MSBA program.
His advice for other student-athletes: Don't give up.
"It's extremely hard, and you're going to be tested academically and athletically, probably, like you've never been tested before," he says. "Don't give up and just keep going, and if you need anything, reach out to the people that surround you because they want to help."
Two months post-graduation, Williams started at McKinsey & Company as a business insight fellow. He is signed to a two-year contract for a rotational program on an integrative path. He said he chose this program to satisfy the curious part of himself that is always looking to try new things.
"I'm not fully set on a specific thing I want to do for the rest of my life," he says. "I figured, why not join this program with McKinsey, learn different things about different industries, meet different people, and then continue to go from there?"
His first rotation allows him to flex his business analytics muscles by performing commercial banking insights.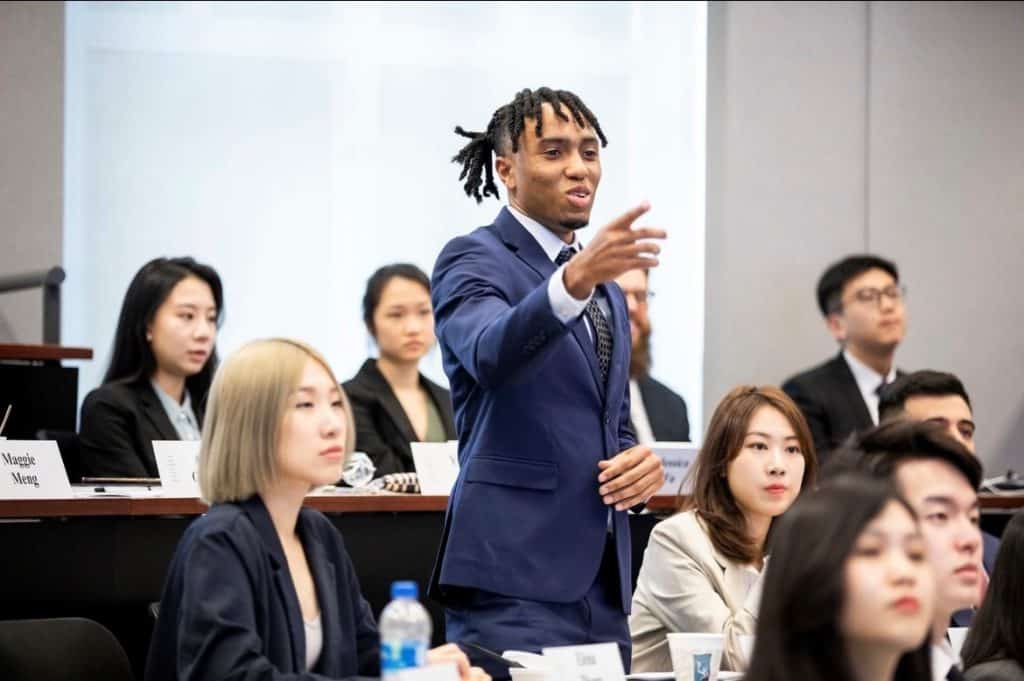 One of the most rewarding moments in his professional career, he said, was putting the skillsets he learned at Goizueta in practice at McKinsey.
"I was presenting to a bank with my manager and co-worker," recalls Williams. "When I was done, I realized, 'Wow, I learned how to present at Emory, where I only presented to my classmates and my friends, and that prepared me to be able to have a meeting with these managers from this big-time bank.' That was a big moment. It was a reward that showed me that when you put your time into something, it's going to pay off."
For the time being, because Williams has been pouring his energy into his work with McKinsey, he's had to put basketball on the back burner. However, his dream is to combine his love for business and basketball and become a general manager for an NBA team. He is optimistic that his work ethic will get him there.
"I'm always trying to be better than I was the day before," says Williams. "You have to keep going. Nobody can stop you but yourself."
Your support of scholarships helps us attract and retain top students and improve the diversity and talent of our student body. Our goal is to create equal access and opportunity for all students with the talent and abilities to drive business forward, regardless of their ability to pay. Support scholarships today!