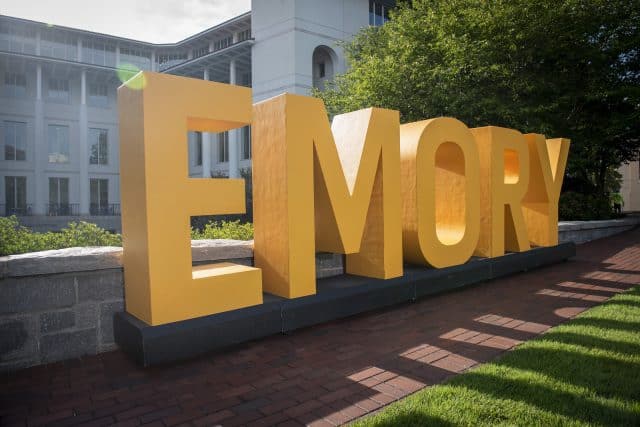 Mentors, activists, advocates, a Fulbright Scholar…consultants, analysts, brand managers, senior marketing managers…PhDs, MDs, nurses, varsity football players from ivy league universities…triathletes, marathoners, yoga instructors, golfers…The list could go on and on and still not fully capture the experiences, awards, and accomplishments of this year's Two-Year MBA cohort.
For the second year in a row, Goizueta Business School saw an increase in applications and an increase in talent, with this class bringing an average of six years of work experience with them. Collectively, they speak more than two dozen languages with just under half of the class hailing from outside of the U.S.
They have also received too many academic, philanthropic, and leadership awards to mention individually.
"Every time the admissions team got together this year, we were so excited to talk about the incoming Two-Year MBA class," shares Melissa Rapp, associate dean of graduate admissions.
They really reflect our core values and embody the dynamic diversity Goizueta is known for. The academic and professional credentials of this class are among the best I've seen.

Melissa Rapp
While many bring business experience with them, others are looking to leverage their Emory MBA for a major career switch.
Goizueta also continues to attract active-duty military and veterans. This year's class includes 15 veterans.
Just a few of the impressive students in this year's class include:
A ballerina who performed at the White House, the Kennedy Center, the Warner Theater, and the National Gallery of Art
A senior user experience researcher who helped design Vietnam's first voice assistant
The lead of strategy and innovation for People Like Us, a nonprofit that works with schools and community theaters to provide individuals with developmental disabilities with fun and effective social, emotional, and workforce skills using the performing arts
A transportation engineer who designed three award-winning roundabouts
The co-founder of a luxury hospitality brand
A helicopter air ambulance pilot who was the first female pilot for Children's Healthcare of Atlanta
An LG engineer who helped perfect the company's first outdoor product
The owner of the first professional paintball center in Ghana
A program manager who led 30 new product innovation programs, including Sharpie, Papermate, EXPO, and Elmer's
The winner of Emory University's annual "Pitch the Professors" contest, who is the founder and CEO of a data-driven artificial intelligence for police investigation
While this cohort brings a wide range of experiences, they have many things in common: They have ambitious career goals, seek to hone their business acumen, and strive to be leaders of tomorrow. They want to be part of a tight-knit community that will actively support them over the next two years, and they want the cultural vibrancy and deep industry connections that come with living in a major U.S. city. They found all of this—and more—at Goizueta.
"I've learned that when I truly apply myself, I can be successful at tasks or problems that I once viewed as outside of my wheelhouse," says Robert Brooks 21MBA.
Goizueta's top-20 full-time MBA program provides world-class educational experiences and best-in-class career outcomes. Graduates from the Class of 2022 report one of the highest employment rates in the nation and garnered the highest salaries in school history. Within three months, 98 percent of graduates received and accepted offers, and graduates reported an average median salary of $165,000.
"I was looking to attend a challenging, top-tier business school with a smaller community where I could easily connect with my classmates that had solid results placing students in management consulting roles," says Benjamin Holladay 22MBA. "Goizueta is the only option that could deliver on all of these."
Interested in learning more? Find out how the Goizueta MBA takes students beyond business as usual.