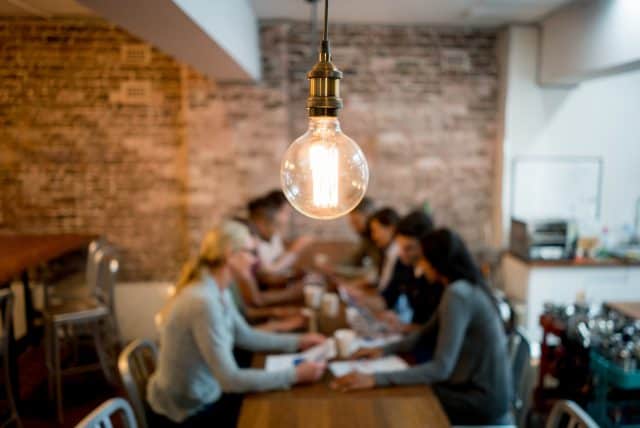 It's said that everyone has a million-dollar idea, but the hard part is making that idea happen in the real world. How do we help visionaries become bona fide entrepreneurs, innovators, and investors?
This is the question that The Roberto C. Goizueta Center for Entrepreneurship & Innovation (CEI) is seeking to answer.
The CEI Vision
Funded by a gift from The Goizueta Foundation in late 2019, the center seeks to bridge the gap between vision and reality, theory and practice.
The center focuses on three pillars of activity: developing entrepreneurial skills and new venture creation; preparing for early-stage investing and growing an understanding of capital formation; and enhancing creativity and innovation capabilities for organizations of all types.
"Think of it as a funnel," Brian Cayce, managing director of the center, explains. "At the top of the funnel, our students or other startup entrepreneurs have these early-stage ideas. We want the center to support in various points along their journey with a continuum of programming and courses that will accelerate the likelihood of success with their ventures, all the way down to potentially securing investment from our student-run seed and venture funds. At the same time, some may also jump on the funnel at later stages, through exposure and opportunities we are providing for them to collaborate with early-stage investors in supporting startups."
Delivering Transformational Experiences
In business schools across the country, there is a growing demand for opportunities to learn the real-world mechanics of disrupting and improving industries, as well as building new ones.
"Entrepreneurship and innovation are increasingly important, both for those interested in developing a creative mindset to shake things up and manage innovations within companies of all types to those interested in founding, joining or investing in new ventures," says Jill Perry-Smith, academic director of the CEI. "We are proud of our suite of programs and courses that serve both interests."
The center has expanded rapidly to meet these needs. As of 2023, the center already has 15 mission aligned courses; 10 programs offered; upward of 100 startups engaged; over 20 seed and venture funds involved; and over 500 students participating in program and course offerings.
Many of the opportunities the center has in place aim to open the doors wider to historically excluded groups. One such program is the Peachtree Minority Venture Fund, a $1 million student-run venture fund that addresses the funding gap for Black, LatinX, and Native American entrepreneurs. Each year, students involved in the fund act in the investor role with input from faculty and an esteemed advisory board. To date, the fund has made total investment commitments of $170K into seven companies in seven different industries in six cities. AACSB International, the world's largest business education alliance that connects educators, students, and businesses, recently honored the Peachtree Minority Venture Fund with its 2023 "Innovations that Inspire" award recognizing institutions that create new value for a continuously evolving business world and global society.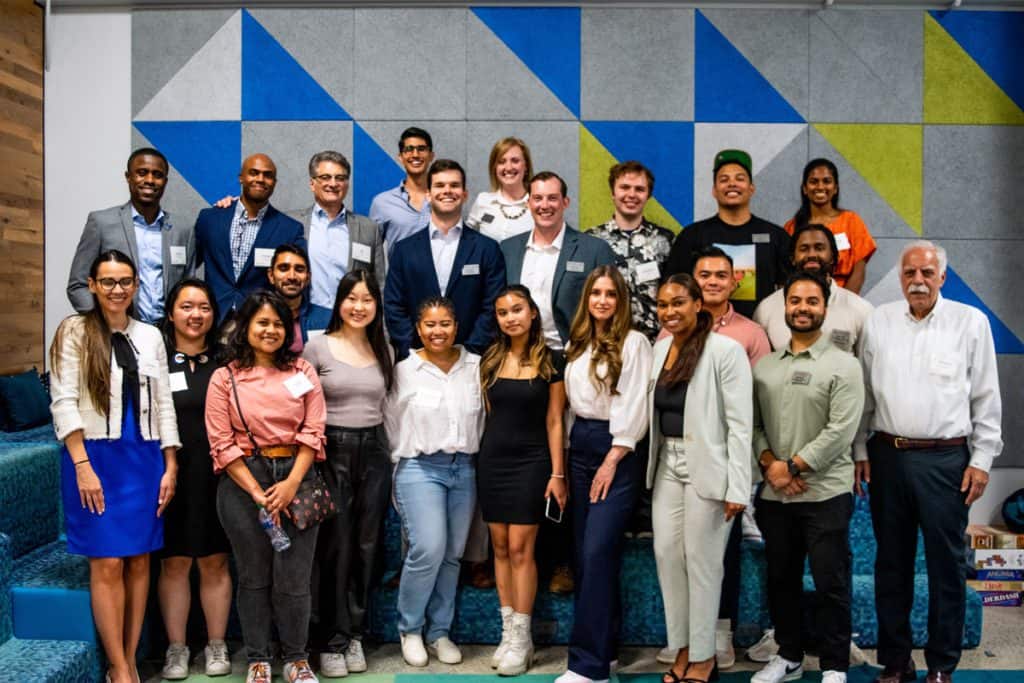 Like many of the center's initiatives, the Peachtree Minority Venture Fund is run in the context of a class.
"In addition to benefiting each founder and company, this process also provides students unprecedented access and exposure to the world of venture capital–not to mention potential job opportunities," says JB Kurish, professor in the practice of finance and co-lead faculty advisor for the Peachtree Minority Venture Fund.
Another popular program is the annual Emory Entrepreneurship Summit, which provides Goizueta students a chance to network, hear from successful entrepreneurial alumni and learn from entrepreneurs. This year's summit featured Stuart Weitzman as the keynote speaker, whose shoe line has been worn by the likes of Beyoncé, Kate Middleton, and Taylor Swift. The culmination of the annual event is the "Pitch the Summit" competition, in which students present their own aspiring startups to a panel of distinguished entrepreneurial judges. The judges select one lucky and hardworking recipient to take home a grand prize of $10,000, among the $25,000 awarded across a variety of startup categories.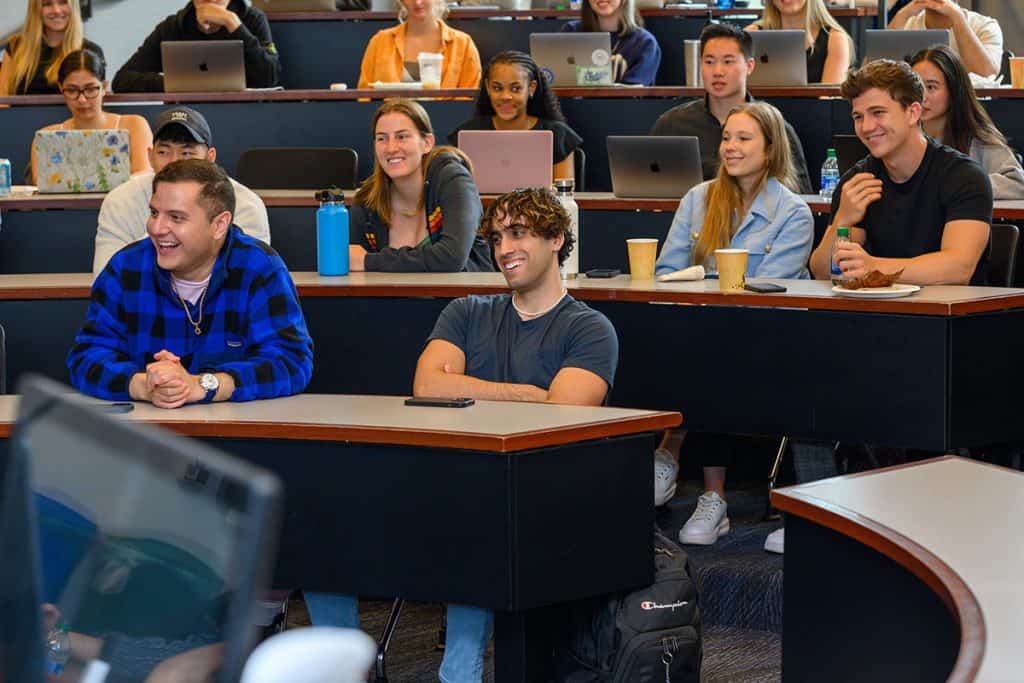 "Each year, the summit gets exponentially better," says Andrea Hershatter, senior associate dean and BBA program director. "Student attendance this year was at an all-time high, the track records of our entrepreneurs were off the charts, and the traction and potential of the pitched ventures was the most evolved it has ever been."
The Emory Startup Launch Accelerator, run in partnership with The Hatchery, Emory Center for Innovation, prepares early-stage founders to take on the challenges of launching a new and successful business.. This immersive 8-week program pulls from evidence-based tools and processes to offer hands on workshops and challenges, allowing young companies to quickly test and tweak their business models to reflect consumer feedback. The center selected a dozen companies for their 2023 cohort; businesses ranged from sustainable farming education to task management software. The most recent cohort saw several companies go on to either raise external capital or find spots in the leading global accelerators, and the center strives to support the placement opportunities for these participants after the sessions have ended.
"The 12 founders selected for the Startup Launch Accelerator represent a diverse range of industries and are at various early stages of their entrepreneurial journeys," says Christy Brown, one of the center's key entrepreneurs-in-residence. "Their passion, innovation, and commitment to scaling their companies with rigor and strategic goals around growth are truly inspiring. These founders were selected based on overall ability to scale and the current timeline of their companies."
Another key initiative, the RAISE Forum (Retaining and Accelerating Investment in the Southeast at Emory), connects in-revenue startups and top-tier investors from across the Southeast to foster collaboration within the region's entrepreneurial ecosystem and ensures that the best startups can stay local. The 12th RAISE Forum—which took place in November of last year—gathered close to 100 participants, who enjoyed the opportunity to exchange strategic plans, engage in discussion groups, and explore potential business opportunities.
"This program fulfills one of our key goals of keeping companies in the region, along with showcasing a diverse group of founders and companies, as about 30 percent of RAISE C-level execs are underserved," says Charles Goetz, senior lecturer of organization & management at Goizueta Business School and RAISE Forum co-founder.
Supporting these activities and learning vital lessons along the way, student fellows add tremendous value to the center.
"The fellowship—which includes undergraduate and graduate students—allows students to get more exposure to different programmatic opportunities, working with partners across Atlanta, sometimes farther afield," says Cayce. "They get the opportunity to travel and participate in conferences with support from the center. At the same time, they help to design, cultivate and curate these programs. They go on to be amazing ambassadors for Goizueta Business School."
Expanding Impact
The center plans to streamline and enrich its current programming, while continuing to generate new programs, many of which focus on building collaborative webs between Goizueta students and the various other stakeholders in and around the field of entrepreneurship.
For example, the center is gearing up to take advantage of the robust biomedical community in and around Emory's campus.
"My goal is to build tools that can bring visibility to what's happening across different hubs of innovation within the Emory University ecosystem, and then think through meaningful ways that the business school students can plug into those and build value for Emory across the board," says Cayce.
Another prospective program tentatively titled "EmHERy Ventures," which borrows its framework from the successful Peachtree Minority Venture Fund and is geared toward women entrepreneurs and founders, is also in the works: "This is an area where we would use the same plumbing and wiring of the Peachtree Minority Venture Fund, but find support—from the school and beyond—to get this initiative with its unique focus launched," shares Cayce.
Also in the planning stages, the center is looking into an initiative focused on corporate venture capital.
"Corporate venture capital is a subset of venture capital in which corporations take the early risk in startups. In the last five to seven years this activity has really grown and become more sophisticated," he shares. "It's a huge growth opportunity for the business school."
Cayce says we should stay tuned, as there are even more programs in the works which mingle Goizueta students with community partners to spur innovation and investment.
While the center researches the best methods to help nurture the vision of students, Cayce himself is dreaming of what Goizueta can do for the community overall.
"What excites me is to think about what that portfolio of contribution to the community could look like in the next three to five years."
Immersion in entrepreneurship and innovation is central to Goizueta's business education. The Roberto C. Goizueta Center for Entrepreneurship & Innovation takes a multi-faceted approach to engage students and business owners through interaction with Entrepreneurs-in-Residence and ecosystem collaborators, Pitch the Professor events, the annual Emory Entrepreneurship Summit, focused coursework, a Startup Launch Accelerator, venture capital opportunities through the RAISE Forum and the Peachtree Minority Venture Fund, and other entrepreneurial programming. Learn more here.