As a first generation student, Natalia Rosas-Villeda 23MAF understands the power of a degree. Rosas-Villeda began her college career at Agnes Scott College with an interest in public health, but soon discovered she wanted to learn more about the quantitative side of the field. That's what led her just down the road to Emory's Goizueta Business School. Rosas-Villeda quickly learned about the Master of Analytical Finance program, which provides scholarships for women moving into the finance sector. "Access to scholarships and funds can really make or break whether you will be able to go to college," Rosas-Villeda says. "If it wasn't for the Golden Door Scholarship for undergrad and Business Fund for Excellence for grad school, I wouldn't have the very valuable education and personal success I do today."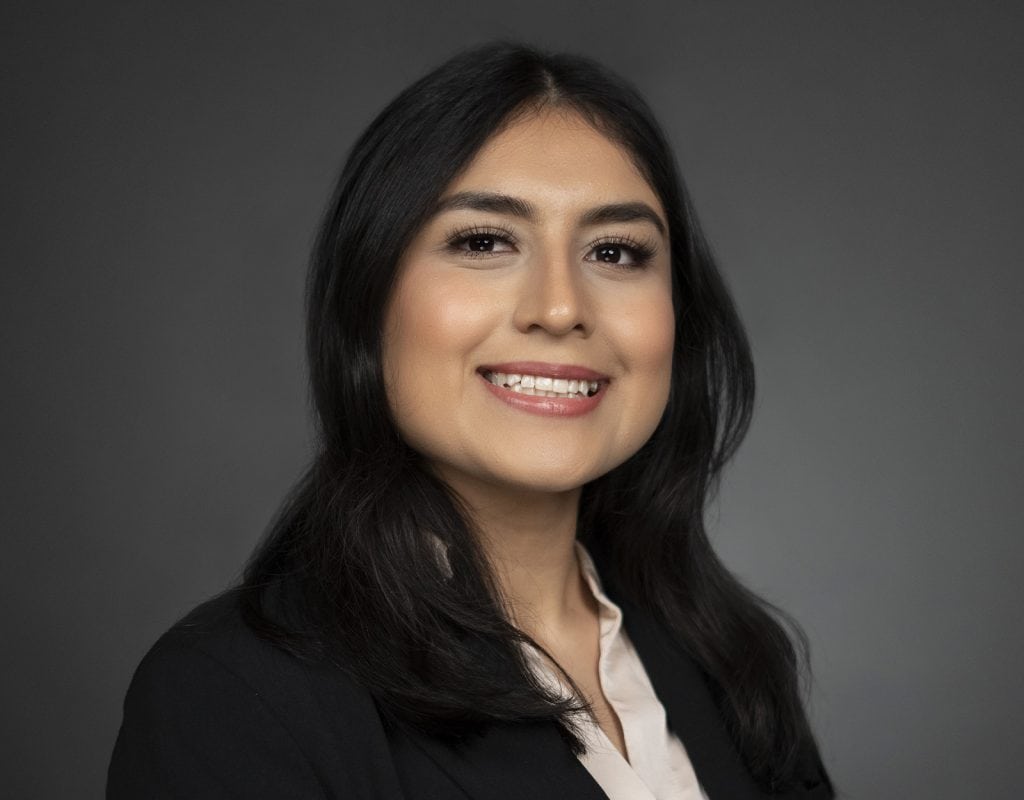 Because of her scholarship, Rosas-Villeda was able to fully immerse herself in the Master of Analytical Finance program, including serving as a social chair, admissions ambassador, and a student blogger for Voice of Goizueta. She represented Goizueta in the 2nd Annual Chartered Financial Analyst Atlanta Society Ethics Challenge where her team triumphed in first place.
While she continued to find success at Goizueta, Rosas-Villeda also struggled with imposter syndrome. As a woman who immigrated from Mexico, she couldn't help feeling that so many others deserved this success just as much as she did. However, Rosas-Villeda says she now looks at her success as an opportunity to set an example for those she hopes will follow in her footsteps.
To be going forward with my education and a career and showing younger women and girls that look like me and who have the same background that it's okay to put yourself first is a very rewarding experience. I feel like my sacrifices and hard work have paid off.

Natalia Rosas-Villeda
Rosas-Villeda had to overcome yet another obstacle after suffering a mild traumatic brain injury while snowboarding in Colorado. Her accident led to a battle with post-concussive syndrome accompanied by high anxiety. She tried to find therapeutic exercises that fit her tight schedule and rested as much as she could―but she continued to struggle with mental exhaustion. Rosas-Villeda worked with Emory Counseling and Psychological Services and a therapist two to three times a week during her recovery. Rosas-Villeda credits the tremendous support system at Emory for helping her complete her program, graduate, and begin her career as a healthcare consultant at accounting firm PYA.
"It was definitely a huge setback for me at that age and point in life," she says. "But whatever I could do before, I know I can learn how to do even better, and that's what I'm working on now. One thing that it taught me was to tell people when you need help and be okay with your vulnerability when you're in a position like that," Rosas-Villeda says. "Being mindful and taking a step away from the craziness of life, I learned how to enjoy things in the moment and save the problems of the future for the future."
Interested in pursuing a Master of Analytical Finance degree? Learn more about the unique programs Goizueta has to offer.