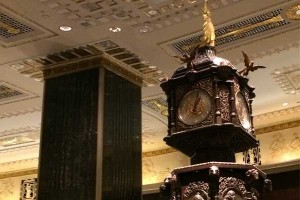 Ronen Nissenbaum, an graduate of Goizueta's EMBA program, has taken over as general manager at the world-famous Waldorf Astoria in New York.
As reported by The Wall Street Journal:
The Waldorf Astoria hotel has recruited one of the top officers of its crosstown rival to help steer the storied Park Avenue property through what is widely expected to be a period of vast change.

Ronen Nissenbaum, who as chief executive officer of the Plaza Group oversaw Manhattan's Plaza Hotel and the Plaza hotel band, takes over as general manager of the Waldorf at the end of June, a representative of the parent company Hilton Worldwide Holdings said. He will run daily operations and carry the title of managing director.

Hotel analysts say it is rare for the head of one of Manhattan's classic hotels to jump to an arch competitor. But they added that Mr. Nissenbaum, 51 years old, brought unusual experience in modernizing landmark properties from his time at the Plaza.

"It's a brilliant move for the Waldorf," said Phillip Alfus, president of the Alfus Group, an executive search firm that specializes in hospitality. "It's very rare to see this type of change, where the head of one of the city's Grande Dames goes to another."
In an interview with one of the industry's trade publications, the hotel's parent company, Hilton Worldwide, expressed great optimism in Nissenbaum's addition.
"We are thrilled to have Ronen at the helm of our flagship hotel for the Waldorf Astoria Hotels and Resorts brand," remarked Keith Clampet, senior vice president of hotel operations for Hilton Worldwide. "Ronen's wide-ranging, global expertise in the hospitality industry will be a key asset in overseeing a hotel that caters to influential international travelers."
Nissenbaum has also served as senior executive vice president of operations at Marina Bay Sands Singapore (opening the largest integrated resort in Southeast Asia). He has also managed properties in Europe and the Middle East.