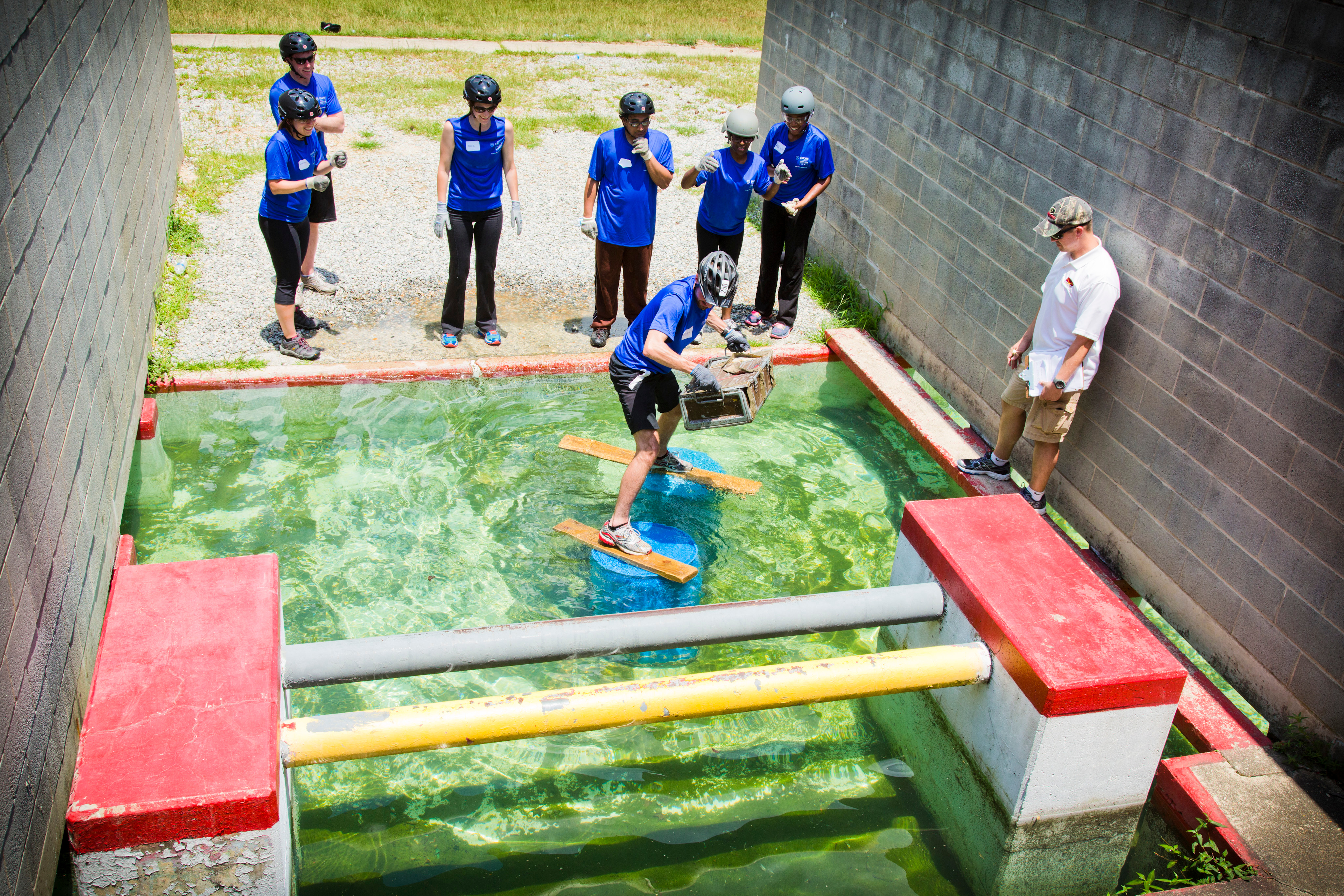 Sitting atop a climbing wall at Ft. Benning, four Goizueta Business School graduate students stared at the obstacle below. The pool of water surely looked refreshing in the Georgia heat, but jumping in would not accomplish the "mission."
On July 12, Goizueta's One-Year MBA class traveled to this Army base near Columbus, Georgia, to complete training usually reserved for military officers. The Leader's Reaction Course (LRC) contains more than a dozen obstacles designed to test physical strength, mental aptitude and — most importantly — quality, style and effectiveness of leadership.
The "LRC" is more than walls, moats and ropes. It's a gauntlet of mental challenges designed to test even the most seasoned teams and leaders. Each team is given a goal and rudimentary supplies like lumber, barrels and rope. They must overcome obstacles that include water, heights and the occasional optical illusion placed to confuse and misguide.
"What we are seeking to do is bring leadership alive for these students," said Ken Keen, associate dean for leadership development at Goizueta. Keen, a retired Army lieutenant general, "lived" the course multiple times in his military career.
Missions are timed: just 30 minutes to plan and execute. This immediately puts the team leaders' communication skills in focus.
"It was really challenging but it was also a lot of fun," said Nicole Bullock, who is studying at Goizueta after working in human resources. "It brought out some good qualities and some not-so-great qualities that we can go home with and continue to work on."
At the close of each mission volunteer facilitators from the Georgia Army National Guard provided feedback on the team's performance and leaders' effectiveness. Each student faced at least one obstacle in command, which resulted in varied approaches and unique team-building opportunities.
8 Leadership Tips from Course Facilitators
Spend 1/3 time planning and 2/3 time executing
Start by identifying the obstacle, then your resources, then make a plan
DO NOT be afraid to fail
Make sure you completely understand the problem
Lean quickly
As a leader, give detailed, concise and clear directions
Take the time to plan
Pay attention to small details
"I learned a little about the style of leadership others have," said Tim Skeen, who returned to business school from a career in consulting. "I have the way I like to lead, but that's not the right way to lead necessarily."
Back in the classroom, MBA students will evaluate their success and failures. Goizueta has a proven leadership curriculum. Now, reviews from Army officers and hands-on experience at the LRC can be added to in-class discussion. A full "de-brief" was scheduled for class time the week after the event.
"It gives you a good sense of how well they work together as a team and, in some cases, it gives them a workout on how to deal with failure," Keen said. "We want to give them the opportunity to receive feedback."
No team of MBAs made it over the climbing wall and across the moat. Other missions were completed, but this one stumped multiple men and women from various business backgrounds.
The problem had several solutions, one of which was to lower a team member to the edge of the water to balance on chains strung across the surface. From there, team members could get themselves and supplies across the expanse.
Some teams had the right idea but ran out of time.
"I think there's a lot to be learned in a hands-on experience like this," Skeen said.