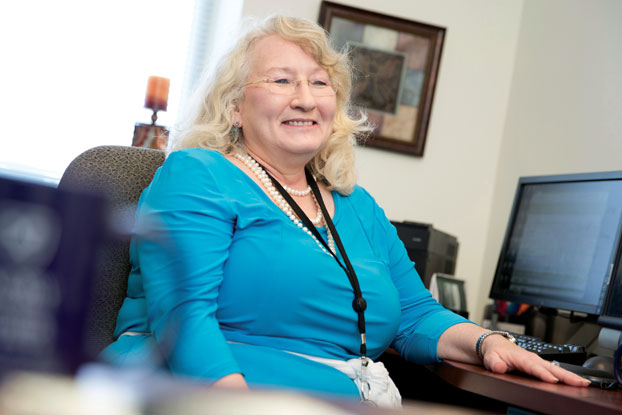 Debbie Ashtiani is a Georgia native who has worked at Emory as a director of registrar services since 1991, first at the School of Nursing and then at Goizueta starting in 1998. Ashtiani's work puts her in touch with students, faculty, and staff across the University, who appreciate her can-do approach and lively good humor.
EB: What type of work did you do before coming to Emory?
Ashtiani: My undergrad major was journalism, but back in the '70s, it was hard to get a job in the field, particularly for women. So I settled in working as a financial aid administrator at Georgia State, and I loved every minute of it. After getting my master's degree in public administration, I worked as a college financial aid director and was recruited by the Department of Human Services as a consultant. I conducted program reviews on financial aid, registrar, admissions, and bursar offices nationwide for the DHS.
EB: What does a registrar do?
Ashtiani: With the assistance of my staff, Annabella Yumul and Nancy Kratzer, I work with every GBS program office. We handle the schedule, enrollment caps, registration, drop/add, withdrawals, enrollment reports, grade posting, honors reports, continuance, academic graduation, and more. We see a lot of BBAs in the office, and I also visit the MBA program offices during crucial dates throughout the semester in case there are any issues to address.
My job goes through repeating cycles, but we're not necessarily doing things in the same way each time. I am always looking for ways to improve the process, with students as the main priority.
EB: You also assist faculty and alumni, right?
Ashtiani: Yes, before each semester, I do my best to balance faculty course scheduling preferences with room availability and curriculum issues. As for alums, I help them with verifications for job applications, as well as with replacing lost diplomas.
EB: You seem to interact with folks throughout Goizueta; what about the University?
Ashtiani: At the University level I interact with financial aid, the University registrar office, the international student office, every school within the system, and even housing and student health services. The things we do are all interconnected.
EB: That involves a lot of private information.
Ashtiani: Yes, everything in our office—grades, academic records, information about students—is confidential. We cannot even release information to parents without the student's specific permission. Our offices and cabinets stay locked. Our maintenance and cleaning crews in the evening follow very strict policies, and security checks the locks on our doors.
EB: Tell us a bit about your background and family.
Ashtiani: I was the first in my family to attend university. I started waiting tables at 13, and those savings plus jobs throughout college paid for my undergraduate degree. I have a daughter, Shereen, who is 28, and a cat named Friskies. My mother lives with me and needs a little extra care these days. I will just say . . . it really helps to have family nearby!
EB: What do you enjoy in your spare time?
Ashtiani: I read a lot. I took a lot of history courses in college, and—okay, I'll admit it—I love historical romance novels. And I used to drive a Suzuki 150, which was the only motorcycle short enough that it didn't fall on top of me when I stopped at traffic lights! 
– Cynthia Blakeley