For 23-straight years Goizueta Business School and the Rollins School of Public Health have recognized some of most important people in Metro Atlanta — those committed to helping fellow man and driving change.
The Martin Luther King Jr. Community Service Awards have become a fixture in the Emory community. On Jan. 22, a new round of winners shared their stories while celebrating the life of King and his contributions to civil rights.
RELATED: MBA students volunteer with Special Olympics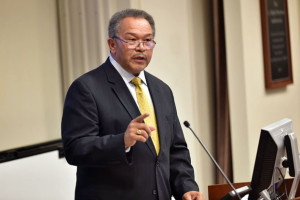 "From Spotlights to Floodlights: Revealing Problems Before They Become Headlines," featured the deans of Goizueta and Rollins as well keynote speaker Dr. Robert Franklin as speaker.
Franklin is the James T. and Berta R. Laney Professor of Moral Leadership at Emory University and Director of the Religion Department of the Chautauqua Institution.
In 2013,Franklin served as a Visiting Scholar in Residence at Stanford University's Martin Luther King, Jr. Research and Education Institute and he is President Emeritus of Morehouse College. He was the College's tenth president, serving from 2007 through 2012.
Franklin extended King's message of radical inclusion — the interconnectedness of humanity and the importance of a common good.
"You are part of the front line of transformed nonconformist," Franklin said. "..We are on the right path when we are committed to regularly reviewing all the major elements and components of what it means to be an inclusive community, starting with our vision."
This Year's Award Winners
[list type="arrow"]
[li]Georgia Sherriffs' Youth Homes[/li]
[li]Gideon's Promise[/li]
[li]Anti-Defamation League[/li]
[li]Midtown Assistance Center[/li]
[li]Georgians for Healthy Future[/li]
[li]Georgia Coalition Against Domestic Violence[/li]
[li]Living Room[/li]
[li]Latin American Association[/li]
[li]Womens Resource Center to End Domestic Violence[/li]
[/list]